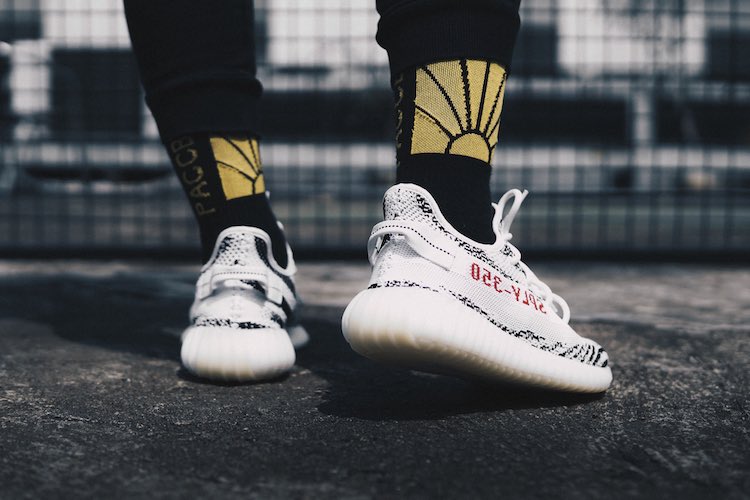 December 29, 2018 |
16 shares
Looking to up your sneaker game but not sure where to start? We've trawled the 'gram to hunt down the biggest and best sneakerhead influencers across the planet.
From custom kicks to monster collections, read on to discover 40 of the absolute best sneaker accounts to follow on Instagram for daily inspiration…
Jon Wexler
As global director of influencer marketing at Adidas, you'd expect Jon's Instagram to be full of close-up shots and that's exactly what you're treated to. The dream account for all Adidas fans, this is the guy you should be following if you can't get enough of exclusive collabs with the likes of Pharrell and Kanye.
Nick Glacklin
Nick Glacklin is one of the most talented photographers out there, gaining him global fame for his @glackster and @microdudes Instagram accounts. His sneaker pics are always perfectly shot and the vibrancy of the colours he manages to bring out shows the kicks in all their glory each and every time.
The Sole Supplier
Popular sneaker news and drop date blog The Sole Supplier has an enviable Instagram account that is well worth following. Curating the best shots from sneaker aficionados across the globe, it's a varied account and offers daily inspiration that both novices and sneaker pros will appreciate.
Ray Polanco
Brand consultant and mentor Ray Polanco shows of his latest kicks on his popular Instagram account. From sneaker close-ups to how he's wearing them, if you love your streetwear then this is the account for you.
Nice Kicks
With over 3 million devoted followers, Nice Kicks has one of the biggest sneakerhead followings on Instagram. Expect a curated collection of the freshest pics around, varying from sneakers on court shots to flat lays of some of the best sneaker collections around.
Yu-Ming Wu
Yu-Ming Wu is one of the guys behind the hugely popular Sneaker News account and his personal Instagram doesn't disappoint. He lives and breathes sneakers, boasting a massive collection of his own that you're treated to a glimpse of in his daily shots.
Jeff Staple
Designer Jeff Staple is somewhat of a legend in the sneakersphere having previously worked with Nike to conceive the idea and then release the Staple Pigeon Dunk SB. He's since worked with multiple sneaker brands, resulting in his Instagram brimming with throwback shots and pics of new collabs with his design company.
The Drop Date
Keen to know when the hottest new sneakers are dropping? The Drop Date should be at the top of your list to follow on Instagram, showcasing the latest new trainers and the date you can get your hands on them. An essential account for all serious sneakerheads on Instagram.
Gary Warnett
Gary Warnett sadly passed away in 2017, but his influence on the sneaker industry was huge and his account still has thousands of photos archived that you'll appreciate to this day.
Dylan Ratner
Dylan Ratner is a huge fan of Nike sneakers, building up a collection from the 1985 Jordan 1's and all that have come after. Whether you're just starting your own collection or are looking for inspiration on the next pair of Nikes to buy, this is the sneaker Instagram account to follow.
Srdjan Mitrovic
One of the creative brains behind Australia streetwear boutique Highs and Lows, Srdjan Mitrovic showcases some of the hottest new sneakers around on his personal Instagram account. Expect a daily dose of flat lays alongside shots of how Srdjan's styling them on his travels.
Claude Renard
Claude Renard is a hugely talented and popular streetwear photographer from Zurich. After starting to collect trainers, he shared his newly bought treasures on Instagram and the rest is history. His account continues to amass thousands of followers and from the quality of his shots it's not hard to see why.
Jemuel Wong
Sydney-based Jemuel Wong is an Adidas superfan, reportedly spending in excess of $20,000 to date on his collection and also sporting a trefoil tattoo on his ankle. Expect to see nothing but Adidas trainers in his daily shots, showcasing his enviable collection that other Adidas fans may only dream of.
Sneaker News
SneakerNews.com is one of the leading authorities on sneakers worldwide, with it's Instagram account being the perfect partner if you prefer to stay on the 'gram. Offering it's 7.8+ million followers daily inspo in droves, it's the perfect account to follow to stay on top of the latest news in the world of sneakers.
Kicks TQ
The Kuwait-based KicksTQ account offers a great mix of street style and sneaker shots, helping you to style your new kicks for maximum effect. Never revealing his face in full, he delivers expertly shot pics in stunning locations and you'll never get bored of the daily posts.
Sean Wotherspoon
Avid sneaker collector and Nike collaborator Sean Wotherspoon offers some of the most unique shots that you'll ever see on his Instagram account. This is one collector who loves vintage styles and is an absolute pro at putting a contemporary twist on them to bring them right up to date.
Michael @RYUStyler
If you think you've seen all the types of sneaker shots that Instagram has to offer, make sure you checkout Michael's account @RYUStyler. Featuring flat lays of sneakers alongside matching backdrops, the colours bust out of each and every one of them and will leave you wanting more.
Luke Matthews
Luke Matthews may not have the largest following on Instagram, but his account should certainly be near the top of your list for daily inspo. The sneakerhead and brand manager of retailer Size? regularly shows off the latest additions to his collection, as well as how he's styling them from a variety of brands.
Dominic Ciambrone
If you're looking to stand out from the crowd, Dominic Ciambrone (AKA The Shoe Surgeon) is the guy to follow. Specializing in sneaker customization, his daily shots show just how good he is at it and will leave you wanting your very own unique pair of custom sneakers to add to your collection.
John Kim
Another member of the team behind Sneaker News, John Kim is an authority on sneakers and has an enviable collection of Nikes. Follow his personal account on Instagram to delve into his world and get a glimpse of some of the favourite Nike sneakers he owns.
Leon Witherow
Australian shoe-designer Leon Witherow has a 200-strong collection of Nike Presto sneakers and is now an official spokesperson for the brand. He lives and breathes Nike, with his Instagram account adorned with close-up shots that all fans will appreciate. Before you purchase your next pair of Presto sneakers, make sure you checkout his posts for inspo on picking the perfect ones for you.
Jacques Slade
Originally making it big on YouTube for his reviews on sneakers alongside other things, Jacques Slade is now making his mark on Instagram. Expect to see beautifully shot close-ups and hit the link in his bio for the full story or video behind some of the sneakers showcased.
Landy @LDN2HK
Globetrotter Landy has built up a solid reputation on Instagram for his streetwear posts. If you're looking for outfit ideas rather than just close-ups, it's a great account to follow and you can see exactly how to work different types of sneakers into your street style each season.
Robert Stewart
Glasgow-based Robert Stewart is one part of the duo behind SneakersER and is widely regarded as one of the best sneaker restorers on the planet. His Instagram account has a heavy focus on New Balance sneakers and will massively appeal to serious NB fans across the globe.
Michael Vincent
Co-founder of clothing store Invincible and avid sneaker collector, Michael Vincent is an authority on streetwear trends and showcases his latest buys on his Instagram account. Expect fresh drops daily and how he's styling them.
Morgan Weekes
Previously co-director of Crepe City, the largest sneaker convention in Europe, Morgan Weekes now acts as a consultant for some of the biggest names in sportswear. His Instagram account is bursting with shots of the hottest new sneakers, including all the details on where you can buy them.
Dennis Todisco
Founder of the massively popular @outfitgrid, Dennis Todisco uses his personal Instagram account to focus on his love of sneakers. Now with over 90k followers, his snaps are just about as good as they get and are always expertly shot to perfection.
Complex Sneakers
If you're already a fan and reader of Complex magazine, make sure you checkout their dedicated Instagram account for sneakers. Featuring a curated edit of the freshest shots across the globe, it's the perfect account for keeping your finger on the pulse of the latest trends.
Sneaker B0b
Sneaker B0b is one of the most well-known sneaker personalities in Germany. While little is known about the man himself, his Instagram posts do all the talking and are a visually creative mix of sneaker close-ups, streetwear styling and press events.
Nick DePaula
Previously Editor-in-Chief of Sole Collector Magazine and now Creative Director of Nice Kicks, Nick DePaula is widely regarded as an established authority on sneakers. Follow his personal account on Instagram for the latest kicks he's breaking out to get inspiration on what should be on your new season wishlist.
Sean Go
Canada-based Sean Go is a huge fan of innovative kicks pushing technological advancements to the max. His Insta feed is bustling with new styles and you can hit up his bio link to watch/read reviews on what's dropping before you decide whether they're worth adding to your collection.
Dan Gamache
Regularly featured in the most authoritative sneaker publications across the globe, Dan Gamache has become the go-to guy for custom made kicks. His artwork on sneakers is absolutely legendary and you can discover his latest work as well as throwback snaps by following him on Instagram.
SoleFlick
Individual sneaker collector SoleFlick has a collection that even the most serious of collectors will be envious of. He rocks his socks just as well as the sneakers, with every outfit showing just how well he creates the rest of the look by starting from the bottom up.
Mobile Sneakers
Forget shots taken with professional DSLR cameras and the like here. Mobile Sneakers prides itself in showcasing beautifully shot sneaker snaps taken solely with mobile phones. The results are epic, with a creative mix of flat lays, close-ups and outfits that will get your creative juices flowing each day.
Bisso
Also the creator of hugely popular sneaker account Asics Addict, Bisso gives a great insight into the French sneaker scene on his personal Instagram account. Expect news on the latest sneakers to drop coupled with fresh street style looks from around the world.
Marc (Maj) Veloso
Filipino sneaker aficionado Marc Veloso is an absolute pro at showcasing his kicks in all their glory by keeping the photography crisp and clean. Follow him for a daily visual treat of his streetwear outfits and some of the best sneakers you'll see on the 'gram.
Kish Kash
DJ, presenter and UK Country Manager for Sneakerness, Kish Kash has a huge passion for iconic sneakers which is clear for all to see on his personal Instagram account. Expect to see colourways you won't see in many high street shops and get inspo on how even the most retro looking of trainers can be pulled into the 21st Century.
Stevey Ryder
If it's all in the details for you and close-ups are your thing, Stevey Ryder's Instagram account is an absolute must to follow. Often showcasing a trio of pics from different angles of each pair of sneakers featured, the photography is stunning and will give you serious inspo for the next pair you buy.
Hikmet Sugoer
Previously the founder of sneaker store Sneakerbox until he left in 2015, Hikmet Sugoer is another famous face on the scene in Germany. Having ventured into releasing his own line called Sonra, the posts on his Instagram account regularly feature his latest collections alongside snaps of some of his favourite kicks from his own private collection.
Asics Addict
Headed up by Bisso, Asics Addict is one of the definitive Instagram accounts to follow for serious fans of Asics sneakers. You'll be treated with daily shots of some of the best Asics around and can even get yourself featured on the page if you're handy with a camera and bag the perfect shot of your Asics.