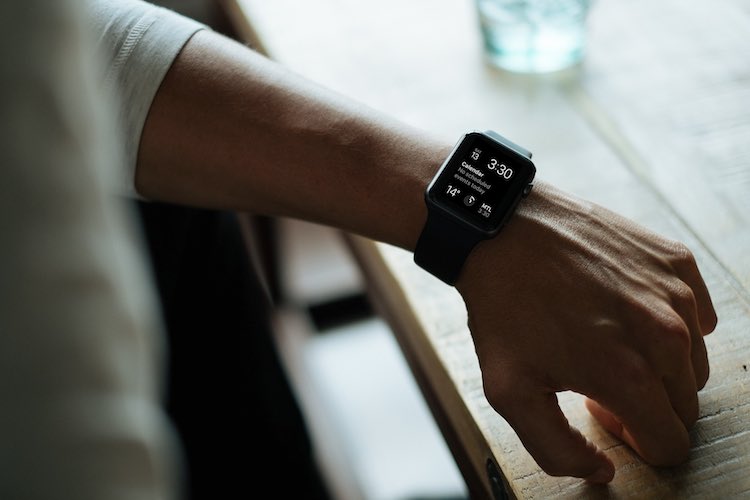 January 18, 2016 |
15 shares
Dropped your phone on the train tracks a few too many times? If you want to avoid being one of those people who permanently walk around with a mobile in their hands, the smartwatch is for you.
Most of the time when we're simultaneously walking and staring into a screen, we're not actually having phone conversations, we're checking emails or notifications. That's where smartwatches come in − they provide a quick and easy way to check what notifications are on your phone, so you can decide whether or not to try to find it in your bag or get it out your pocket.
If you find yourself in the habit of forever checking your phone, a smartwatch may also help rid you of this addictive habit. Smartwatches are become an essential bit of kit for fitness fans, with many having built-in heartrate monitors and GPS.
Things to consider when comparing the various smartwatches on the market are; the detail of the notifications you get, battery life, style, water resistance, compatibility with other devices and smartphones and the quality of features like microphones.
Be warned – some smartwatches are only compatible with iOS or Android. Make sure that you buy the right smartwatch for your phone! If looking like gadget man is not your scene, then a classic design with a leather or chain strap is a handsome option. Here are 5 of the best smartwatches for men with a classic design.
1. LG G Watch R for Android
LG G Watch R, £189.96, Handtec
This Android Wear smartwatch from LG is cleverly disguised as a 'normal' watch but has a host of impressive features. The classic design and full circle plastic P-OLED display looks smart with a suit.
Voice command means you can respond to texts, messages and emails on the go, as well as receiving calls (and fulfill those dreams of being a secret agent).
For fitness fans the LG G Watch R weighs in at just 61 g and has a built in photoplethysmography (PPG) sensor to monitor heartbeat.
LG G Watch R Tech Specs
Screen size: 1.3in
Resolution: 320 x 320
Thickness: 11.4mm
Weight: 62g
Battery: 410 mAh
Memory: 4GB eMMC* (user available memory up to 3 GB) and 512MB RAM
2. Motorola Moto 360
Motorola Moto 360 Leather Wristwatch, £149, John Lewis
Another great Android watch in a classic round wristwatch design. The Motorola 360 boasts a 1.56 inch Touchscreen with LCD Backlit Display and comes with 4GB internal storage and 512MB RAM.
The strap is made from world-renowned Horween leather and a Corning Gorilla Glass interface helps to prevent scratches. Voice activated, so all you need to say is 'ok Google.'
Motorola Moto 360 Tech Specs
Screen size: 1.56in
Resolution: 320 x 290, 205 ppi
Thickness: 11.9mm
Weight: 0.05kg
Battery: 320 mAh
Memory: 4GB internal storage and 512MB RAM
3. Huawei W1 Classic Smartwatch
Huawei W1 Stainless Steel Classic Smartwatch with Leather Strap, £289, Amazon
The Huawei Smartwatch is one of the best looking of the bunch and comes in a myriad of striking design combinations. Choose an azure blue face with a brown leather strap or add some bling with a gold chain strap.
Android and iOS compatible, the Huawei Watch comes with a 6-Axis motion sensor (Gyroscope + Accelerometer) and Heart Rate Sensor (PPG).
Huawei W1 Tech Specs
Screen size: 42mm
Resolution: 400 x 400, 286 ppi
Thickness: 11.3 mm
Weight: Various
Battery: 300mAh
Memory: 512MB RAM and 4GB ROM
4. Apple Watch
Apple Watch with 42mm Stainless Steel Case & Milanese Loop, £599, John Lewis
Obviously this list wouldn't be complete without mentioning the notorious Apple Watch. If the best tech is what you're after then the Apple Watch is the one.
The rectangular sapphire crystal touchscreen and cold-forged stainless steel make this a watch to lust-after. The Apple Watch is only compatible with iPhone 5 or later running iOS 8.2 so if you're still in contract with an undesirable, it's just not going to work out.
The Apple Watch sells itself on providing a new way to communicate. As expected, you can send and receive messages, calls and emails. But Apple Watch also introduces new ways to express yourself. Sketch a drawing on the screen and send it to a friend or tap the screen to let someone know you're thinking about them. And for the romantically and technically savvy, you can even record your heartbeat and send it to an adored one. Now that's what you call modern romance.
Apple Watch Tech Specs
Screen size: 1.5in
Resolution: 312 x 390
Thickness: 42mm
Battery: 205 mAh
Weight: Various
Memory: 8 GB and 512MB
5. Sony SmartWatch 2
Sony SmartWatch 2, Silver Metal Wrist Strap, £65.87, Amazon
This one's on the list for those who want to gain the main basic advantages of having a smartwatch but don't want to break the bank. The Sony SmartWatch 2 isn't in the same league features-wise as the other watches on this list, but as they say you get what you pay for.
A stylish option, the sleek Sony SmartWatch 2 comes with a metal wrist strap and is the most affordable at under £100. If you don't desire to have a sketchpad on your wrist this may be the watch for you. Slightly heavier at 120g, it doesn't have a heart rate monitor and you can't have conversations by speaking into your wrist. You'll need to upgrade to the Sony Smartwatch 3 if you want more features.
Sony Smartwatch 2 Tech Specs
Screen size: 1.6in
Resolution: 220 x 176
Thickness: 0.9cm
Battery: 225 mAh
Weight: Various
Memory: Internal CPU RAM 256MB