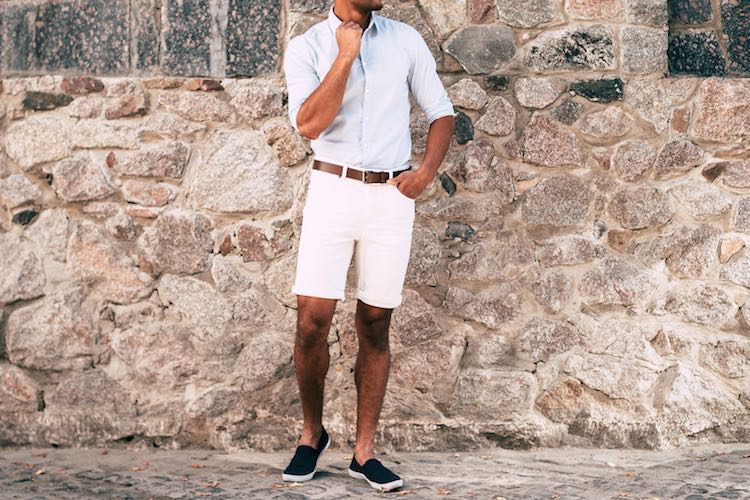 British men are experts when it comes to dressing for the cold, but when the sun comes out, it's a whole other story.
Suddenly, everyone is wearing shorts – to work, on holiday and at the weekends – but not everyone is able to nail the look. Even the most fashion-forward men have trouble choosing the right shoes to wear with chino shorts.
However, it's not actually that hard to rock the chino shorts look with the perfect shoes. Just don't clash your colours, be aware of the dress code wherever you are going, and never, ever wear socks and sandals.
When you're wearing chino shorts… to work
SHOP THE LOOK: Penny Loafers | Blue Chino Shorts | Work Shirts
Chino shorts are probably the only type of shorts that you can get away with in the office. However, it all depends on how you dress around them. A pressed shirt is a must-have, with a fine-knit sweater or a blazer on standby in case the temperature suddenly drops.
And under no circumstances should you wear any footwear that exposes your toes to your colleagues. Instead, opt for a smart-casual style of shoe like suede penny loafers or nautical boat shoes.
When you're wearing chino shorts… to a BBQ
SHOP THE LOOK: White Converse Plimsolls | T-Shirts | Brown Chino Shorts
The first BBQ of the summer is the perfect place to break out your new chino shorts. This look is all about easy style, so whatever you do don't overthink it. Just throw on your favourite t-shirt and a comfy pair of plimsolls, and try not to spill ketchup on your outfit.
When you're wearing chino shorts… On holiday
SHOP THE LOOK: Birkenstock Sandals | Linen Shirts | Beige Chino Shorts
There is really only one footwear option when you're on holiday – sandals. Whether you're a flip flops kind of guy, or a fan of sturdy hiking sandals, once you find your perfect style of sandals, you'll never look back.
This season, the stores are full of khaki, tan and mahogany sandals, and these colours just happen to go perfectly with chino shorts.
Choose a natural fabric such as leather, which will mold around your foot and withstand a lot of wear and tear while you're travelling. Pair with a linen shirt and a shoulder bag and you're ready to go!
When you're wearing chino shorts… At the beach
SHOP THE LOOK: Espadrilles | Pink Chino Shorts | Ted Baker Polos
It's tempting to just rely on flip flops when you go to the beach, but this year the most fashion-forward men are all wearing sliders. Keep it simple and cool with a pair of sporty-looking black and white sliders and don't even think about running in them, unless you've brought a spare set.
If you really want to up your beach game, invest in a pair of espadrilles – they are comfortable enough to walk around in, light enough for the sand, and are so versatile that espadrille shoes can easily be worn with full-length chinos or jeans when the clouds come out.
When you're wearing chino shorts… At the weekend
SHOP THE LOOK: Converse Low-Tops | Grey Chino Shorts | Diesel Tees
Nothing says 'chilled out weekend' like a pair of chino shorts and runners. Any runners will work with chino shorts, as long as you follow one important rule – no socks. Ankle socks and runners are what you wear to the tennis court, not with chino shorts.
This look is about laid back style, so keep it as simple as possible with a pair of plain white Nikes or some worn-in Converse low-tops.
Our Top Tips On Picking The Best Shoes for Chino Shorts
Navy chino shorts are just about smart enough to get away with wearing in the office. Keep the rest of the outfit stylishly smart with brown penny loafers and a white shirt.


For a laid-back weekend look, opt for grey chino shorts and wear with casual trainers like Converse low-tops or Vans.


A comfy pair of white lace-up plimsolls is all you need if you're heading to a BBQ in your chino shorts. Complete the look with a Breton top and straw fedora.


On holiday, pair beige chino shorts with Birkenstocks and a light blue shirt. Swap for a pair of espadrilles when you hit the beach.