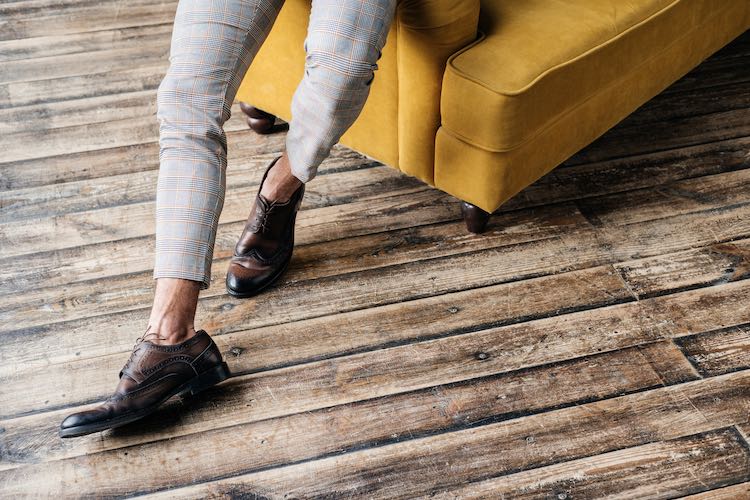 With the exception of trainers, brogues are probably the most versatile shoes a man can have.
They are office-ready, suit-friendly, date-appropriate and eternally stylish. Whether you're a fan of the classic Oxfords, ready-to-wear Derbys, or double strapped Monks, there's a style to suit every occasion this summer.
Read on for our guide on how to wear brogues in summer...
How to wear brogues... to work in summer
SHOP THE LOOK: Tan Brogues | Chinos | Work Shirts
Let's face it; you probably already wear brogues to work on a near-daily basis. But the rules change a little in the summer. The warm weather means that heavy fabrics are out, and when your clothing changes, your footwear should follow.
Ditch the blacks and browns and choose brogues in khaki or tan colours to balance out a light pair of trousers or a linen suit. To add interest to your outfit, mix up the fabric of your work brogues. Suede is very 'in' this summer, and you (hopefully) don't have to worry about puddle splashback during your commute.
How to wear brogues... on holiday
SHOP THE LOOK: Slip on Brogues | Chino Shorts | Fred Perry Shirts
A good pair of holiday brogues should be able to take you from a sightseeing tour to a nice restaurant. They should be breathable, walkable, and presentable – and ideally you should be able to wear them without socks.
Enter, the slip on brogue. Smart slip-ons are stylish and summery, but even better – they allows your feet to breathe. Choose a brown or tan colour and pair with chino shorts and a Panama hat.
How to wear brogues... to a summer wedding
SHOP THE LOOK: Brown Brogues | Grey Trousers | Long Sleeve Shirts
You can't go wrong with brogues and a suit at a summer wedding. Oxfords and Derbys are also a classic choice and will go with any type of suit, at any time of the year. The only rule to remember when wearing brogues to a wedding is that socks are NOT optional.
No one wants to hear about your sweaty feet and blistered ankles all day long, and absolutely no one wants to see them...
Choose a light pair of argyle socks that match the colour of your shoes, then repeat that colour again with your belt, watch strap and other accessories. You'll look effortlessly stylish no matter what the weather.
How to wear brogues... to a summer BBQ
SHOP THE LOOK: Red Brogues | Levi Skinny Jeans | Men's Tees
Brogues aren't just for formal occasions. In fact, if you can get the styling right, you can make a big fashion statement with your 'casual' brogues. Low-rise brogues look great with rolled-up jeans and chinos, while canvas brogues are just made to be worn with shorts.
Don't be afraid to experiment with different colours, materials and patterns – these brogues are meant to be fun and wearable, so the quirkier, the better.
How to wear brogues... on a date in summer
SHOP THE LOOK: Blue Brogues | Grey Chinos | Ralph Lauren Polos
Brogues are the ultimate fail-safe date shoe. Wear them with a full suit and channel Cary Grant, or go for a tweed jacket and chinos for a traditional 'English gentleman' vibe.
If you want to show your date that you don't follow the pack, choose a pair of double-strapped Monk brogues in deep claret or navy and pair with a neutral palette of greys and whites.
Our Top Tips On Wearing Brogues in Summer
Choose tan suede brogues to wear with chinos for an office-friendly summer outfit. Complete the look with a navy blazer and white shirt.


If you're wearing brogues with shorts on holiday, opt for a slip-on style to allow your feet to breathe in the heat.


Coloured low-rise brogues are a more casual option, which work well paired with rolled-up jeans at a summer BBQ.


If you want to stand out from the crowd, look to more sophisticated styles such as monk strap brogues in burgundy or navy. Team up with grey trousers and a white polo shirt to complete the look.