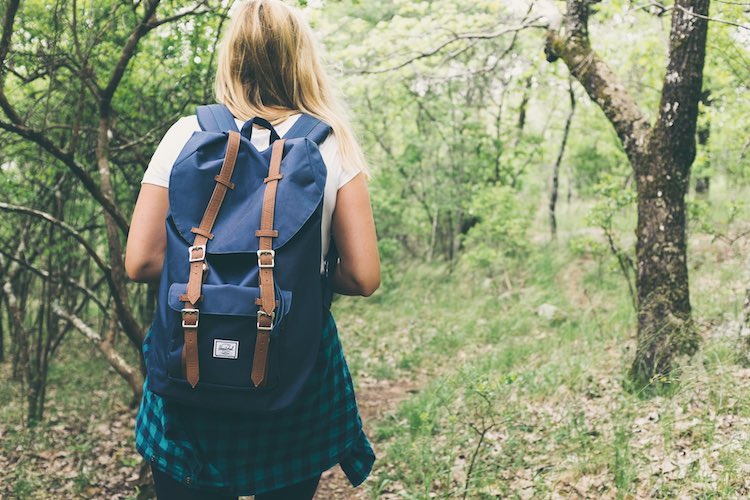 February 4, 2016 |
3 shares
Everyone was talking about THAT Burberry rucksack after the SS16 womenswear shows. Rucksacks are no longer only for sporty types or school girls.
The humble backpack has had a major makeover and there are lots of grown up, very stylish rucksacks around this season that hardly resemble rucksacks at all. Here are 5 very good reasons why every girl should own a rucksack.
1. So long JanSport, Hello Burberry and Alexander Wang
Burberry Prorsum showed off its new backpack, a nylon gabardine rucksack with leather trims and gold chain shoulder straps, with full gusto. The finale saw all its models loaded up with the black and gold version of the rucksack, with each models initials having been thoughtfully embroidered into each one.
With a raunchy ad campaign shot by Mario Testino, and fronted by new face, Misha Hart, The Rucksack is the lust-have accessory for the season.
The Rucksack, £795, Burberry
Rucksacks were also worn with pride at Rick Owens, Phillip Lim and Alexander Wang. The chic Mini Marti Backpack from Alexander Wang is an eye-catching, lightweight option for when you don't want to carry a full-size backpack.
Alexander Wang Beige Mini Marti Backpack, £860, Liberty
Stylishly executed with zip-apart straps that can be worn at the back or over the shoulder, useful zip pocket in the front flap, external side zip pockets and an internal zip pocket too. Perfect for wearing on your back during the day and then switching up to a handbag at night. The more minimal Black Leather Dumbo Backpack with Rose Gold Studs by Alexander Wang also deserves a mention.
Apart from the fact that rucksacks are THE style accessory of the season there are also some other more practical reasons why every girl needs a rucksack in her life.
2. They're good for your shoulders, posture, health in general
Ever stood in the mirror front-on and noticed that one of your shoulders is hunched-up slightly higher than the other? The oversized handbag trend has done women no favours posturally speaking.
Avoiding shoulder pain, lopsidedness and back problems are all reasons why you need to invest in a backpack.
Love Moschino Backpack with Detachable Scarf, £170, ASOS
Black Quilted Panel Zip Front Backpack, £19.99, New Look
3. You can Go hands-free
Have you ever tried pushing a buggy whilst holding an umbrella in one hand and a six year old in the other? You need a rucksack. This minimalist Leather Ponyhair Backpack from Topshop is a sleek, sophisticated option that's smart enough to take to the office.
Leather Ponyhair Backpack, £55, Topshop
Faith Natural Snake Trim Backpack, £39, Debenhams
4. Rucksacks are super comfortable
If you go for a full-size backpack you can fit a lot of stuff in but it feels like you are carrying a lot less than when you have it all painfully hanging from one shoulder.
ASOS Chunky Chain Backpack, £35, ASOS
5. They can add some style when you hit the gym
This should be a given, but so many of us still seem to squeeze as much as humanly possible into a simple tote bag.
Whistles Leather Verity Backpack in Forest Green, £280, ASOS