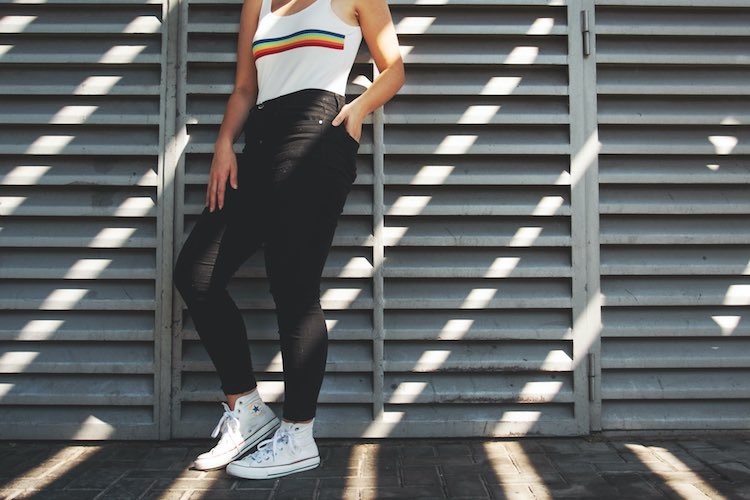 September 15, 2020 |
14 shares
Not many brands are able to become the iconic style for a type of shoe, but this is exactly what Converse has achieved with canvas trainers.
Instantly recognizable by rubber toe caps and a stripe along the midsole, Converse shoes have hit the mainstream in a huge way and are now an absolute essential in women's wardrobes worldwide.
Whether you're after tips on how to wear Converse with jeans or fancy trying someone more adventurous by wearing Converse with a dress, we've got all the info you need to know for sartorial success.
Read on for the full guide or use the quick links below to jump directly to the relevant section:
How To Wear Converse With Jeans
Jeans are the perfect match for women's Converse shoes and will go with both low and high top styles. The only rule is to not wear black Converse with dark blue jeans, so if in doubt opt for white, pink or grey.
Wearing Converse With Skinny Jeans
Converse and skinny jeans is the ultimate girl about town look for those days when you just want comfortable jeans. We love the simple styling of the outfit above, comprising of all the essentials that should be in every woman's wardrobe. Start with skinny jeans, add a cami or tee and then layer with knitwear. A pair of white Converse low tops completes the look.
Wearing Converse With Mom Jeans
High-waisted mom jeans look great paired with flat shoes, particularly Converse low tops. Wear yours with the hems rolled up and layer with an oversized jumper tucked in at the waist for easy off-duty style points.
Wearing Converse With Black Jeans
We can't get enough of black denim right now and you too can unleash your inner rock chick by teaming a pair of black skinny jeans with black All Stars. The outfit above is the perfect example to show how you can instantly dress the outfit up with a sophisticated overcoat and luxe accessories.
Wearing Converse With White Jeans
Step into the warmer months with white jeans – just hope it doesn't rain! Keep the rest of the outfit monochrome by adding a black top, black Converse All Stars and matching black accessories.
How To Wear Converse With Dresses
Ever since supermodels ditched their heels and started wearing slip dresses with boots, flats are no longer relegated just for wearing with jeans. Wearing Converse trainers with dresses is one of the best ways to style the trend, which will work with just about any dress in your wardrobe. Read on to discover some of the best dresses with Converse outfits for all occasions.
Wearing Converse With A Summer Dress
For a lazy summer's day in town, there aren't many better footwear options for wearing with a summer dress than Converse plimsolls. More cushioned than sandals and flip flops while being lighter than trainers, they make the perfect choice. Always opt for low top styles in white or black so you don't restrict your wardrobe options and use matching accessories to complement the rest of your outfit.
Wearing Converse With A Breton Dress
We love the simplicity of the holiday outfit above, showcasing the perfect match of a striped Breton dress with bright white Converse canvas trainers. The iconic striped outersole of the shoes helps to tie the outfit together and nothing else is needed apart from some shades and a bag for your sun cream.
Wearing Converse Chuck Taylor All Stars With A Maxi Dress
Want to look like an off-duty model? Just opt for a black maxi dress and wear it with matching black Converse high tops. It's an enviable look that's so easy to wear and you can add a denim jacket for added attitude when the temperature drops.
Wearing Converse With A Denim Shirt Dress
Shirt dresses have become of the must-have styles for fashionistas the world over and can easily be dressed up or down to suit the occasion. Why not combine two trends in one by going for a denim shirt dress layered with a longline cardigan. Complete the look with white Converse for an easy weekend outfit, then throw on some ghillie heels when it's time for cocktails.
Wearing Converse With A Mini Dress
There aren't many ways to wear a mini dress during the day without it looking a bit OTT, but add a pair of Converse and it instantly tones down the outfit. We love the pink mini dress and white low tops combo above, showing just how well the look can work.
How To Wear Converse With Shorts
Get summer-ready with these warm weather inspired Converse outfit ideas. From beach chic to sophisticated tailoring, these are some of our fave ways to wear your canvas shoes all summer long.
Wearing High Top Converse With Shorts
Converse high tops are the perfect shoe to wear with hot pants when you want to avoid heels. More grungy than trainers and less dainty than ballet pumps or sandals, they'll instant prep up your outfit. Wear with a chambray shirt to work double denim into your wardrobe and layer with neutral sweaters when the temperature drops.
Wearing Converse With Denim Shorts
The outfit above shows just how easy it is to wear regular denim shorts with Converse trainers. This look will work for just about anyone and by keeping the outfit simple with a red Breton top, blue denim shorts and white trainers, all elements complement each other perfectly. For a summer city break, you can't go wrong with copying this look.
Wearing Converse With Frayed Denim Shorts
Frayed denim shorts can look a bit casual if paired with the wrong pieces, but the addition of a patterned blazer instantly changes the feel. Go for bleached shorts so they look vintage enough to make it look like you've had them for years, then add your favourite slogan tee to show off under the blazer.
Wearing Converse With Tailored Shorts
We love the versatility of the outfit above, as it will work just as well in the office as it will for date night. The key to the look is using just two colours – white and blue. Start with pastel blue tailored shorts and layer the outfit with a darker blue blazer. Complete the look with white Converse and a matching white cami or blouse.
How To Wear Converse With Leggings
A student's favourite, the high top Converse with leggings combo has been around for years but has started to get a grown up refresh. For maximum wardrobe options, always invest in black leggings rather than printed designs and then follow the tips below to mix up your look depending on occasion.
Wearing Converse With Leather Look Leggings
Leather look leggings can be hard to pull off, but by pairing with heavy fabrics like denim you'll balance out the textures across the outfit. A light blue denim jacket or shirt work perfectly with black shiny leggings and the addition of black canvas Converse trainers adds the final texture.
Wearing Converse With Cropped Leggings
While black Converse give the most wardrobe options with leggings, you may want to swap to pink if your wardrobe is in serious need of a colour boost. For downtime days, we love the combination of a turquoise jumper and pink Converse in the outfit above. The black cropped leggings help to show off the trainers, while making sure you don't end up looking like a lollipop!
Wearing Converse With Smart Leggings
As an alternative to skinny jeans, invest in quality black leggings for your workwear wardrobe. Keep the rest of the outfit monochrome with black Converse, a Breton top and a black pea coat for a sophisticated ensemble that's perfect for your daily commute. Then switch to court shoes or ballerinas if you can't quite get away with trainers in the office.
How To Wear Converse With Skirts
There are endless ways to wear Converse trainers with a skirt for both casual and smarter occasions. Be inspired to mix your outfits up this season with the ideas below featuring a massive range of different styles of skirts.
Wearing Converse Chuck Taylors With A Skater Skirt
Unleash the skater girl inside by wearing an A-line skater skirt with high top Chuck Taylor trainers and a basic vest top. Add a black biker jacket for added attitude and wear with opaque tights during the colder months.
Wearing High Top Converse All Stars With A Bodycon Skirt
You might think Bodycon skirts aren't a style that would work with Converse style trainers, but if you get the rest of the outfit right it's a great casual look. By adding a longline top or cardigan you'll take attention away from the skirt to create a balanced springtime outfit.
Wearing Converse With A Maxi Skirt
Go all black this season with a black maxi skirt teamed up with black Converse and a cropped black leather jacket. It's an easy look to re-create and is perfect for downtime days when you want to make a statement without sacrificing on comfort.
Wearing Converse With A Midi Skirt
The Converse outfit above will work just as well in the office as it will in the bar drinking a cocktail or two after. Start with a neutral color for the midi skirt such as grey, then opt for pastel knitwear and complete the look with complementary bright accessories.
Wearing Converse With A Denim Skirt
The Converse and denim skirt outfit has been done to death, but we love the mishmash of smart and casual shown above by the addition of a crisp white shirt rather than the standard cami or tee. The red handbag complements the stripe on the low tops while giving the outfit just the colour pop it needs.
Wearing Converse With A Leather Skirt
Not many people can pull off a leather skirt, but if you can it's an enviable look. Keep the rest of the outfit black to match the skirt and always go for low top Converse rather than high tops to keep attention firmly on the skirt.
How To Wear Converse With Trousers
Wearing low top Converse trainers with trousers is one of the easiest ways to incorporate your kicks into your workwear wardrobe. Always keep your canvas trainers in pristine condition and stick to white or black so your outfits stay at the smarter end of the spectrum.
Wearing Converse With Suit Trousers
Just like how the guys have been dressing down suits with trainers, female fashionistas worldwide are now getting in on the trend. The key is to avoid wide leg trousers and instead opt for a tapered or cigarette style cut so you can roll the hems up a couple of inches. Add a matching blazer and complete the look with tan accessories.
Wearing Converse With Cropped Trousers
If you're not a fan of suits, go straight for smart cropped trousers and wear with canvas Converse trainers and earth tones up top. The outfit above screams autumn with the rust coloured sweater and won't be going out of style anytime soon.
Wearing Converse With Leather Trousers
Leather trousers will instantly elevate any outfit from the norm of other fabrics. Keep the attention clearly on them by making sure you use neutral colours for your tee or sweater and add a pair of black Converse for sartorial success.
How To Wear Converse With Dungarees
Denim dungarees are just about the perfect clothing to wear with Converse. This means there aren't many rules you have to follow, just be careful not to wear dark blue with black. Checkout the outfits below to see how to wear both high and low top styles with your dungarees.
Wearing High Top Converse Chuck Taylors With Black Dungarees
This outfit is deceptively simple, comprising black Converse high tops, black denim dungarees and a white jumper. The stripes on the jumper help to add some interest while the tan handbag ensures the outfit isn't purely monochromatic.
Wearing Converse With Blue Denim Dungarees
Blue dungarees should be one of your style staples if you haven't already got a pair, versatile enough for both winter and summer outfit options. Style yours with Converse trainers and a white tee when the sun's out, or with printed knitwear during the colder months.
Our Top Tips On What To Wear With Women's Converse Shoes
Choose black or white low top Converse for the most amount of outfit options and only invest in other colours if you only plan on wearing them on downtime days.


Low top Chuck Taylors should be your go to style for jeans, dresses, trousers and leggings; while high top styles usually only work well with shorts, dungarees and skirts.


As a general rule, black is the best colour of Converse to wear with black or grey bottoms.


For blue denim, opt for white Converse as a failsafe option and inject red elements into the rest of the outfit to complement the sole stripes on the trainers.