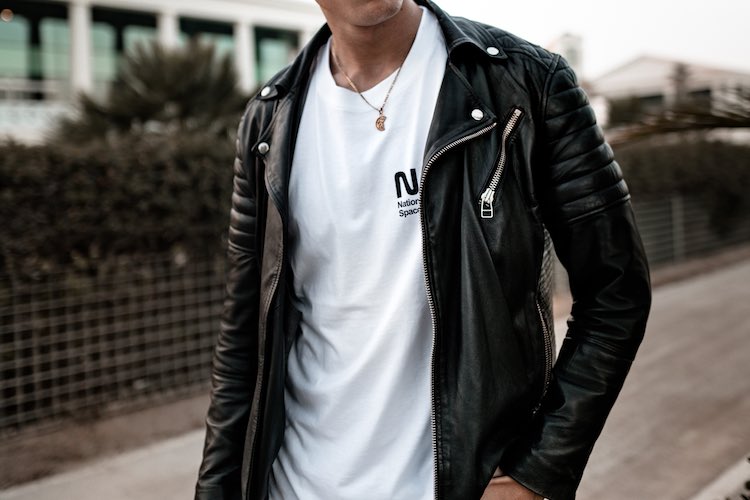 March 20, 2017 |
4 shares
Believe it or not, spring officially starts today, so it's time to start thinking about the jackets and coats that can bridge the seasonal gap during the changeable time of the year.
Hot and cold? Wet and dry? Each of the styles chosen below works perfectly for that day-by-day unpredictability and helps you look amazing while you do it.
With that in mind, read on to discover our top five men's spring jackets you should be wearing…
1. Denim Jackets
SHOP THE LOOK: Denim Jackets | Black Skinny Jeans | White Converse Trainers
Let's be honest, we all have one. Nearly indestructible and growing more unique with wear, denim is the perfect choice to take you into the warmer spring months.
With material thick enough to resist crosswinds, slipping on a light coloured cable jumper will help keep out the cold and pair nicely with your threads.
As the weather warms, it's easy to take your sleeves up, bring down your collar and begin the transition from casual button downs to weathered t-shirts.
2. Gilets
SHOP THE LOOK: Men's Gilets | Chinos | Brown Chukka Boots
While a bodywarmer can be a bit full-on after winter, the contemporary gilet is a great transition piece. As the seasons shift, a neat gilet can take the place of bulkier coat and save space when the sun (eventually) comes out.
Try pairing yours with plaid in a neutral colour-scheme for an elegant yet casual look.
As a rule, puffiness should be avoided, and a slender gilet can be slipped on over anything provided you stick to neutral colours, blues and charcoals.
3. Harrington jackets
SHOP THE LOOK: Harrington Jackets | Slim Fit Jeans | New Balance Trainers
For those of us in the UK, a Harrington is an invaluable piece of kit when it comes to keeping April showers off our backs and looking good while doing it.
No other jacket in this list provides a greater degree of flexibility in its ability to flip between super casual and razor edged cool in one quick change.
A flexible addition to any wardrobe, a Harrington can be paired with slim jeans or bring a bit of class with a jumper or button down. However, it's impossible to mention the coat without a reference to James Dean.
No matter what you're sporting, throwing a red Harrington over your shoulder marks you out from the crowd and have you ready for any situation spring can throw at you.
4. Biker jackets
SHOP THE LOOK: Biker Jackets | Smart Trousers | Formal Shoes
Protective, sensible and cool - the biker jacket is the swiss-army-knife of the sartorial world.
Need to go smart? No problem. Swap out your smart-casual jacket for a racer and pair up over a smart button down, charcoal suit bottoms and Oxfords.
Looking for something different in the sun? Pop a standard motorcycle jacket over a floral or light patterned shirt with jeans and Converse. Heading down to the shops? Throw a biker over some slim denims and a keffiyeh to be ready for rain or shine.
5. Lightweight trench coats
SHOP THE LOOK: Trench Coats | Beige Chinos | Men's Polos | Grenson Brogues
In many ways the ultimate trans-seasonal jacket, a trench coat can accommodate all elements by doing little more than unfastening your buttons.
Dress it up with a long scarf, and pair with sleek chinos for a smart, all-English look. This is one coat which looks amazing with a full suit and shining shoes, bringing a suave edge to your formal attire.
Our Top Tips On How To Wear Spring Jackets
A denim jacket looks great layered over a cable knit jumper during spring. Complete the look with a pair of Converse hi-tops and skinny jeans.


Gilets make the perfect transition piece as the seasons shift. Pair with neutral colours and add a pair of suede chukka boots to finish the outfit.


For both dressing up or dressing down your outfit, look to Harrington jackets to keep the showers at bay. They're the most flexibility style of spring jackets and can be worn with just about anything if you choose the right colour.


If you're looking to mix up your outfits during spring, a good quality leather biker jacket will see you through the season in style. You can wear over tailored trousers and a shirt for sartorial success during the week, then with a pair of distressed jeans at the weekend.


When you need a formal jacket as we move out of winter there is really only one option – a lightweight trench coat. As well as keeping your overall outfit smart it'll keep the rain off your suit so you avoid the dreaded soggy trousers.