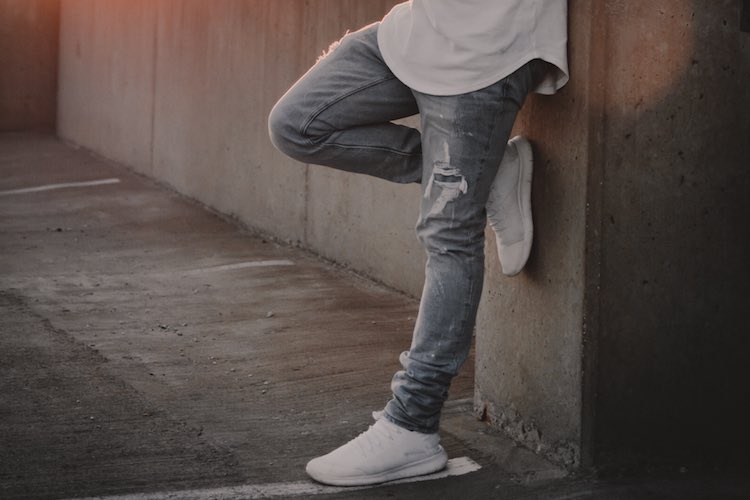 Over the last two years grey jeans have become a street style staple, yet they're also a great alternative to blue denim for more formal occasions.
With all the major denim and high street brands now offering multiple shades of grey within their collections, there's never been more choice for us guys across all budgets. Not sure how to wear yours? Read on for our complete guide on what to wear with grey jeans, or use the quick links below to jump straight to each section…
What To Wear With Light Grey Jeans
Men's light grey jeans look particularly good with neutral colours such as brown, khaki and white. Always opt for a darker shade of brown over lighter shades like tan so there's enough contrast in the outfit.
The look above is easy for any guy to pull off and all you need is a pair of chocolate brown leather loafers and matching accessories. You should then opt for a white or blue colour shirt to wear with grey jeans for guaranteed sartorial success.
On downtime days, look to washed light grey jeans teamed up with shades of blue and complete the look with boxfresh white trainers.
What To Wear With Dark Grey Jeans
Dark grey jeans generally work better for casual outfits rather than formal outfits, so if you're not a fan of light grey, it's better to opt for black jeans for the office.
On off-duty days, try wearing dark grey jeans with lighter shades of grey, black and white to create stylish monochrome ensembles. The outfit above demonstrates how versatile this colour combo is and it gives loads of options for casual occasions.
How To Wear Grey Jeans Casually
Both dark and light grey jeans are great for everyday outfits, helping to mix up your casual wardrobe so there's more variety than just blue denim. Lighter shades of grey offer a more relaxed alternative to chinos and look good teamed up with blue jackets, while darker grey jeans can be worn with everything from white to tan.
How To Wear Grey Jeans To Work
It's best to choose light grey jeans if you plan on wearing them for more formal occasions as you'll have more options of what you can wear with them. The grey jeans blue shirt combo above is a tried and tested winner and can be dressed up further with the addition of a navy overcoat.
For further inspiration, checkout the grey jeans outfits below to see a few more classic combinations that will keep your style game strong throughout the week.
Grey Jeans Street Style Outfits
Swapping blue jeans for grey will instantly elevate your street style outfits and help you to keep ahead of the game. Always choose a skinny fit cut and keep the rest of the outfit simple. A plain grey, white or black top plus the addition of Chelsea boots or Converse trainers is all you need to pull off the look in style.
What To Wear With Grey Jeans In Summer
A pair of grey jeans is a great addition to your summer wardrobe, especially if you pick styles in lighter shades of grey as they'll lighten upyour outfits. The outfit idea above is perfect for a summer city break and by teaming up with a denim jacket, you can work the men's double denim trend into your summer outfits. Alternatively, add a plaid or floral print shirt to inject some colour and complete the look with black or navy trainers.
Our Top Tips On What To Wear With Grey Jeans
Light grey jeans will give you more outfit options than dark grey and are also better for smarter occasions.


Wear your light grey jeans with a pale blue or white shirt plus brown shoes for an easy office friendly outfit.


Dark grey jeans look better worn with other shades of grey, black and white so you achieve the result of a monochrome ensemble.


For casual occasions, stick to a muted colour palette and wear grey jeans with hues of brown, blue, grey, black or white for sartorial success.