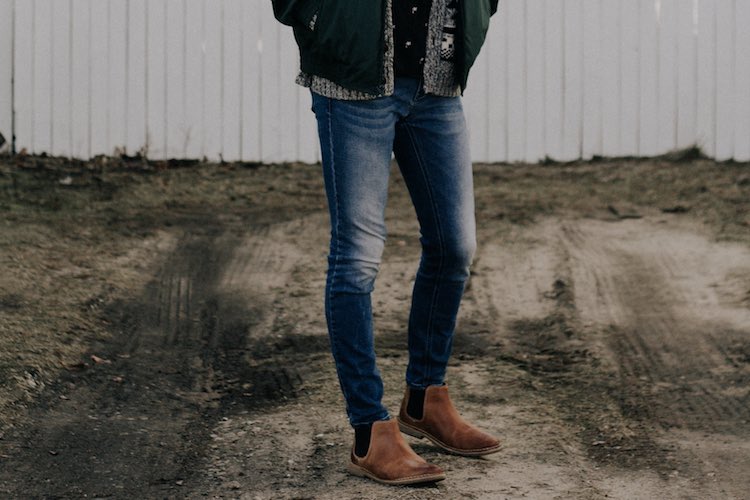 November 1, 2020 |
15 shares
Rumored to be named after the area of London they were most popular in during the 1950s and swinging '60s, Chelsea boots are instantly recognizable by the elasticated side panels and lack of laces.
A more rugged alternative to the iconic loafer and smarter than lace-up boots, they're an absolute staple for the modern gent's wardrobe. Not sure how to style yours? Read on for our complete guide on how to wear men's Chelsea boots for work to play…
How To Wear Chelsea Boots With Jeans
The street style outfit of choice, men's Chelsea boots with jeans is a tried and tested look that isn't going anywhere soon. Always opt for slim-fit or skinny jeans with Chelsea boots for sartorial success and checkout the outfits below for expert tips on what works best with different colours of boots…
How To Wear Tan Chelsea Boots With Jeans
Tan is by far the most versatile colour and will go with all shades of denim, making it our recommended colour for year-round outfit options. Try wearing tan Chelsea boots with black skinny jeans plus a plain t-shirt on downtime days and layer with a brown shirt when the temperature drops.
While suede tan boots generally look better with black denim, if you plan on wearing them through winter it's always best to go for leather Chelsea boots so you're not constantly trying to dodge the puddles.
How To Wear Brown Chelsea Boots With Jeans
As a general rule, the darker the shade of brown of Chelsea boots, the lighter the denim colour you should be wearing with them. Walnut brown boots look great teamed up with light blue jeans and a black biker jacket will instantly add some attitude to your outfit.
For lighter shades of brown Chelsea boots, both charcoal and navy jeans will complement the earthy tones and add some contrast to the look.
How To Wear Grey Chelsea Boots With Jeans
Grey Chelsea boots can be harder to pull off, but during the warmer months they're a stylish alternative to hi-top trainers. Wear yours with light blue jeans plus a white top and layer with a grey overcoat, jumper or blazer.
Take a peek at the Chelsea boots outfits below for more inspiration on how to work the trend like a pro this season.
How To Wear Black Chelsea Boots With Jeans
Compared to other colours, black Chelsea boots are usually the smartest option. You can wear them with black or blue denim on off-duty days and then with grey and black suits for 9 to 5 style points.
Go for black leather boots to maximize your outfit options during the wetter months and look to coloured elastic side panels to add interest to your outfit. Purple side panels look particularly good when you wear your black Chelsea boots with a grey suit.
How To Wear Chelsea Boots With a Suit
Mix up your boardroom looks by swapping Oxfords for a pair of leather Chelsea boots with a suit and you won't be disappointed. Chestnut brown Chelsea boots work really well with blue suits, while black boots finish off an all-black formal outfit.
If you're looking to experiment more, go for Chelsea boots with brogue detailing and they'll elevate your office outfits to new heights.
How To Wear Chelsea Boots With Chinos
If you're wondering 'can you wear Chelsea boots in summer?' - the answer is a definitive yes. Just don't wear them with shorts. Instead, wear them with your favourite pair of skinny chinos and opt for suede Chelsea boots over leather for a summer-friendly look.
Our Top Tips On How To Wear Men's Chelsea Boots
Chelsea boots look best with tapered or skinny jeans and trousers so the hem comes down only over the top of each boot.


Tan Chelsea boots are the most versatile colour as they'll complement most other items in your wardrobe and go with almost anything.


Black leather Chelsea boots are the smartest option, making them perfect for work as an alternative to Derby or Oxford shoes.


In summer, opt for suede Chelsea boots and wear yours with chinos for stylish outfit options during the warmer months.


Always choose leather Chelsea boots in winter for maximum durability whatever the weather throws at you.