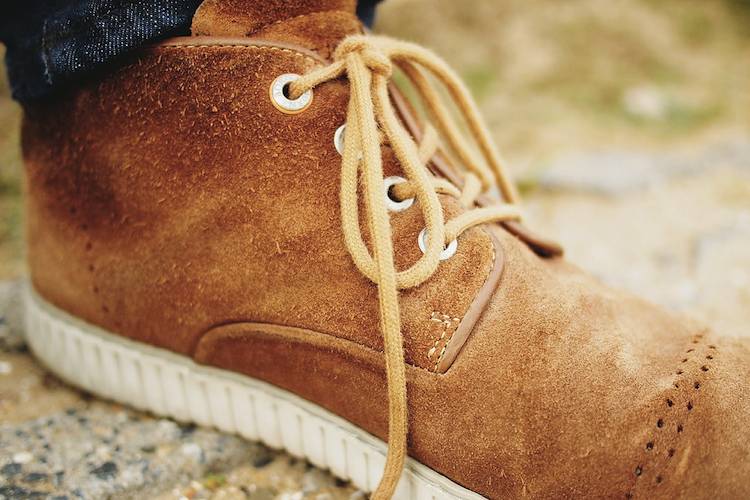 You've worn out your new suede shoes for the first time and as luck would have it you get caught in the rain.
Don't despair – this 6 step how to guide will teach you how to protect and clean suede
1. Spray it first
Protect your suede garments and shoes with a suede protector spray. This will prevent spotting on the suede from rain and should repel some stains.
2. Buy a suede brush
Invest in a double-sided suede brush for the best cleaning results. Do not use any old cleaning cloth or a toothbrush and expect good results, a suede brush has been specifically designed to clean suede.
Most suede brushes have two sides – a wire-bristled or nylon-bristled side for cleaning off dust and debris (such as mud), and a soft rubber-bristled side for buffing the suede.
Never use your suede brush on wet shoes, suede should always be cleaned when dry. Brushing dry suede vigorously in both directions should get your suede boots looking buff again. For serious stain situations try the below.
3. Tackle stains immediately
If you spill something on your suede, you should try to rub it off immediately. Blot with a dry paper towel to absorb the liquid as the longer a stain sits, the harder it will be to remove from the suede.
4. Diluted white vinegar for general stains
After blotting a stain dry you can then apply a small amount of white vinegar on a damp cloth (wrung out excess water first). Gently rub the shoe with the damp cloth and allow to dry naturally away from direct heat sources.
5. Talcum powder for oil-based stains
If the suede has an oil-based stain you can try to use talcum powder to absorb it. Leave the powder on overnight, and then use the suede brush on dry suede the next day.
6. Pencil eraser for stubborn dry stains and marks
If you're cleaning off mud with your suede brush, make sure it's completely dry before you start. After brushing suede shoes vigorously with a suede brush any left over stubborn marks can be tackled with a pencil rubber.
To remove dry stains and marks try rubbing gently on the mark with the rubber, adding pressure as required. When in doubt seek professional help and take your shoes to the cobbler.