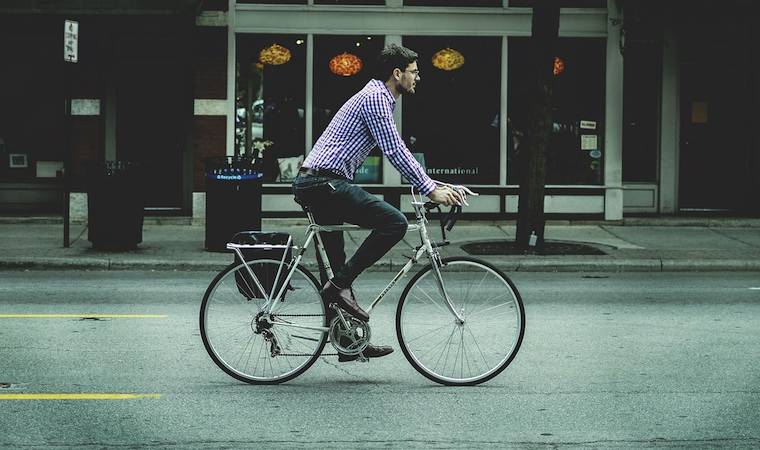 January 3, 2016 |
2 shares
Do you secretly hope that no one will spot you on your morning cycle to work? If you're a bit all over the place − think soggy trousers tucked into socks, a helmet that you've had since your BMX days and a torn-up jacket no-one could EVER look attractive in, it may be time to streamline your cycling look and invest in some new gear.
Here are 3 pedestrian-friendly styles to help you look better on your cycle to work. Pick the style which appeals the most and just ride with it.
1. Smart Ride
For the man who isn't a cycling fanatic, it's just a convenient way to get to work and this is the only time available to get some exercise in.
Choose highly-functional pieces that are smart and understated. The Endura Urban Riding range offers multi-tasking shirts and trousers which can be worn on a bike and at the office, perfect for when you have an 8.30am meeting with clients.
Endura Urban Long Sleeve Shirt, £42.74, Evans Cycles
This slim-fit shirt has an ergonomic flap-free cut, an antibacterial finish to prevent body odour and even glows in the dark! The hi-viz thread is invisible in the day but highly reflective at night. The 2-piece shirt collar is fit for the office or a smart-casual occasion and the chest pocket with button closure fits your smartphone.
Endura Urban Pant (including belt), £56.99, Evans Cycles
The Urban Softshell Pant by Endura provides protection from the elements and is made from a breathable 4-way stretch softshell fabric with a water repellent finish. Comfort and contemporary style for both on and off the bike.
Nike NikeLab Hooded Gore-tex® Jacket, £365, Mr Porter
Part of the NikeLab collection, this streamlined casual jacket is crafted from waterproof GORE-TEX® and has taped seams and a snap-fastening storm flap to block out wind and rain. A media pocket and hood (which can be stored in the collar) make this jacket very practical.
Brooks England Trouser Strap, £14.99, Evans Cycles
Looks better than tucking your trousers into your socks! These nifty leather trouser straps from Brooks England come in black, brown, ochre and red. The Brooks trouser straps are made from a broad leather band that wraps comfortably around your trousers to keep them clear of the chain − spring loaded so they snap easily into place.
BBB Winner PH Sport Sunglasses, £62.96, Wiggle
Finish off the look with these minimal cycling glasses, with interchangeable lenses and the choice of black or white frames.
2. Hipster Fluoro
Wacky and wonderful is the only way. You want to get noticed on your bike ride. Skin-tight neons, patterned prints, bring it on. It may still be dark outside on your ride to work but that's even more reason to glow-for-it. Secretly you wish you could wear fluorescent pink all the time.
Primal Exclusive Ocho Heavyweight Jersey, £45, Wiggle
This long-sleeved zip-up jersey from Primal provides warmth and comfort in a funky teal and orange print.
GripGrab Hi Vis Hurricane Gloves, £27.61, Wiggle
Lizard Skins DSP 2.5mm Fluorescent Handlebar Tape, £26.95, Customised Bikes
Dhb Blok Meso Roubaix Long Sleeve Jersey, £45, Wiggle
This warm, fleeced jersey from Dhb is breathable and ideal for cycle training in winter – the navy, black and orange print looks pretty cool too.
HUMP Deluxe Hump Rucksack Cover, £17.49, Wiggle
Keep your rucksack dry in fluorescent style. This rucksack cover from Hump comes in atomic blue, pink glo, safety yellow or shocking orange.
3. Breton Chic
Did you know that the Breton stripe originated from Brittany in the North West of France? Add some je ne sais quoi with classic Breton stripes and French-inspired pieces from Gallic cycling brand Café du Cycliste. Nautical navy, white and baby blues look très bon against modern designs and stylish cuts.
Café du Cycliste Suzanne Striped Stretch and Mesh Cycling Jersey, £105, Mr Porter
This Breton-striped short-sleeved jersey, with contrasting red front zip is made from a stretchy, ventilating fabric and features streamlined pockets, reflective trims and a gum-lined hem to keep it in place.
Café du Cycliste Claudette Zip-Up Cycling Jersey, £135, Mr Porter
The 'Claudette' long-sleeved jersey is constructed from a hi-tech, innovative fabric which contains silk and merino wool for comfort and warmth. The lightweight, stretchy and odour resistant finish will keep you feeling and looking fresh.
Brooks England Pickwick Small Rucksack, £165, Wiggle
Complete the look with this neat Pickwick Rucksack from Brooks England − made from water-resistant treated cotton canvas and genuine vegetable tanned leather.