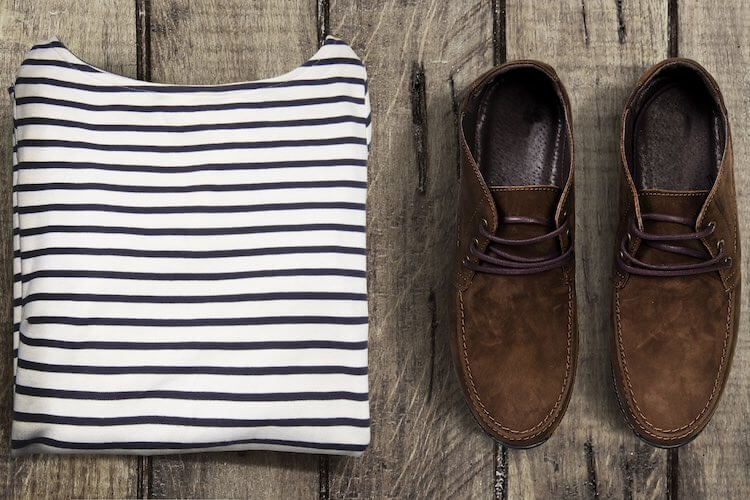 September 10, 2023 |
16 shares
Produced by Clarks since the late 1960s, the Wallabee has become one of the most iconic shoes of the last 50 years. Although the style gained fame across the Atlantic thanks to the likes of the Wu-Tang Clan and other celebrities championing them, it's only recently that guys in the UK have finally been adding this classic to their capsule wardrobes.
Not sure how to style yours? Read on for our complete guide on how to wear men's Clark Wallabees all year-round, or use the quick links below to jump straight to each section…
How To Wear Clarks Wallabees With Jeans
The relaxed styling of Wallabees makes them perfect for wearing with denim, whether you opt for Wallabee shoes or boots. The key is to avoid relaxed or loose jeans so you can show off your Clarks in all their glory. Checkout the Wallabee outfit ideas below for inspiration to last you through the season…
How To Wear Wallabee Shoes With Jeans
Wallabee shoes look great with slim and skinny fit jeans and will be one of the hardest working items in your casual wardrobe. Classic suede maple Wallabees are perfect for stepping up your off-duty outfits for a smarter look than trainers, while not being as formal as Oxfords or Derbys. If your jeans are a bit on the long side, try rolling up the hems so that the Clarks Wallabee shoes are the stars of the show.
How To Wear Wallabee Boots With Jeans
With Wallabee boots you can afford to go for a looser cut jean if skinnies aren't your thing. Both grey and olive boots work well with an all black outfit for sophisticated downtime styling, or mix it up by adding a khaki shirt like the look showcased above. If you're planning on wearing your Clarks Wallabee boots through the wetter months, opt for leather so you've got a bit of extra protection against the elements.
How To Wear Clarks Wallabees With Shorts
Swap your espadrilles for a pair of Wallabees for endless outfit options with shorts during the warmer months. They go with just about every style of shorts and will instantly dress up your casual summer looks when you want to impress. As suede Wallabees come with a stain and water resistant treatment you won't even need to worry about water marks if you are caught in a brief summer shower.
How To Wear Clarks Wallabees With Chinos
A favourite look for David Beckham, Wallabee shoes and chinos is a timeless combo that isn't going anywhere anytime soon. Mix up your looks by opting for burgundy or brown chinos worn with maple Wallabees and a check shirt, or elevate your street style to new heights by wearing grey Wallabee Clarks shoes with khaki chinos.
Top Tips On How To Wear Men's Clarks Wallabees
For casual occasions, team up Wallabee boots or shoes with dark denim jeans and complete the look with a bomber jacket.


Black Wallabee shoes look great worn with black jeans and will keep your street style on point when paired with a khaki overshirt or camel overcoat.


During the warmer months, try wearing your Wallabees with chinos or shorts and keep the rest of the outfit paired back to complement the simple lines of the suede Clarks shoes.
A History of the Clarks Wallabee
Clarks has a long history dating way back to 1825, when brothers Cyrus and James Clark made a slipper from sheepskin off-cuts. The family company based in Somerset continued to grow, producing new styles of footwear that gained international fame.
Fast-forward 140 years and Clarks were keen to keep up with the latest trends. After spotting the success of a moccasin called the Grashopper produced by German brand Sioux in 1964, they decided to produce their own version and the Clarks Originals Wallabee was born 3 years later.
From 1967 to 1987 Wallabees were produced at the Padmore and Barnes factory based in Kilkenny, Ireland, which Clarks had acquired in 1964. Two styles were originally manufactured, with both Wallabee boots and shoes utilizing a moccasin construction and finished with the signature Clarks crepe sole. The design has deviated little to this day, with clean and simple lines still at the forefront of these comfortable lace-ups for men.
So how did Clarks Wallabees earn an iconic status? Surprisingly this is thanks to hip-hop across the pond. In the 1960s, the West Indies, and more specifically Jamaica, had a love affair with Clarks. The reggae rude-boys couldn't get enough of Clarks desert boots and after the launch of the Wallabee, it wasn't long before they were sprawled across the album covers of some of the most influential reggae singers in Jamaica.
Immigration in the 1970s then moved this passion across to New York, as Jamaican immigrants in the South Bronx donned their favourite Wallabees. The trend quickly caught on, with the Wu-Tang Clan most famously championing the iconic British style in the 1990s. This side of the Atlantic, the Wallabee was featured on the cover of The Verve's Urban Hymns, while also becoming a favourite among the likes of classic British bands including Oasis and Blur.
The popularity of the Wallabee has continued to soar ever since and Wu-Tang Clan even collaborated with Clarks in 2018 to celebrate the 25th anniversary of the group's first album. Today the brand has high profile fans worldwide, from David Beckham to Canadian rap superstar Drake. Although the design may have changed very little, they're now available in more colourways than ever so it's never been a better time to invest in a piece of British history.