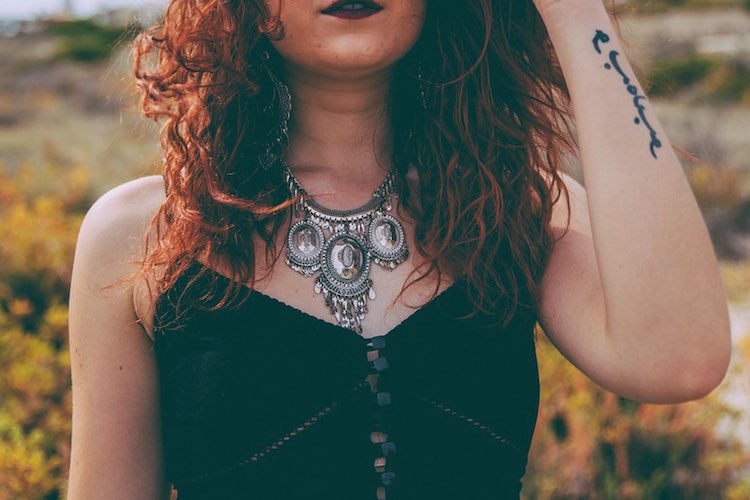 September 7, 2016 |
5 shares
They say it's the little things in life that count, and that couldn't be more true than when it comes to creating an awe-inspiring outfit.
From ladylike strings of pearls to safety pins, these are the jewellery trends that are hot for autumn winter 2016/17.
1) The choker
SHOP THE TREND: Chokers | Bardot Tops | Skinny Jeans
Choker-length chains and black leather chokers give a not-so-subtle nod towards punk and 90's grunge.
A leather choker with a metal buckle is a statement accessory, or go for something less severe with an oversized jewelled choker.
For somewhere inbetween, a velvet choker is both simple and opulent. Wear it with a ruffled bardot top for a stand-out look.
2) Strings of pearls
SHOP THE TREND: Pearl Necklaces | Denim Jackets
Classic elegance is easily achieved wth a string of pearls. Chanel and your grandma love them and now we do again too.
Pearls have been reworked for the new season by teaming them with modern pieces. Now you don't have to be going to a dinner party or wearing a cocktail dress to wear pearls.
Contrast this classic, ladylike accessory with a zip-up knit or a jersey t-shirt. As seen at Chanel, who did multiple long strings of pearls over a fleecey zip-up or Miu Miu did a single short string of pearls worn with with a denim jacket.
3) Schoolgirl safety pins
SHOP THE TREND: Balenciaga Earrings | Eyland Earrings | Vivienne Westwood Earrings
This trend plays into the punk trend and can complement a choker or stand-out lipstick shade.
If nearly-black lips aren't your thing, it doesn't need to be that dramatic, Balenciaga and Sonia Rykiel made oversized safety pin earrings minimalist and chic worn with modern tailoring and makeup that looked like no makeup.
4) The single earring
SHOP THE TREND: Drop Earrings | Blouses | Court Shoes
Mismatched and asymmetric earrings is still a thing, as this trend continues for the new season.
A single statement earring and one bare lobe is the freshest take on this quirky look. Just remember to keep the other one safe in your jewellery box for when wearing two earrings is de-rigeur again.
5) Layering bracelets over sleeves & gloves
SHOP THE TREND: Gold Cuffs | Long Sleeve Tops | Tailored Trousers
A jewellery trend that's practical and warm! It always did seem a waste to have that beautiful bangle hidden away under layers during the colder months.
Now you needn't roll-up your sleeves to show-off your latest timepiece or bit of bling, just pop it over the top. Bracelets and cuffs worn over sleeves and gloves was a standout look at the Collections – layer chunky bangles over a knit or slide a sleek gold cuff onto your upper arm over a tight long-sleeve.
6) Across ear earrings
SHOP THE TREND: Ear Cuffs
Gone are the days when the earring is confined to the lobe. The new earrings are unapologetically large and stylishly intrusive, concealing the inner ear itself. For something more intricate look for earrings with chains which connect cuffs to lobes.