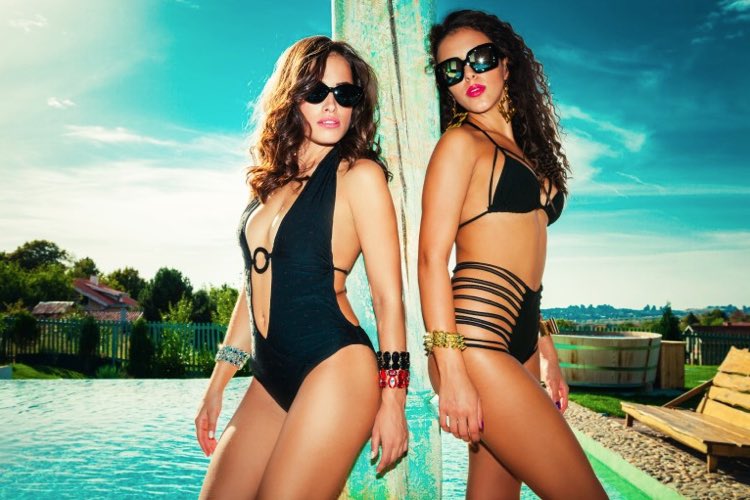 Life's a beach. But let's be honest, when you're worried about how you look in a bikini it's hard to relax – no matter how blue the sky or clear the sea.
Finding a bikini or swimsuit which you feel confident in is the first step to feeling good and enjoying a holiday. If you don't know where to start when it comes to finding swimwear, this guide will get you sorted.
We've got all the need-to-know styles covered. Find out which swimsuit or bikini will make your body look best and the swimwear styles that are hot for this year...
Bikinis
Love them or loathe them, bikinis are the number one must-pack item when you jet off on your hols. Cover-ups and sarongs are great, but when it's time to get down and dirty in the sand, a flattering asset-enhancing bikini is every girl's saviour.
Classic black or colour pop?
We'll move onto bikini cuts in a bit but first lets consider colour. The black bikini – reliably stylish and slimming and the go-to if you want to keep it low-key. If blending in isn't your thing, shine bright in tropical coral and orange tones to enhance a tan or pick a colour which complements your skin tone.
STYLIST TIP: If you're body conscious, stay clear of white bikinis and metallics to avoid highlighting any imperfections.
Triangle bikini tops
Triangle tie-back bikini tops are great for small to average busts. The triangle shape adds curves, but doesn't provide much in the way of support so is not recomended for anything above a C cup. A moulded triangle bikini top with padding will provide more support and add definition.
Underwired bikini tops
Underwired bikini tops with moulded cups give the most support and are the best option for ladies with ample cleavage. They will keep everything where it needs to be and give a natural-looking push-up effect. The clasp closure at the back is more supportive than a tie-string back.
Bandeau bikini tops
Bandeau bikini tops are the best to tan in as they don't leave behind strap marks. Basic bandeau tops aren't much more that a thick strip of elasticated material and for obvious reasons work best on A-B cups. Some bandeau tops have subtle built-in underwired cups, which work well on anything up to a DD cup.
STYLIST TIP: Look for bandeau bikinis which feature detachable neck ties for added versatility.
Halter-neck bikini tops
Halter-neck bikini tops have a push-up effect and are great for maximising cleavage on smaller chests and giving lift to average to large busts.
Wrap-around bikini tops
Wrap-around bikini tops aren't that common but they're a new swimwear trend for this year. A flattering shape providing more coverage, the only downfall is the potential weird tan lines from the multiple straps and top-like shape.
Tie-side bikini bottoms
Tie-side bikini bottoms enhance curves – a great option for athletic shapes and skinny frames. If you already think you've got a big bum, tie-sides will make you think it looks bigger – go for elasticated mid-rise bikini bottoms instead.
STYLIST TIP: The smaller the bikini bottoms, the curvier your bottom will look.
Elasticated mid-rise bikini bottoms (without the side tie)
Mid-rise bikini bottoms without side-ties will flatter most shapes including curvy figures. Avoid detailing and keep bikini bottoms fuss-free if you want to draw attention away from the bottom.
High-waisted bikini bottoms
This retro-inspired swimwear trend has been a big hit. High-waisted bikini bottoms are flattering and the tummy-flattening effect of high-waisted bikini bottoms makes them ideal for apple shapes and women with weight around the middle.
Low-rise bikini bottoms & boy shorts
Don't assume that if you have a big bottom boy shorts will make it look smaller. Sometimes boy shorts can have the opposite effect and actually draw attention to the area you want to disguise.
How can I draw attention away from certain areas?
Eyelets and lace-up detailing, frills and embellishments are not only pretty, they can be used cunningly to enhance assets or draw attention away from certain areas.
If you're pear shaped and want to draw the eye upwards, adding embellishments and detailing to a bikini top and wearing plain bottoms will help balance out bottom-heavy figures.
Small chested girls can visually go up a cup size by opting for a bikini top with bows, frills or a busy pattern. Avoid ruffles or embellishments up top if you have a large bust and want to draw attention away from the area.
Tankinis
Somewhere inbetween a bikini and a swimsuit, a tankini is a two piece swimsuit with a long length top and bikini bottoms. Anther good option if you want to keep your tummy concealed.
The one-piece swimsuit
If wearing a swimsuit makes you feel like a gawky pre-pubescent then keep them reserved for doing laps. If, on the other hand, wearing a onesie on the beach makes you feel better about your body, then go for it – there are lots of sexy, modern takes on the one-piece swimsuit around. Deep V-neck or plunge-neck swimsuits are a grown-up cut, while a well-fitting plunge-neck swimsuit will draw attention to the chest, streamline hips and smooth out the midriff.
STYLIST TIP: Slashes or strategically placed cut-outs create fabulous curves on athletic figures.
Swimwear trends for 2020
A major print trend for 2020 swimwear is animal prints. Metallics are also shining bright, but this swimwear trend can be hard to pull off.
Tie-dye is back for 2020 or make waves in floral and Hawaiian prints. Unleash your inner boho babe with crochet bikinis or Missoni-inspired crochet zig-zag prints.
For sexy swimwear looks cut-out designs and caged bikinis are another big trend. Create some interesting shapes with multi-wrap strap bikinis and cut-out swimsuits.