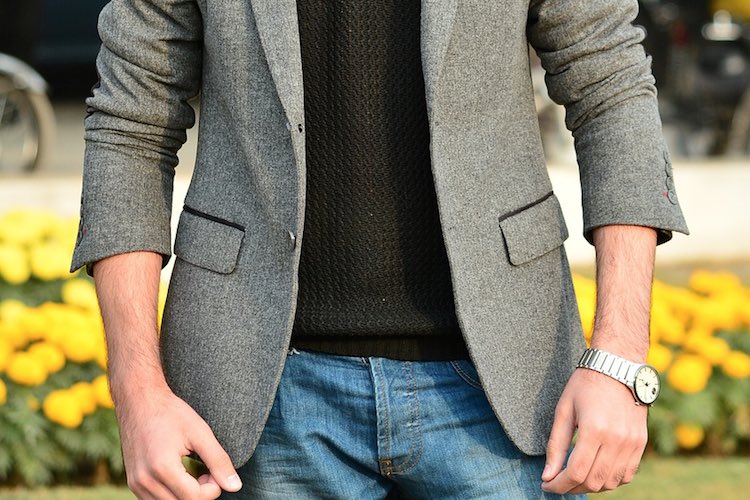 February 9, 2016 |
6 shares
You've got the invite, sussed out which Facebook friends are going and who's a maybe. All that's left to do now is decide what to wear. The invite reads smart casual but what does that actually mean?
A successful smart casual outfit is smart enough that it's suitable in a formal situation but still looks good in the pub. If you're going to a nightclub or bar, the best thing to do is call or check the website for the dress code. If they have a strict no trainers policy they will let you know! Here's how to do smart casual in three easy looks.
Modern Gent: Blazer, Crewneck and Chinos
The Harry B Blazer from Reiss, made from pure wool, is set to become your favourite blazer.
Harry B Modern Fit Blazer, £245, Reiss
Team it up with a textured jumper for those colder evenings.
Carbon Textured Weave Jumper Ecru, £80, Reiss
If you're unsure if jeans are appropriate, wear with navy blue chinos as a clever alternative. These Maybury chinos in midnight from Reiss are stylish paired with a printed tee or try a navy, maroon or cream crewneck jumper.
Maybury Slim-Fit Chinos Midnight, £115, Reiss
Finish with suede desert shoes – the ultimate smart casual shoe.
Tan Desert Shoes, £42, Burton
Easy Going: The Jeans & Shirt Classic Combo
The easiest and most obvious way to do smart casual. If you're going for jeans they need to be black or dark-wash and rip-free (no distressed denim please). Straight-cut, slim-fit or skinny will do the trick – keep anything slouchy or flared reserved for casual daywear.
Remember to wear a belt to keep your boxers from making an appearance – crotch-baggy jeans may be a good look for Nelly but it's not going to work for you.
Blue Vito Spot Shirt, £49, River Island
Dark Wash Dylan Slim Jeans, £40, River Island
Suede lace-up shoes 'Voluto', £99, Hugo Boss
Dressed-down Tailoring: Cardigan, Shirt & Suit Trousers
A v-neck cardigan over a buttoned-up white shirt is a relaxed alternative to a suit jacket. This navy textured cardigan from Topman adds interest to a plain white shirt.
Navy Textured Cardigan, £13, Topman
Ralph Lauren Slim-Fit White Long Sleeve Oxford Shirt, £85, House of Fraser
Pair with tailored suit trousers like these charcoal check skinny fit suit trousers from Topman
Charcoal Check Skinny Fit Suit Trousers, £55, Topman
Complete the look with classic brogues.


Ted Baker Black Leather Brogues, £140, OFFICE