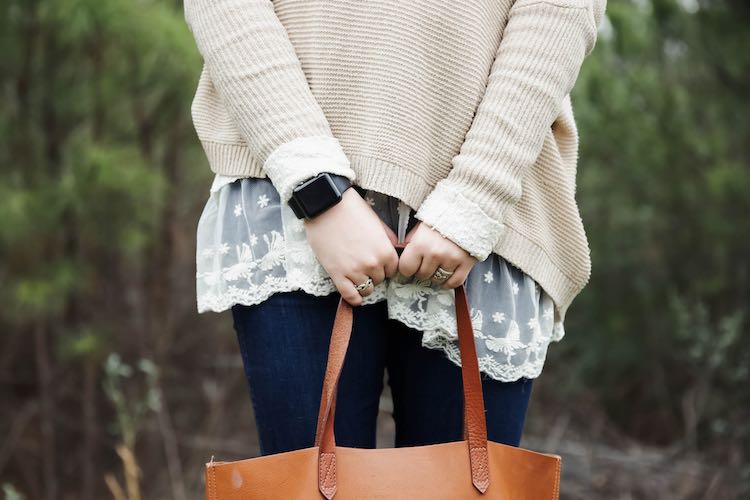 June 29, 2016 |
11 shares
If you're getting fit and want to track your diet and activity levels, or you need help keeping in-sync with your fertility, there's lots of female-friendly tech out there.
Cutting-edge design means wearable tech doesn't have to be geeky. New designer collaborations such as Misfit Swarovski Shine and Altruis by Vinaya expertly combine the latest technology with beautiful jewellery.
Bling and tech are a match made in heaven – we all know that diamonds are a girl's best friend, but modern girls need their gadgets too. These are our picks of the six most stylish wearables for women.
Jawbone Activity Tracker
Jawbone UP3 in Teal Cross, £119.95, John Lewis
This light and nifty activity tracker by Jawbone fits in nicely with the metallics trend. Available in five sleek designs, we love the metallic teal cross edition and the gold and silver sand twist.
The Jawbone UP3 works with your smartphone to keep you at the top of your game, track your activity, sleep and heart rate and log your meals.
The wristband includes LED lights to show your mode status and notification alerts. An 'Idle Alert' function makes the UP3 vibrate to let you know if you've been sitting for too long, ideal for couch potatoes!
Splash-resistant, the Jawbone UP3 is perfect for sweaty workouts or outdoor runs, just don't swim with it.
Bellabeat Leaf Activity Tracker
The Bellabeat Leaf, £99.99, Very
In addition to the standard activity and sleep trackers, the Bellabeat Leaf also comes with an innovative ovulation calculator and fertility charts.
Not only that…if you're not looking to start a family yet the Bellabeat Leaf can remind you to take your birth control pills and will let you know when your period is due.
A built-in meditation system with numerous mindfulness meditations to choose from is another life-enhancing feature. To help you get into the habit of mediating every day, the Bellabeat Leaf will also remind you to meditate.
The beauty of the Bellabeat Leaf is that you can mix and match between different accessories. You can wear your leaf as a bracelet, necklace or as a clip-on brooch depending on the look you're going for.
The leaf itself comes in a rose gold or silver design and you can choose between different necklace chain styles and bracelet straps.
Swarovski Activity Bracelet
Swarovski Activity Crystal Slake Bracelet in Dark Grey, £53.41, Misfit
A crystal with benefits – the fully faceted Swarovski Activity Crystal measures your daily activities and quality of sleep, and syncs wirelessly with your smartphone.
Track everyday activities including walking, running and cycling – you can even take your crystal swimming as it's waterproof up to 50m.
The watch function is enabled with a double tap to the crystal, which then subtly illuminates the hour and minutes with twinkling lights. There's no need to charge this baby either, as each battery lasts up to four months.
This chic Slake bracelet is an easy way to wear your Swarovski Activity Crystal and features a fascinating mix of crystals on a luxe dark grey backdrop.
Withings Activité Tracking Watch
Withings Activité Pop Activity & Sleep Tracking Watch, Pink, £119.95, John Lewis
The classic design and round watch dial makes the Withins Activité Pop perfect for tech fiends who don't want to look like gadget girl. There's even a version in pink for the girly girls.
Activité Pop syncs with your Bluetooth smartphone to provide you with in-depth analysis of your activity through Withings' Health Mate app.
The Activité Pop is water-resistant up to 50m, which means you can wear it in the pool to track your progress when doing lengths.
Altruis Wearable Tech Gold Ring
Altruis by Vinaya Designer Wearable Technology Gold Ring, £220, Browns
Dazzle with this stunning black stone and gold ring from Altruis by Vinaya. This Bluetooth-enabled smart ring filters your smartphone notifications, so you can stay connected when you need to.
The eye-catching black ceramic Altruis stone is beautifully encased in this statement yellow gold plated ring.
Vector Luna Smartwatch
Vector Luna Polished Stainless Steel Rose Gold Case and Bracelet Smartwatch, £229, John Lewis
This beautiful rose gold bracelet watch adds a touch of sophistication to any outfit. The elegant stainless steel design keeps all the techy stuff hidden – you can even wear it with a cocktail dress.
This smartwatch syncs with your smartphone and will gently vibrate to alert you to calls and emails, perfect for when you are in a meeting and don't want to appear rude by having your phone out.
The Vector Lunar comes with built-in activity and sleep trackers, an impressive 30-day battery life and also allows you to check those can't-live-without apps.