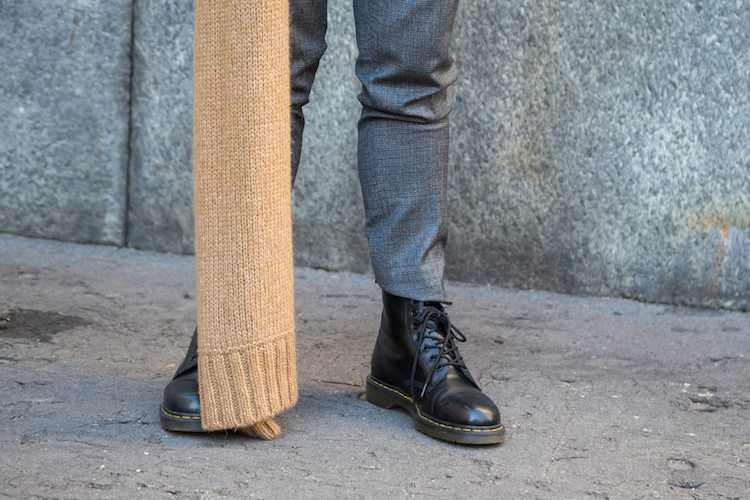 January 23, 2017 |
6 shares
For a glimpse into the future of male fashion, look no further than London Fashion Week. Back under a new name (London Fashion Week Men's, rather than the previous moniker London Collections: Men's), it was a riot of colour and confidence, as top designers debuted the outfits that we'll all be wearing later this year.
From rave culture to politico – here are the seven things we learned from London Fashion Week Men's.
1. Fashion is getting political
Fashion Week favourite Christopher Shannon took Brexit as his inspiration when he sent his models down the catwalk with shredded EU flags and Union Jacks wrapped around their heads. Similarly, tailor Charles Jeffrey Loverboy sent papier-mâché 'monsters' down his runway, provocatively painted with US and UK flags.
2. Loungewear is about to go super-luxe
Astrid Andersen's collection was all printed silk t-shirts, velvet joggers and oversized lamé bombers, topped off with luxurious plait extensions and velvet hats.
While the whole look might be a bit full-on for the average guy, luxury loungewear is one of those trends that never really goes away. Chose tactile fabrics and loose fitting separates to work this look into your day-to-day wardrobe.
3. Crochet is the new cashmere
Knitwear is always featured extensively in the A/W shows, but this year there was less cashmere and more crochet. That's right – crochet. Vivienne Westwood made crochet patchwork look modern (and masculine!) in her shows, while JW Anderson went predictably post-modern with his cartoonish appliqué and knitted shoes!
4. Rave culture is back (sort of)
Neon brights and colourful streetwear popped up on almost every runway, calling to mind the clubbing scene of the 1990s. The likes of Astrid Andersen, Cottweiler and Craig Green focused on statement colourways and slouchy silhouettes.
While at Topman, latex trench coats, neon puffa jackets and graffiti-print sweatshirts showed that this trend has already trickled down to the High Street.
5. There's a new type of tie
In one of the more accessible looks of Fashion Week, Grace Wales Bonner debuted a tie which is long at the front and cut straight at the bottom. Her models wore it with relaxed suits in classic colours such as beige and black, making this the most office-friendly trend of the year.
6. Trousers are getting shorter
At the Chalayan show, models wore wide-legged trousers which were cropped just above the socks, and at Margaret Howell, suit trousers were replaced by baggy suit shorts.
To nail this look, good socks and shoes are a must – black biker boots with contrasting laces were a feature at Chalayan. For a more muted take on this look, Topman's models simply rolled up their trouser hems slightly.
7. Androgyny has reached menswear
Women's fashion has been channelling an androgynous look for the past few years, and the trend has finally reached menswear thanks to fashion anarchist Vivienne Westwood.
Returning to London after several years in Milan, Westwood was among a clutch of designers who combined their male and female lines in one show. Think oversized shirt jackets with culottes or skirts, midi-length knitted dresses, and pinstripe suits which were gathered at the waist.
Belstaff, John Smedley and maharishi also picked up this trend, with their unisex collections of coats, suits and streetwear.