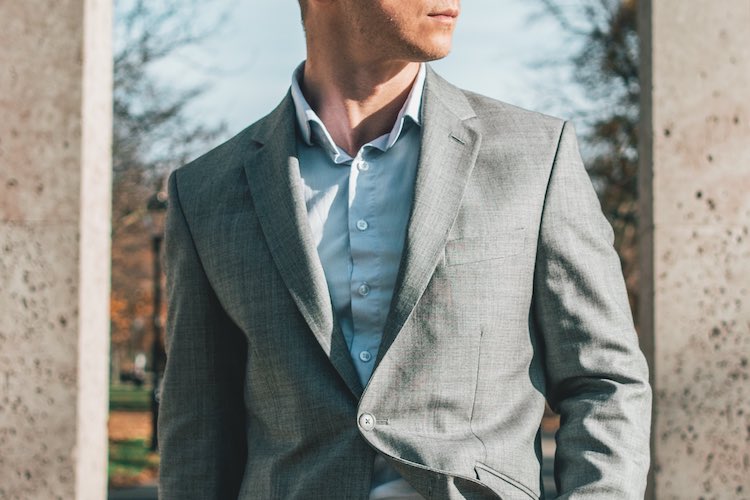 Black suits can be boring and navy suits are becoming synonymous with weddings, but grey suits are about to have a style 'moment'. Smart enough for the office, but versatile enough to pass as 'smart casual', a grey suit can be sophisticated or cool.
It all depends on how you wear it. Tie or no tie; pocket square or cufflinks; and most importantly – what do you do about your shirt?
If you are wondering what colour shirt to wear with a grey suit, then read on for a brief style guide to grey suits of every hue...
First thing's first - the colour of shirt you wear will very much depend on what shade your grey suit is.
Shirts for dark grey suits
Charcoal suits are arguably the most versatile, particularly when worn as a three-piece. A flash of light coloured fabric (light blue or plain white) beneath the waistcoat helps to break up the charcoal look, while a dark shirt and tie is suave and grown up.
In fact, the likes of Liam Hemsworth and Usher have been spotted rocking the grey-on-black combination on the red carpet lately.
Shirts for light grey suits
Light grey suits are another matter. You can't go far wrong with a white shirt and black or grey tie, but dark shirts can be a little harder to pull off.
Blues, pinks and patterned shirts are tried and tested winners when paired with light grey, while almost any pastel shade looks good against a grey suit. However, if in doubt, you can't beat a crisp white shirt against any shade of grey.
Shirt Colours to avoid with grey suits...
Grey is a neutral colour, which means it goes with most shades and tones. However, bolder colours can clash with the muted palette of a grey suit, and should generally be avoided.
Bright greens, purples and oranges rarely work with grey. And unless you're a magician, you should never, ever pair a bright red shirt with a grey suit.
How to accessorise a grey suit
Now that you know what colour shirt to wear with your grey suit, accessorising should be easy.
If you're adding a pocket square, just make sure it vaguely mimics the colour of your shirt, even if it isn't a perfect match. For instance, a paisley pocket square might feature a pale blue detail which is similar to the pale blue of your shirt.
As a general rule, your tie should either match the colour of your shirt or the colour of your suit. However, there is a little flexibility in this.
A light grey suit, white shirt and a dark grey tie can look really smart, while a dark blue tie is a natural choice for a light blue shirt.
For a more formal look, stick to a dark palette with a charcoal suit, black shirt and matching black tie.
And finally, when it comes to your choice of shoes, there are really only two ways to go. If you are wearing a light grey suit, wear brown shoes. If you are wearing a dark grey suit, always opt to wear black shoes.
Our Top Tips On What Shirts To Wear With Grey Suits
For dark grey suits, choose to go light with either a white or pale blue shirt, or dark with a black shirt.


White and pastel shirts work best with a light grey suit, while dark shades are harder to pull off.


Avoid purple, orange red and bright green shirts if you're planning on wearing with a grey suit.


Complete the look with brown shoes with a light grey suit and black shoes with a dark grey suit.