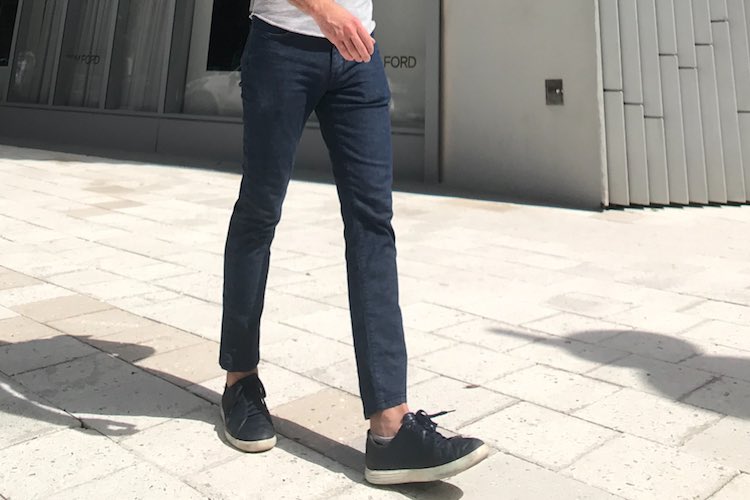 If you thought chino trousers came only in various shades of beige, think again.
This menswear style staple has become more popular than ever and is now available in a wide range of blues, greens, reds and pinks. It's never been easier to put together a chinos outfit for just about any occasion.
Apart from beige styles, navy blue chinos are by far the most versatile and will go with almost everything in your wardrobe. Yet many men don't know where to start and what colour combinations work best.
Read on for our tips on how to wear navy chinos all year round…
Wearing Navy Chinos With A White Shirt
SHOP THE LOOK: Navy Chinos | White Shirts | Brown Loafers
The easiest way to wear navy chinos is with a plain white shirt. The look works for both smart and casual occasions with a quick change of footwear.
For the office, style with tan loafers and throw on a grey sweater during colder months. Then ditch the loafers for a pair of white trainers for an easy going look on downtime days.
Wearing Navy Chinos With Black Shoes
SHOP THE LOOK: Black Brogues | Black Shirts | Men's CK Bags
Wearing black with navy has traditionally been seen as a big fashion 'no-no', but times have changed and this colour combo can work really well if you get the rest of the outfit right.
If you're planning on wearing black shoes with navy chinos, keep the rest of the pieces black for a two tone outfit that looks especially sharp for more formal occasions.
Wearing Navy Chinos With Brown Shoes
SHOP THE LOOK: Brown Grenson Brogues | Men's Polos | Watches
Blue chinos with brown shoes is a match made in heaven. Opt for lighter shades of brown to keep the outfit light and team up with a light coloured tee or polo shirt.
Finish off with matching brown accessories such as a belt or watch to add interest to the outfit and show off your personal style.
Wearing Navy Chinos In Summer
SHOP THE LOOK: Hugo Boss Sunglasses | Pink Tees | Converse All Star Trainers
The versatility of navy chinos means they should go with most things in your summer wardrobe. Style with a pastel pink t-shirt for a relaxed holiday outfit and complete the look with Converse low-tops.
Roll up the trouser hems for bonus style points and go for a slim-fit or skinny cut if you have the option.
Wearing Navy Chinos With A Blazer
SHOP THE LOOK: Light Blue Shirts | Daniel Wellington Watch | Brown Blazers
Navy blue chinos are the perfect replacement for your everyday 9 to 5 blue denim jeans and aren't quite as formal as suit trousers. This means you don't need to switch the rest of your outfit.
Look to grey or brown blazers and light blue shirts to wear with your chinos and complete the look with a pair of Oxfords.
Our Top Tips on Wearing Navy Chinos
Style a white shirt with chinos for a timeless look that works all year round. Just change your footwear depending on the occasion.


Navy chinos CAN be worn with black shoes but it's best to keep the rest of your outfit black.


Lighter shades of brown shoes work really well with blue chinos and you can keep the rest of the outfit light by wearing a grey or pastel polo shirt.


In summer, roll the hems of your navy chinos up and wear with canvas trainers and a pastel t-shirt.


For more formal occasions, wear your navy chino trousers with a light blue shirt and brown blazer. Complete the look with matching accessories.