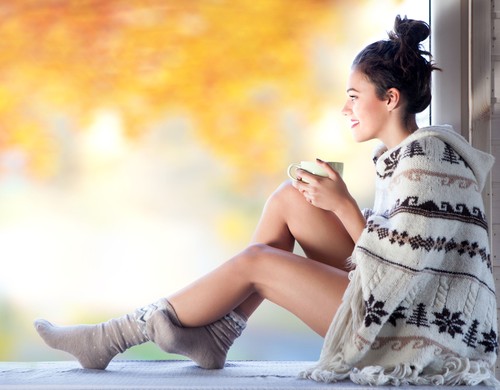 The leaves are falling, temperatures have dropped and Xfactor is now over for another year. Time to drag out that wardrobe staple, the winter coat. Duffle, trench, parka – we've all been there done that.
If your coat leaves you feeling drab maybe it's time to swap yours for a cape. After all… coats are SO last season and this winter anyone who's anyone is wearing a cape. Embrace the cape with these 5 ways to wear the trend this winter.
The Faux Fur Cape
Brown faux-fur trim cape, £75, River Island
Sophisticated and cosy – this zip-up faux fur trim cape can be worn as a coat for keeping warm on a night out. Little details such as the front buckle, ribbed collar and soft faux-fur trim make this a wardrobe winner to last you through winter. Wear with black skinny leather-look trousers, chunky-heeled ankle boots and a roll neck jumper for a glam evening look.
Black skinny leather look trousers, £40, River Island
The Wool Cape
VICKIYE Wool cape, £199, Ted Baker
This elegant wool cape with metallic detailing from Ted Baker comes in black, navy and taupe. Style with leggings or skinny jeans, a long jumper, knee high boots and a fedora hat such as this burgundy number from Whistles.
Whistles Felt Fedora Hat, £60, ASOS
The Colourful Cape
Cream knitted block colour cape, £40, River Island
Unleash your inner boho babe with this striking colour block patterned cape in knitted fabric. Open at the front with draped fit, this cape works well as a casual day look with a simple white long sleeved top and jeans. Accessorise with some fringed suede booties such as these ones from ASOS.
ASOS ABBOTT Suede Fringe Ankle Boots, £38, ASOS
The Tassel Cape
Knitted hooded tassel poncho, £35, Topshop
This grey knitted, tassled poncho is so versatile it can be worn with practically anything to add some edge. The hood adds extra cosiness. Just throw on and you're good to go, on-trend autumn style plus comfort. It's all about texture and contrasting fabrics, pair with leather accessories such as these black leather bow trim gloves from River Island.
BOWRA Bow trim leather gloves, £85, River Island
The Red Cape
M Missoni Red oversized virgin wool cape, £540, Harvey Nichols
Red riding hood eat your heart out. Made with 100% virgin wool, the shorter length and cropped sleeves of this cape mean it works well worn with an above-the-knee skirt, classic chelsea boots and statement textured tights. For an evening look add a few inches with these chunky heeled chelsea boots from ASOS.
ASOS EDGY Chelsea Leather Ankle Boots, £55, ASOS
Pretty Polly Twisted Rope Tights, £8, ASOS