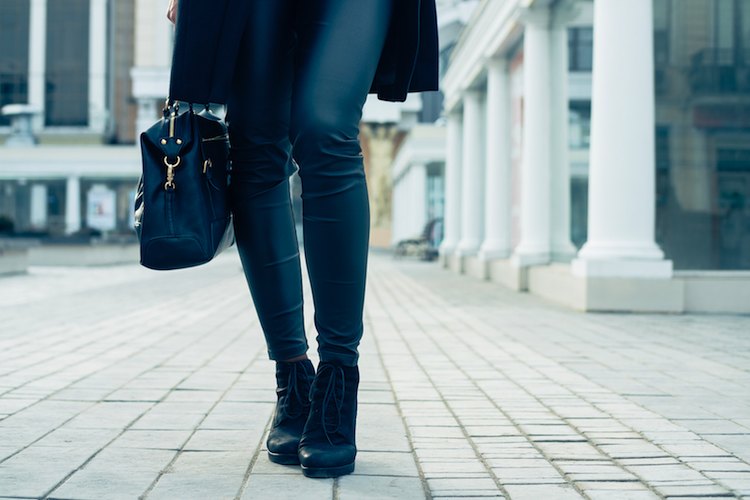 January 11, 2017 |
5 shares
The leggings trend defies all fashion logic. They are cheap, simple and functional, and more closely associated with retro aerobics classes and maternity wear than catwalk couture. Yet over the past decade or so, leggings have quietly risen through the ranks to become a constant fixture among supermodels and style icons in every season – including winter.
Despite their lightweight appearance, when layered properly leggings can be a valuable addition to any winter ensemble. Here are a few of our favourite ways to wear leggings throughout winter...
1. Wear leggings with… a shirt dress
SHOP THE LOOK: Grey Leggings | Shirt Dresses | Ankle Boots
The shirt dress is rapidly becoming an indispensable wardrobe staple for all seasons. In the summer, wear it with bare legs and sandals; and in the colder months, layer up with leggings and a chunky cardigan for a cosy and feminine look.
Finish off the outfit with a woolly hat and knee-high boots and you will be ready for whatever winter throws at you.
2. Wear leggings with… oversized knitwear
SHOP THE LOOK: Black Leggings | Oversized Jumpers | Timberland Boots
We're not talking about that 80s staple of patterned leggings and a baggy sweater. This look is more likely to involve layers of fine knitwear and a cable-knit scarf, paired with plain black or nude-coloured leggings.
Alternatively, copy Gigi Hadid's signature NYC look and team a long chambray shirt with a grey knit jumper, black leggings, high heels and dark shades.
3. Wear leggings with… statement trainers
SHOP THE LOOK: Sports Leggings | Nike Trainers | Activewear
The athleisure trend is not going away any time soon, so you may as well embrace the huge range of designer leggings and statement trainers that are out there at the moment. Go for cropped, mesh-insert or biker-style leggings and box-fresh designer trainers with a bit of height.
The key to nailing this look is great hair and makeup – you want to look as though you're perpetually on your way to the gym, but never on your way out of it.
4. Wear leggings with… thigh high boots
SHOP THE LOOK: Black Leggings | Over the Knee Boots | Trench Coats
Thigh high boots have been a surprise hit over the past year, and they simply exude winter glamour. Paired with plain black leggings and a statement top, over-the-knee boots send off an 'off-duty superhero' vibe which will make you feel invincible.
5. Wear leggings with… bulky boots
SHOP THE LOOK: Light Grey Leggings | UGG Boots | Parkas
This look is all about balance – choose a bulky pair of boots which will contrast with the sleek look of the leggings, then keep the top half of your outfit simple and chic.
UGG boots and biker boots are the best at combining warmth and style, while adding a point of interest in an otherwise neutral outfit.
6. Wear leggings with… leather
SHOP THE LOOK: Leather Leggings | Michael Kors Bags | Courts
Once associated with glam rockers and Ross Geller, leather leggings are now firmly in the mainstream. Wear with spiky ankle boots to toughen up a pretty dress, or as part of an all-black ensemble for a femme fatale look.
7. Wear leggings with… a short skirt or dress
SHOP THE LOOK: Opaque Leggings | Mini Skirts | Leather Jackets
Sometimes, a pair of 100 dernier tights just won't cut it. When the weather is bitingly cold, give yourself a bit of extra warmth by wearing leggings instead of tights, with socks and ankle boots disguising the hem. Opaque black leggings look particularly good when worn with a short skirt or dress.