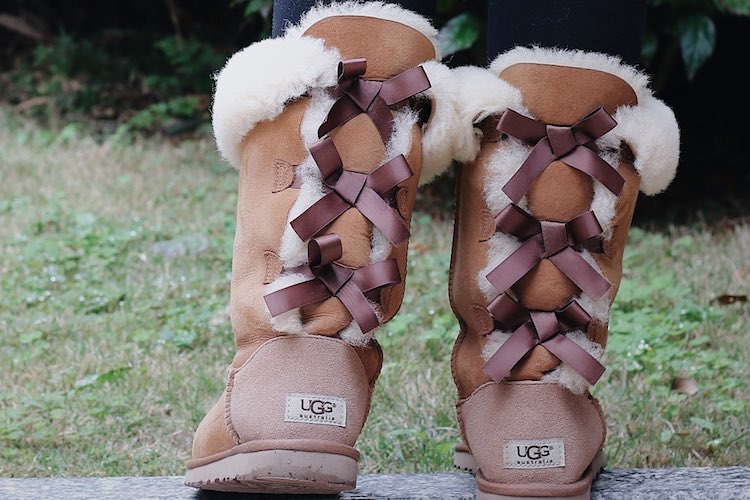 October 12, 2021 |
11 shares
UGGs are undoubtedly one of the most comfortable pair of boots you'll ever own. With a luxurious sheepskin lining, they're perfect for the coldest of days and the ever evolving range also means you can also pick up the perfect pair for warmer months.
Once regarded as only appropriate for downtime days, celebs worldwide have been showing just how stylish they can be if paired with the right items. Read on to discover how to wear UGG boots with all your fashion mainstays or jump to each section using the quick links below…
How To Wear UGG Boots With Jeans
The brown UGG boots blue jeans combo has been a classic for years, but it's popularity ended up turning many fashionistas against the look at it was no longer original. With thanks to more choice of colours across the UGG collection, new styles of boots and a move towards black and grey denim, the trend has had a huge re-vamp. Checkout the UGG outfit ideas below to see how to style yours with different styles of jeans this season.
How To Wear Ugg Boots With Skinny Jeans
Skinny jeans are great for wearing with classic UGGs as you can tuck the jeans into the boots for a stylish silhouette. The outfit above shows how opting for black over blue denim will instantly dress the look up, while the addition of a belted overcoat makes it 9 to 5 ready.
How To Wear UGG Boots With Boyfriend Jeans
On off-duty days, look to boyfriend jeans as an alternative to skinnier styles and mix up your outfits with colours of UGG boots other than brown. We love the pastel pink boots above, adding a subtle injection of colour to the outfit. Add Scandi accessories like a Skagen ladies watch to keep the look minimal for sartorial success.
How To Wear Ugg Boots With Bootcut Jeans
Wearing bootcut jeans with UGGs is a hard look to pull off, as generally it's best to tuck jeans into the boots. If you're a fan of UGGs and the cut of flared jeans works best for your body shape, alternative styles of UGG boots like heeled ankle boots may just be the answer. The hems of the bootcut jeans will be wide enough to cover the boots and side-slit details will help to show off more of the boots.
How To Wear UGG Boots With Skirts
UGG boots actually work much better with skirts than many people might think. The trick is in choosing complementary colours across the outfit, with shorter UGGs usually being the style of choice. Black UGGs are a tried and tested winner as they'll complement most of your outfits, while green boots look particularly good with grey skirts and a khaki colour scheme.
How To Wear UGG Boots With Leggings
Apart from with skinny jeans, wearing UGG boots with leggings is one of the most popular ways to work the trend. Like skinnies, it's best to tuck the leggings into the UGGs so avoid choosing cropped leggings as you don't want any lower leg showing. Black leggings are by far the most versatile and can either be dressed up with sophisticated knitwear (like the outfit above), or dressed down with a biker jacket.
How To Wear UGG Boots With Dresses
Wearing UGGs with dresses splits opinion, but if you're careful with your outfit choices they'll work with most styles of dresses. During colder months, try wearing your skater dress over a pair of dark tights and complete the look with short UGG boots. Alternatively, opt for UGG ankle boots teamed up with a long khaki shirt dress for added attitude in your outfits in the warmer seasons.
Our Top Tips On How To Wear UGGs
Classic UGG boots generally look better with your jeans tucked into them, so opt for skinnier cuts and opt for black denim over blue if you're after a smarter look.


If you're a fan of bootcut jeans, choose less bulky UGG boots styles to pair them with so the hems cover the tops of the boots.


Wearing UGGs with leggings is the perfect combo, with black leggings being the best colour to pick for multiple wardrobe options while also being able to dress the look both up and down.


UGG boots also look great with dresses and skirts if you opt for complementary colours to tie the outfit together. Try to keep to just 3 or 4 colours across the outfit for sartorial success.


Checkout our guide on how to clean UGGs to keep them looking their best for longer so they're in top condition this season and many more to come.