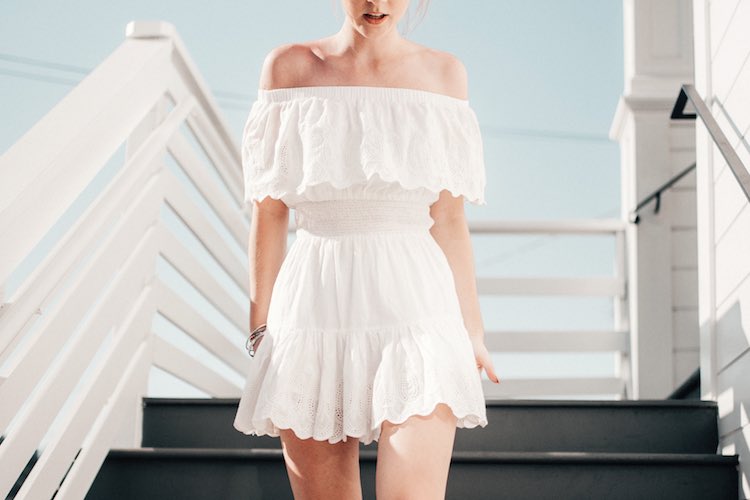 When they burst onto the scene a few years ago, no one thought that playsuits would be here to stay.
But designers have latched onto the trend, bringing playsuits into the mainstream and turning them into some of the most fashionable and wearable items on the High Street.
This year's collections feature gorgeous playsuits in silk, velvet, linen and cotton, with a range of flattering styles to suit every figure. Choose the right playsuit, the right shoes, and the right accessories, and you could easily find a way to rock the playsuit look all summer long!
Read on to discover five ways to wear playsuits for different occasions...
Wearing a playsuit to a wedding
SHOP THE LOOK: Pastel Pink Playsuits | Clutch Bags | Chic Heels
Until recently, wearing a playsuit to a wedding would have been on a par with wearing a white dress. However, times – and fashion – have changed. There are so many beautiful, high fashion playsuits out there which would be perfect for a summer wedding.
Choose a modest style in a good quality fabric, and accessorise as though you are wearing an expensive cocktail dress. You will look fresh and sophisticated among a sea of A-line frocks!
Wear with... chic heels or platform sandals
Wearing a playsuit at work
SHOP THE LOOK: Long Sleeve Playsuits | Court Shoes | Blazers
The biggest challenge here is finding a playsuit that is not too short, and not too low cut. That means that you have to immediately rule out the high-cut, spaghetti-strapped styles that are all over the high street at the moment. Instead, choose playsuits with high necks and full sleeves, or three quarter length legs in a wide cut.
And don't worry - if you've absolutely fallen in love with a spaghetti-strapped playsuit, you can still make it work-appropriate by wearing a t-shirt underneath.
Wear with... court shoes or flats
Wearing a playsuit at a festival
SHOP THE LOOK: Glamorous Playsuits | Michael Kors Sandals
The best thing about wearing a playsuit at a festival is that you can pull out all of your craziest dance moves without worrying that you're about to flash someone. The worst thing about wearing a playsuit to a festival, without a doubt, is the bathroom situation.
Anything goes style-wise at a festival, but if you have a healthy fear of the port-a-loo, find a playsuit with a snap-crotch and you'll be good to go!
Wear with... wellies or sandals, depending on the weather
Wearing a playsuit on a night out
SHOP THE LOOK: Bardot Playsuits | Ladies Skagen Watch | Carvela Clutch Bags
Playsuits are perfect for nights out, and the bolder the better! Work this season's trend of off-the-shoulder ruffles, or look for unusual cut-out details that will help you stand out.
And remember – always, always pair your playsuit with the highest heels you can wear – this look lives and dies on good posture.
Wear with... high heeled sandals
Wearing a playsuit on holiday
SHOP THE LOOK: Cream Playsuits | Birkenstock Sandals | Denim Jackets
Crochet is everywhere this summer, and nothing feels more summery than a white crocheted playsuit, worn on a sunny day to a faraway beach.
Every suitcase should have at least one playsuit inside it – after all, it is pretty much the perfect holiday outfit. Flattering, light, stylish and practical, you can throw it on over a bikini or wear it with a denim jacket for a short city break.
Wear with... sandals or sneakers
Our Top Tips On How To Wear Playsuits
If you're wearing a playsuit to a wedding, opt for a modest style in pastel blue or pink. Accessorize with chic heels and a matching clutch bag.


For an office-friendly outfit, choose a long sleeved high-neck playsuit. Layer with a tailored blazer and complete the look with court shoes.


Festivals are the perfect occasion to show off your playsuit. Wear with wellies or toe-post sandals (depending on the weather) and add a straw hat for summer vibes.


On a night out, mix up your look with a Bardot style playsuit in black and pair with the highest heels you feel comfortable walking in.


Crotchet playsuits are perfect for wearing on holiday, both on and off the beach. Pair it with cream sandals and throw on a denim jacket if the temperature starts to drop.