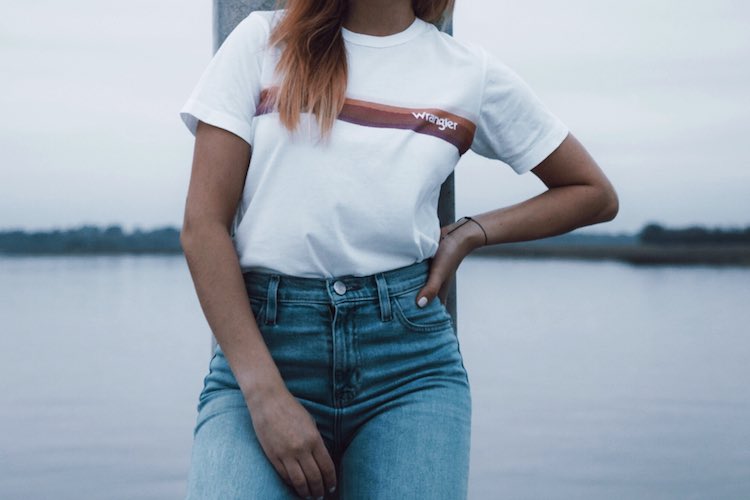 March 30, 2021 |
7 shares
When they burst onto the scene a few years ago, high waisted jeans were dismissed as a retro fad that was cashing in on the short-lived 80s revival. Instead, they have proven to be a huge hit with style-savvy women, who love the flattering shape and 'wear anywhere' aesthetic.
Read on to learn how to wear high waisted jeans no matter where you are, or what you're doing...
Wearing high waisted jeans… to work
SHOP THE LOOK: Black Jeans | Breton Tops | Michael Kors Shoes
Denim isn't always appropriate for the office, but you can get away with wearing high waisted jeans to work, as long as you style them appropriately.
Avoid any rips or frayed hems, choose a slim fit, and stick with a darker colour such as indigo or black.
Tuck a stripy Breton top into the waistband, add a blazer and heels, and you have a stylish look that's also office-ready.
Wearing high waisted jeans… on a date
SHOP THE LOOK: Blue Jeans | Bodysuits | Carvela Sandals
High waisted jeans add instant curves, and you can dress them up or down, depending on how keen you are to impress!
Show off your figure by pairing skinny jeans with a simple bodysuit and sandals. If you want to ratchet up the glamour, add a vintage twist with a Bardot top, chunky heels and 50s-style loose waves.
Wearing high waisted jeans… on holiday
SHOP THE LOOK: Birkenstock Sandals | Crop Tops | Miu Miu Sunglasses
If you only have room for one pair of jeans in your suitcase, make sure they're high waisted.
On hot days, you can roll up the hems and wear them with a cropped top or bralet – then just throw a pretty kimono over the top when the sun goes down!
Wearing high waisted jeans… to a festival
SHOP THE LOOK: Cami Tops | Vans Trainers
Festivals are the perfect place to experiment with your style a bit. This is the place to try out emerging trends such as crochet, feather embellishments, tassels, and metallics.
Ease yourself into your new look by using your high waisted jeans as a foundation for the outfit.
No matter how many patterns and textures you layer, the bottom half of your outfit will stop your look from getting too OTT.
Wearing high waisted jeans… at the weekend
SHOP THE LOOK: Grey Jeans | Women's Tees | Tommy Hilfiger Jackets
Jeans were made for the weekend, and high waisted jeans are no exception.
There's nothing easier than just throwing on a t-shirt and sneakers with your favourite pair of jeans, but by choosing a high waisted pair, you'll keep your look modern and stylish with minimal effort.
Tuck your t-shirt partially into the band of your jeans to draw attention to your waist, and create a feminine silhouette.
Wearing high waisted jeans… on a night out
SHOP THE LOOK: Distressed Jeans | Heeled Sandals | Daniel Wellington Watch
High waisted jeans are an easy option for a night out. At the pub, keep it casual with Mom jeans and a bohemian top, or rock the grungy look with a plain-coloured crop top worn under a plaid shirt.
If you're hitting the clubs, go extra on the accessories to ensure you stand out from the crowds. All the trendsetters are pairing ripped jeans with fishnet tights (pulled high above the waistband), ghillie heels and a crop top, with no holding back on the chokers and charm necklaces.
Our Top Tips On Wearing High Waisted Jeans
If you're wearing high waisted jeans to work, stick with a slim fit cut and go for styles in darker colours such as indigo or black.


When you want to show off your figure, choose high waisted skinny jeans and pair with a bodysuit.


On holiday, roll up the hems and wear a relaxed fit cut teamed up with a bralet or crop top.


The high waist style looks great worn with canvas plimsolls at festivals – pick a pair of jeans with embroidery for extra style points.


If you really want to stand out from the crowd, follow the latest trend of wearing ripped high waist jeans over fishnet tights.