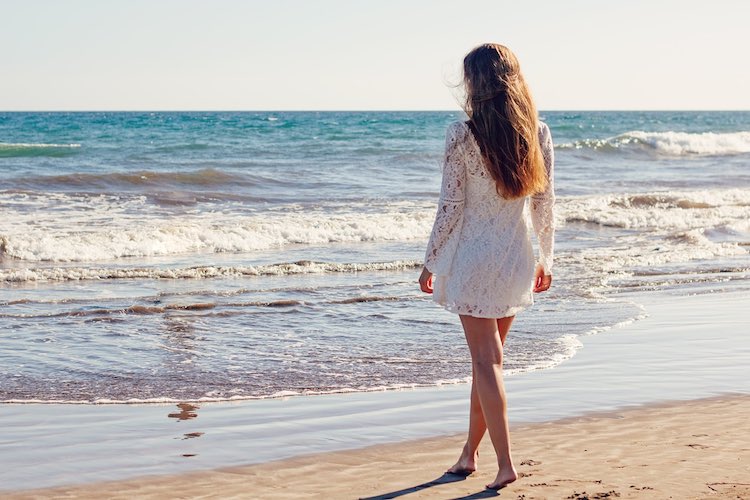 There's no getting away from it – slip dresses are THE trend this summer. Wearable, feminine and versatile, they have been spotted on everyone from Kendall Jenner and Miranda Kerr, to Selena Gomez and Rihanna. And every one of them seems to have a different take on the look.
By changing up your accessories, footwear and outerwear, you can completely transform a slip dress from red carpet ready to grunge queen, and back again.
Read on for our best tips on how to wear slip dresses in summer, with minimal effort and maximum impact…
1. The grungy slip dress outfit
SHOP THE LOOK: Slip Mini Dresses | Biker Jackets | DM Boots
Championed by Courtney Love in the early 90s, this look is very much back in style now. It's all about the juxtaposition of the pretty and delicate slip dress with tough accessories such as biker boots and a leather jacket or an oversized flannel shirt.
While you don't need to go full Courtney with ripped fishnets and smudged makeup, you should take a leaf out of her book and match a slip mini dress with mannish clothing and loose hair.
2. The sophisticated slip dress outfit
SHOP THE LOOK: Strappy High Heels | Michael Kors Watch
Slip dresses have started to make a return to the red carpet, 20 years after Kate Moss made this look her own in a variety of see-through, strappy gowns. To pull off this look, you need to invest in the best tailoring you can afford.
Look for a dress made from satin or silk that's cut on the bias so that it drapes – rather than clings – to your curves. Choose your underwear EXTREMELY carefully and wear with the highest, strappiest heels you can walk in.
3. The festival slip dress outfit
SHOP THE LOOK: Pastel Pink Slip Dresses | Denim Jackets | Carvela Sandals
Slip dresses are perfect for festival season – they're easy to layer, easy to pack, and very on-trend. Go bohemian with a jewel-coloured or pastel slip dress, layered with a kimono, denim jacket, or an oversized cardi. A straw hat is all you need to complete your festival look.
4. The sexy slip dress outfit
SHOP THE LOOK: Nude Heels | Faux Fur Jackets
Take it from Carrie Bradshaw – there is nothing sexier than a slip dress. But confidence is the key. Choose a 'look at me' mini dress with extra-thin spaghetti straps in a metallic colour. Heels are non-negotiable and should be nude coloured or metallic so that they don't pull focus from the dress. If you have to wear a jacket, make it a faux fur stole, and walk like you're on the Victoria's Secret runway.
5. The office-friendly slip dress outfit
SHOP THE LOOK: Black Slip Dresses | White Tees | Ankle Boots
There are a few ways to wear a slip dress in the office, and most of them involve some clever layering. A black slip dress looks smart over a plain white t-shirt or even a white shirt, and on cooler days it will look just as good over a roll-neck sweater.
On hotter days, a mid-length slip dress (with a modest neckline) can be worn under a cardigan, or by itself with flat sandals and some statement jewellery. To keep this look professional, stick with plain, neutral colours, and wear with flats or ankle boots.
Our Top Tips On How To Wear Slip Dresses in Summer
Inject some attitude into your summer outfits by wearing a slip dress with Dr Marten's and a leather biker jacket.


For a sophisticated look on summer evenings, style a satin or silk slip dress with strappy heels and matching accessories.


Go boho with your festival outfit by layering a pastel slip dress with a distressed denim jacket or kimono.


If you plan to wear a slip dress in the office during summer, keep the look professional by opting for monochrome outfits finished with flats or ankle boots.