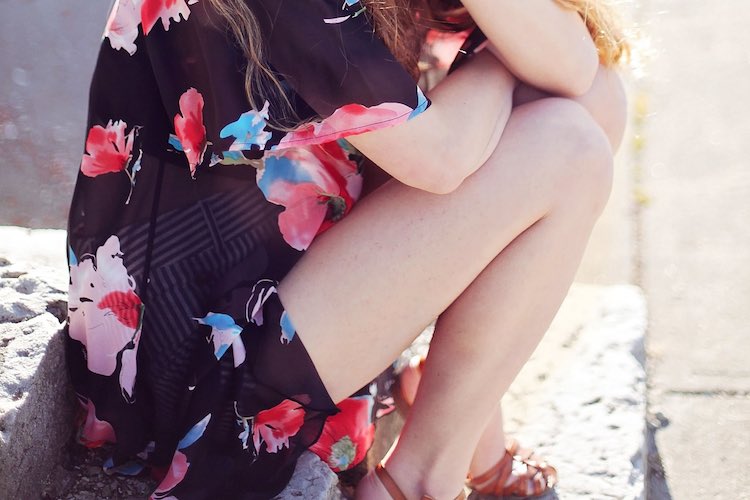 Since fashion kimonos based on the traditional Japanese garment burst on to the high street four years ago, the popularity of this versatile cover up has continued to soar.
An absolute festival essential in summer and now re-invented in heavier fabrics for winter, kimonos can be worn all year round with most items in your wardrobe.
Read on for our top tips on how to wear a kimono, whether it's with dark denim for the office or with your favourite dresses, skirts and shorts in summer…
How To Wear a Kimono With Jeans
The kimono outfit with jeans above brilliantly shows how adding the stylish cover-up can instantly take your downtime looks to new heights. The brighter and more ornate the kimono the better, helping to create a stunning silhouette compared to shorter jackets.
Work two trends at the same time by opting for high waist jeans teamed up with a full-length kimono and white blouse, or mix patterns by adding a Breton stripe top and metallic shoes.
How To Wear a Kimono With A Dress
The most important rule to follow when wearing a kimono with a dress is to make sure it falls below the hem of the dress. This rules out maxi dresses but apart from this, most other styles should work. Kimono robes look particularly good layered over ribbed and slip dresses in summer, with ankle boots adding some extra attitude when you need it.
For a stylish way to wear a kimono on a night out, opt for a figure-hugging mini or midi dress paired with a floral print kimono down to your ankles. Complete the look with killer high heels and keep accessories to a minimum so the focus stays on the kimono.
How To Wear A Kimono With A Skirt
Kimonos make the perfect alternative to a spring/summer jacket when you want to stand out from the crowd. As the kimono outfit idea featured above shows, unlike with dresses, when you wear a kimono with a skirt it doesn't matter if it sits above the hem.
Wearing a plain pastel coloured kimono wrap with a long denim skirt is sophisticated boho chic styling at its best, while midi and A-line skirts create the perfect look for work when paired with a white blouse and silk kimono jacket.
How To Wear a Kimono In Winter
A few years ago you wouldn't have even thought about wearing a kimono in winter, but thanks to brands experimenting with heavier and warmer fabrics, you can now work the kimono trend through all four seasons.
Look to wool blends for added warmth when the temperature drops and layer your winter kimono over knitwear and your favourite jeans for easy off-duty styling.
How To Wear a Kimono To Work
Longline cardigans have been a winter workwear essential for years, but for spring and summer kimonos offer a lightweight alternative. Opt for kimonos in neutral colours and muted prints and wear with black trousers for endless 9 to 5 outfit options.
Complete the look with leather mules or loafers for to inject some scandi-chic into your wardrobe like the office kimono outfit featured above.
Kimono Festival Outfit Ideas
The kimono fashion trend started at music festivals like Coachella and it's now the essential cover-up for festival-goers around the world. The perfect item for creating an instant boho look, it should be at the top of your wishlist before heading to your next festival.
Oriental kimonos look great paired with denim, while fringed styles are becoming increasingly popular thanks to the laid back vibe that works perfectly for festival outfits.
Black Kimono Outfit Ideas
Mix up your summer outfits with an all black ensemble by pairing black denim shorts and a crop top with a black lace kimono. It's a great festival alternative for muddy fields and can be dressed up or down with wellies and ankle boots.
Black kimonos also work really well for the office, offering a sophisticated look when paired with a midi dress or skirt. Complete the look with heels and a black leather handbag.
Our Top Tips on Wearing Kimonos
Take your off-duty outfits to new sartorial heights by swapping your spring jacket for a kimono and team up with a pair of high waisted jeans.


If you're wearing a kimono with a dress, make sure the dress is shorter than the kimono and wear with a pair of heels to elongate the silhouette.


Kimonos look great worn with skirts of all lengths, with denim skirts creating a boho vibe that's perfect for the warmer months.


In winter, choose a wool blend kimono and layer over knitwear and your favourite pair of skinny jeans.


Neutral kimonos make the perfect alternative to cardigans in the office and are best worn with black trousers and a plain shirt or cami top.


For festival style points, opt for a colourful oriental or fringed kimono teamed up with denim shorts , a crop top and heeled ankle boots.