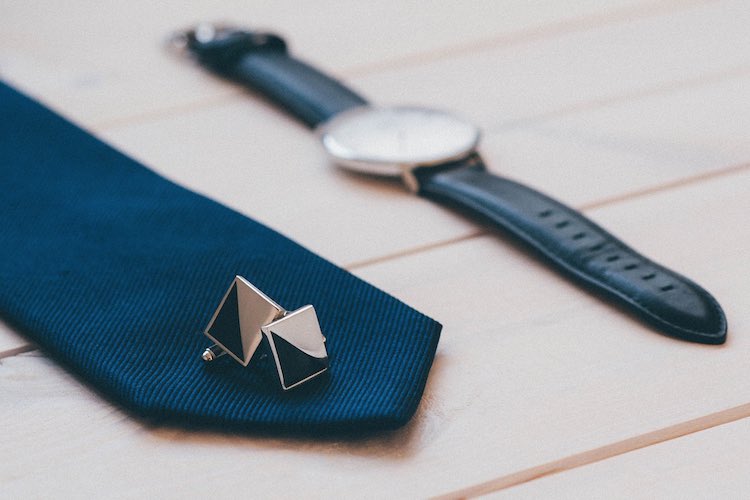 December 27, 2015 |
5 shares
A man in a good suit can take on the world. As the key piece in any man's wardrobe, choosing quality fabric and the right cut is important. Yet even with the most expensive suit on in the world, you could still end up looking boring or inappropriately serious at a social event.
How you accessorize your suit can make all the difference and it is a key skill for any successful man to master. This is not just about looking dapper - how you accessorize your suit makes a statement about the type of man you are and your attitude to life.
No pressure then! Follow these 7 simple tips on how to accessorize your suit and inject some personality.
1. Add vintage touches
A vintage-inspired bow tie is a quick trick to add some old-school suave and sophistication to your suit. This Reclaimed Vintage Velvet Bow Tie comes in burgundy and navy and won't leave you out of pocket.

Reclaimed Vintage Velvet Bow Tie, £16.00, ASOS
SHOP THE DROP
2. Accessorize your suit with a playful pocket square
Suits don't have to be too serious. Add a cheeky flash of fun to a navy blazer with this elephant print pocket square from Thomas Pink.
Thomas Pink Elephant Family Silk Pocket Square, Navy/Pink, £35, John Lewis
SHOP THE DROP
3. Splash some colour with socks and ties
Add a splash of colour to a black or grey suit by opting for a colourful choice of socks such as these Damson colour socks from Paul Smith.
Paul Smith Men's Damson Colour Block Socks, £17.00, Paul Smith
SHOP THE DROP


As a general rule, it can work well to match the colour of your socks to your tie. If matching is not your thing then opt for shades that complement each other.
If unsure of which colours to choose, Burgundy and Plum are 2 autumnal shades which add warmth. Austin Reed have a beautiful collection of classic ties such as this plum-toned 8cm Cut Spot Tie crafted from premium silk.
CUT 8cm Spot Tie in Pink, £49.90, Austin Reed
SHOP THE DROP
4. Accessorize your suit with a lapel pin
If you want to keep your looking clean-cut and simple, a lapel pin is one of the most discreet ways to accessorize your suit.

Bow Lapel Pin, £6.50, Topman
SHOP THE DROP
5. Personalise your cufflinks
Boring cufflinks equal a boring man. There are so many unique designs around today to choose from that there is no excuse for staying square.
Selecting a pair of cufflinks you love is an easy way to accessorize your suit and show personality.
Keep it on trend with these diamante cufflinks from Vivienne Westwood. The silver tone finish and unusual orb and heart design are an eye-catching addition to a plain white shirt.

Vivienne Westwood Heart Diamante Cufflinks, £75.00, ASOS
SHOP THE DROP
6. Buckle up with a statement belt
Love a leather belt? Belts are not only for jeans and builders bums. A luxe pure leather designer belt can turn a man in a suit from zero to hero.
This stylish 100% leather belt from Armani Jeans is a stylish addition to any suit, and is available in brown and black.

Armani Jeans Exclusive Leather Buckle Fastening Belt, £65, House of Fraser
SHOP THE DROP
7. Accessorize your suit with a tie bar
Add some bling with this gold tie bar from Ted Baker. Women have diamonds and pearls but as a man, pairing a P. Diddy style gold chain with your suit may not have the desired effect.
Keep your bling understated and sophisticated with this rose gold plated tie bar.
Ted Baker Gold Tie Bar, £40, ASOS
SHOP THE DROP