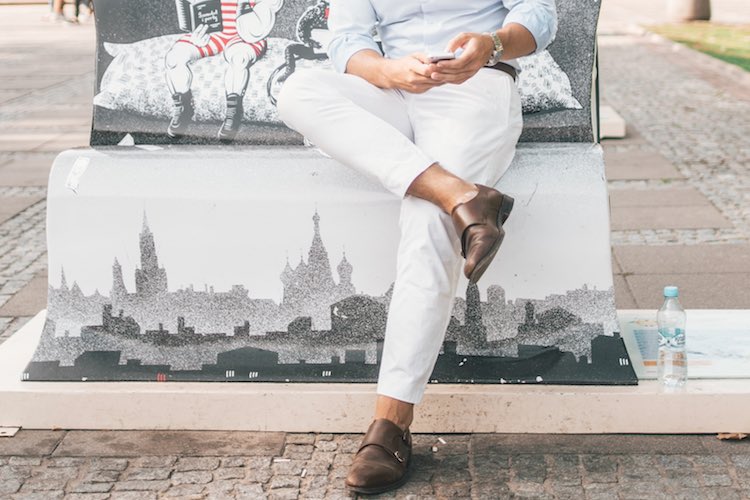 Forget everything you think you know about white jeans.
Yes, they're high maintenance, but they can also be stylish, sophisticated, versatile and cool. It's all about how you wear them, and what you wear them with.
Go full Kanye in an all-white ensemble with statement trainers and an oversized coat; or nail the 'smart casual' look in tan loafers and a blazer. White jeans look equally good on a beach in Barcelona as they do at a cocktail reception in the Square Mile.
Read on for our tips on how to wear white jeans…
Wearing White Jeans With Trainers
SHOP THE LOOK: White Skinny Jeans | Adidas Trainers | Denim Shirts
Oversized white trainers are having a bit of a fashion moment, and they happen to look best when they are paired with bright white jeans.
Grab your favourite pair of Nikes, Reeboks or Adidas and really show them off by opting for a pair of skinny-fit white jeans with the hem tucked behind the tongue of the shoes.
Balance out your silhouette by layering a blue denim shirt over a plain white t-shirt, and finish off the look with an oversized bomber or statement coat.
Wearing White Jeans On A Night Out
SHOP THE LOOK: White Jeans | Burgundy Knitwear | Ted Baker Chelsea Boots
White is a great base for any outfit as it goes with every colour under the sun. Try 'colour-blocking', where you create an outfit out of just two or three blocks of colour to create a more flattering silhouette.
For instance, shorter men might pair white jeans with a burgundy top, thus drawing the eye upwards and making them appear taller. Or if you are carrying a few extra pounds, a brightly coloured shirt left open over a white t-shirt and white jeans will shave inches off your frame and make you seem slimmer.
Wearing White Jeans With An All White Outfit
SHOP THE LOOK: White Shirts | Hugo Boss Belt | Brown Loafers
The all white look is not for the faint-hearted – one spec of mud or an errant mustard stain and your whole outfit is ruined. But for fashion-forward men, head-to-toe white is a confident and striking look that is also surprisingly versatile.
Wear your white jeans with a buttoned-up white shirt, or a chunky cable-knit sweater, and add interest with a brown belt and matching shoes. An all-white palate shows the world that you've made an effort, making it the perfect outfit for dates, weddings, and networking events.
Wearing White Jeans To Work
SHOP THE LOOK: Slim Fit White Jeans | Men's Blazers | Smart Loafers
Bright white jeans are easy to dress up – just add a blazer and a crisp shirt and you'll fit in at any formal event. However, when you're dressing up your white jeans, all of the above-mentioned tips become extra important.
Make sure your jeans are scrupulously clean, choose a fitted, slim-line style, and ditch the trainers in favour of smart loafers or desert boots.
Wearing White Jeans In Summer
SHOP THE LOOK: Men's Birkenstocks | Navy Tees | Ray-Bans
In the warmer months, white denim can be a great alternative to light blue denim. Roll up your hems and pair your white jeans with Birkenstocks or sliders and a plain-coloured t-shirt for a breezy, stylish look that will take you from the beach to the bar.
For fancier occasions, choose boat shoes, desert boots or loafers in shades of tan, beige and brown. Black shoes will only work with white jeans if you're committing to a completely monochrome look.
Our Top Tips On Wearing White Jeans
Get your streetwear style fix by wearing oversized white trainers with white jeans and a denim shirt.


When you need to impress a date, style white jeans with a burgundy jumper and Chelsea boots to stand out from the crowd.


The all white look is great if you can pull it off – the key is to keep it simple with a crisp white shirt and matching jeans. Use tan accessories to inject a small amount of colour.


For more formal occasions, white jeans work well with blue shirts and blazers. Opt for a slim fit style and complete the look with penny loafers.


White denim is perfect for summer and looks good worn with everything from sandals to boat shoes. Add a plain coloured tee for a simple yet stylish look that'll work during the warmer months.