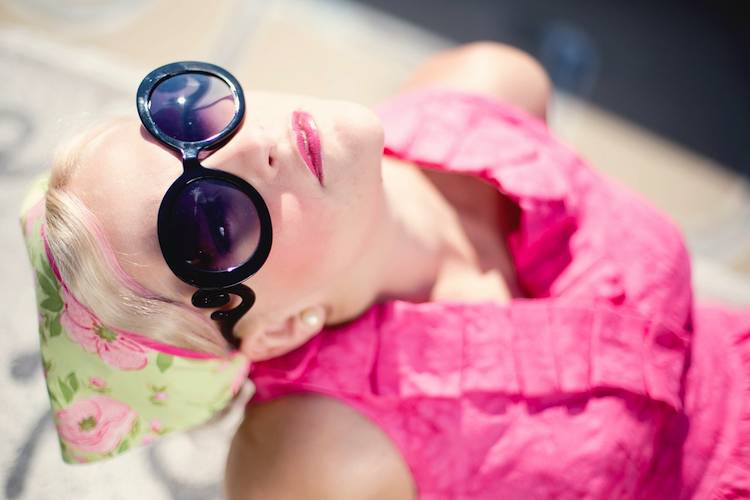 February 24, 2016 |
3 shares
Get-chained-up, wear your slippers to work or pop on a tiara. These are the accessories that will make or break an outfit. Adorn yourself with glory with the top 8 accessory trends for SS16.
Oversized sunglasses
Pop on a pair of oversized sunnies for that instant A-Lister-in-disguise look. A pair of oversized sunglasses will save the day when you haven't had your recommended eight hours and are suffering from a case of blurry panda eye. Try a cats eye shape for something a bit different.
Stella McCartney Pink Classic Cats Eye Sunglasses, £165, Liberty
Chunky metallic sandals
Chunky metallic sandals – as seen stomping over the catwalks at Chanel – are the sandals to be seen in. Birkenstock sandals and Birkenstock lookalikes are still beloved for SS16 and the flat-form is also having a moment. Gold and silver metallics with thick white soles give an out-of-space feel to footwear.
Neutron KG Kurt Geiger Gold, £99, Kurt Geiger
Chain reaction
Big chains, dainty chains, body chains or bling bling chains. If it's a chain it's good to go. Add a splash of colour with this Nate Link Glass and Resin Necklace in bright blood orange from Diana Broussard at Liberty.
Diana Broussard Blood Orange Nate Link Glass and Resin Necklace, £215, Liberty
Rucksacks
It's been a good few months now but we're still talking about THE Rucksack at THAT Burberry show. The rucksack has been revamped for 2016 with a plethora of feminine, modern styles. Lighten up with this bright Herschel Supply Co backpack in orange available at ASOS.
Herschel Supply Co Dawson Backpack in Orange Ombre, £60, ASOS
Bucket bags
If you just have to go for a handbag over a rucksack, the bucket bag is very of-the-moment. This white Adrene Crosshatch Leather Bucket Bag fits in everything you need and looks damn good whilst at it. Luxe grained leather, sleek metallic hardware and floral lining give the Adrene bag that extra special feel.
Adrene Crosshatch Leather Bucket Bag, £179, Ted Baker
Tiaras
No longer reserved for the girls of My Super Sweet Sixteen, tiaras are apparently now an acceptable adult accessory. Tiaras are part of the Saint Laurent and Miu Miu SS16 Collections.
A celebration or formal occasion could be a good opportunity to bedazzle in a tiara. Or wear yours low as a headband over messy, tousled hair for a grungy look as done nicely by Agyness Deyn for Saint Laurent.
Butterfly by Matthew Williamson Designer Tiara, £45, Debenhams
Very long earrings and mismatching
Earrings have reached new lengths for 2016. Shoulder-grazing earrings and wearing mismatched or asymmetric earrings is a key trend.
Cheap Monday Fringe Knit earrings, £15, ASOS
Slipper Slip-ONS
An extension of the pyjamas as daywear trend give the come-to-bed look a go with a pair of slippers. Wear your slippers with pride, these gold Kendrick slip-ons by Michael Kors combine comfort with glamour.
Michael Kors Kendrick Slip Ons, £85, Kurt Geiger