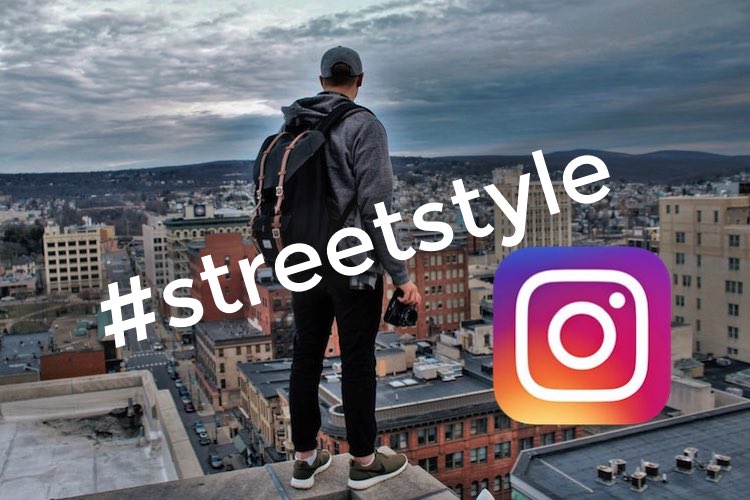 With over 37 million #streetstyle posts on Instagram it can be a long and tiring experience filtering out the crap from the gold.
To save you from the headache, we've curated our list of the best accounts you should be following for daily urban fashion inspiration. From all corners of the globe, all feature first-rate photography and will keep you up to date with the latest men's streetwear trends.
Read on to discover which street style Instagram accounts you should be following this year…
Brandon Dominguez
With over 200k followers, Brandon Dominquez (@brandond90) has built a solid reputation for showcasing no-nonsense street fashion every guy can pull off. He's a big fan of distressed denim so expect to see lots of ripped knee jeans across the outfit posts, showing just how versatile this streetwear essential can be.
Tobias Russwurm
Nuremberg based Tobias Russwurm started blogging in 2014 before joining Instagram 3 months later in February 2015. He's since become one of the biggest menswear influencers in Germany, amassing a huge social following with his exquisitely shot daily posts. This man knows his street style, excelling at showing how to wear the latest trends from logo tees to athleisure wear.
Ste Hutton
Top men's fashion blogger Ste Hutton treats you to a daily dose of street style inspiration on his Instagram account @stylefade. Alongside full streetwear outfits you'll also discover close-ups off his latest trainer purchases as well as the occasional street clothing grid.
Luka Sabbat
Luka Sabbat has become somewhat of an icon on Instagram, with his posts regularly receiving thousands of comments and hundreds of thousands of likes. Raised between Paris and New York from a young age, he's got an eclectic taste that's represented in his outfit posts. You'll struggle to find a more original guy to follow if you live, eat and breathe streetwear.
Daniel Ocean
Toronto based menswear blogger Daniel Ocean helps to make your outfit choices easier, showcasing a range of street style looks on his Instagram channel. A regular face at Toronto Fashion Week, he regularly features emerging Canadian brands so it's a great account to follow for ideas on new brands to incorporate into your street clothing wardrobe.
Street Style Gents
With well over half a million followers, Street Style Gents is one of the biggest curators of men's street fashion on the platform. Usually posting 3 - 4 times per day, it's a constant source of urban fashion inspiration from the best male influencers on Instagram.
Joel McLoughlin
Blogger and YouTuber Joel McLoughlin (@gallucks) was previously a stylist before taking up blogging full time and this experience really shines through on his street fashion Instagram account. These aren't your average street style outfits and his outfit choices may split opinion, but if you want to take your style to new heights you should be following Joel.
Men With Street Style
Part of the legendary 'Men with' group, @menwithstreetstyle has a following nearing 3 million fans worldwide. Renowned for headless shots of the biggest men's urban fashion influencers, there aren't many other places to get a better edit of street style looks. Expect 2 – 3 posts daily of the hottest new looks around.
Joey Clough
Founder of the Joey London blog, Joey Clough travels frequently and mixes his looks up just as often. His street style outfits are attainable to the masses, meaning you should be able to re-create the looks without having to invest in a whole new wardrobe.
Danial
Cologne-based Danial (dandrobe) started his Instagram journey in 2016 and has already amassed a loyal tribe of over 24k followers. With a keen sense for German street style, he generally posts a full outfit look every couple of days as well as highlighting his favourite new accessories.
Luke Baldman
Unlike many other Instagrammers, Luke Baldman often heavily captions his shots. Either with life updates, styling tips or motivational quotes, the result is that you start to really get a better insight into Luke's personal style journey. Some of his looks may take some work to re-create, but there's a wealth of inspiration for both street style novices and pros alike.
Philippe Gazar
Vienna based street style blogger Philippe Gazar has amassed a huge fan base of over 300k Instagram followers since he started posting his daily looks. Regularly sporting a cap, Philippe always keeps his outfit choices bang on trend and isn't afraid to experiment with bright colours.
Ayo Gabriel
Ayo Gabriel isn't a frequent poster on Instagram, but when he does the photography is always second to none. Usually opting for a neutral colour palette, his street style showcases flawlessly clean lines and crisp detailing. This is sharp street style at it's best.
ASOS Man
A blend of new product drops, editorial shoots, flat lays and featured influencers, the ASOS Man Instagram feed never disappoints. It's the perfect place to pick up outfit inspo on how to style your existing wardrobe as well as get the lowdown on the hottest new drops to add to your wishlist.
Samuel Balestrini
French menswear and fitness blogger Samuel Balestrini is an avid fan of athleisure wear, with his Instagram posts often showing how to incorporate classic logo sweats and tees with the rest of your wardrobe. This is easy casual styling done at a first-rate level, which most followers should be able to replicate.
Christian Thompson
Christian Thompson, founder of popular menswear blog (and accompanying Instagram account) Christian Confidential, really pushes the boundaries of men's street style with his distinctive outfits. This is a man confident in his own style, with inspiring posts that should help you to take your own style game to new heights.

Peter Jones
Men's streetwear blogger Peter Jones (not of Dragon's Den fame) mixes his style up more than nearly all others in our list. From showcasing tracksuits styled with Yeezy trainers to double denim outfits with snakeskin boots, you're always left in anticipation of what outfit he'll post next. Peter's style won't be for everyone, but if you're keen to explore new looks this may be the perfect men's street clothing Instagram account to follow.
Ozan Ünal
Turkey-based Ozan Ünal is one of the urban fashion Instagram kings in the country, with his daily outfit shots garnering thousands of likes from his 40k+ followers. With a huge collection of trainers, his account will appeal to all sneakerheads as well as guys looking to mix up their skinny jeans and trainers outfits.
Waldemar Kempf
Founder of men's lifestyle blog Wowa Valentino, Waldemar Kempf showcases classic street looks that will appeal to many. His daily high street fashion shots focus on timeless wardrobe staples paired with trend-led pieces, demonstrating how every outfit only needs one standout element for sartorial success.
Pause Online
The Instagram account for popular men's online fashion publication, PAUSE, is an expertly curated showcase of street fashion worldwide. Expect to see new season lookbooks alongside celebrity streetwear spots and editorial photo shoots.
Pablo Pavez
Sweden-based skateboarder Pablo Pavez's passion for streetwear is clear to see across his Instagram posts. Due to his love for skateboarding there's an air of authenticity about his outfit choices, which is often lacking with thousands of other accounts on the platform. Pablo's style is unique, yet attainable and delivers inspiration in droves to help you on your street style journey.
Eddy Grim
Splitting his time between Paris and London, Eddy Grim believes "City streets are the real runways". This is illustrated perfectly in his almost daily street style posts, shot in different locations across the respective cities. Expect to discover a range of activewear and high street fashion outfits fused with motivational quotes to get through the daily grind.
Stefan John Turner
Iceland-based fashion blogger Stefan John Turner is at the smarter end of the street style spectrum. Showing how to mix up your everyday wear, his Instagram account places the spotlight on seasonal items. From spring jackets to winter boots, it's the ideal feed to pick up high street fashion ideas for outfits all year round.