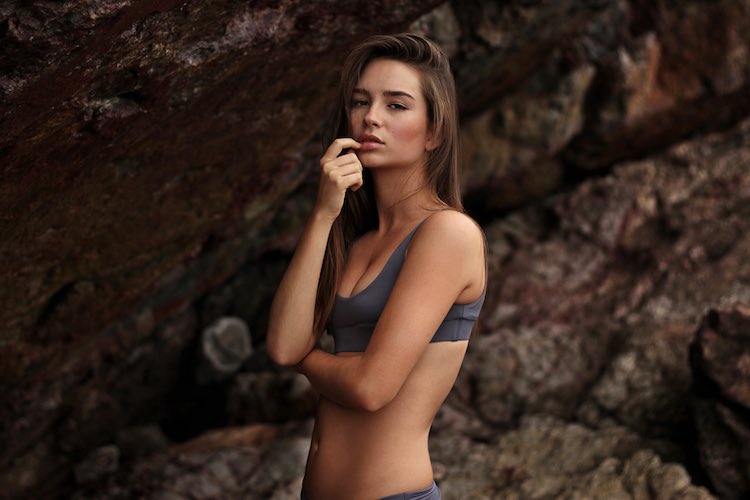 April 10, 2018 |
6 shares
Instagram is the perfect place to get inspiration for the hottest swimwear trends, but there's only so long a girl can scroll for before it feels like a bottomless pit of holiday snaps.
To save you from this universal first world problem, we've searched through the gram to bring you the ultimate swimwear edition. Featuring the hottest Instagram swimwear brands and influencers taking #beachlife to the next level, this edit is as hot as it gets.
Read on to discover the only Instagram accounts you need to follow to keep your swimwear game on point ⚡⚡⚡
Natalie Roser
Australian model and designer, Nathalie Jayne Roser, showcases her love for travel on her Instagram channel. With shots featuring a combination of bikinis and one piece swimsuits from both her own brand (Roser The Label) and other labels, you're guaranteed to discover the hottest new swimwear picks to add to your own summer wardrobe.
Bikini Luxe
Swimwear boutique Bikini Luxe carries a huge range of designer brands and its Instagram feed is awash of women styling the pieces across the globe. Prepare for instant beach-envy and after you've got over that, take inspiration from the hundreds of Instagrammers featured to see what's hot in the world of swimwear this season.
Fiona Barron
From 1,000 followers in 2016 to over 700,000 today, Fiona Barron has had a meteoric rise on Instagram. Usually opting for bikinis over swimsuits, her collection could fill a small room and means you're treated almost daily to a new style. Her feed embodies #beachlife and if you want to take your bikini game to the next level, this is the account to follow.
Seafolly
Seafolly is Australia's largest swimwear brand and since opening its first international store in 2011, has been making waves worldwide. It may have a history dating back to 1975, but its swimwear range is always at the forefront of the latest trends each season. Follow the official Seafolly Australia Instagram account to discover key pieces from new collections and to see how fans are wearing them.
Steph Smith
Melbourne-based model and entrepreneur Steph Smith has amassed over 1.3 million followers on Instagram with her mix of activewear and swimwear posts. Part of the Keep It Cleaner (KIK) squad, her account will appeal to anyone with a love for strength training and healthy eating, coupled with fresh new swimwear trends.
KIINI
If you're a fan of designer swimwear it's unlikely you won't have seen KIINI in your Instagram feed, as the brand famous for its crochet bikinis has taken the gram by storm. Expect to see flat-lays alongside reposts on its official account, showcasing a myriad of colour combinations so you can find your perfect match.
Lara Schroeder
The Faces of Seafolly winner for 2017, Lara Schroder epitomizes the Australian beach lifestyle. Helping to inspire and encourage others to love who they are, her shoots are naturally beautiful and shot against the stunning backdrop of Australian beaches.
South Beach
Poolside style brand South Beach launched its first collection in SS13 and has become renowned for vibrant prints, quirky detailing and purse friendly prices. The South Beach Instagram feed regularly shows how its customers are wearing the latest drops each season, with stock codes included in the captions so it's easy to snap up the item on the website.
Cata Freer
Costa Rican model Cata Freer has gorgeous taste in swimwear, working the hottest new trends to the absolute max. Always sporting a sun-kissed tan, her Instagram bikini choices are inspired and will leave you double tapping before hunting them down at affordable swimwear boutiques.
Peony Swimwear
The Australian swimwear boutique Peony Swimwear handcrafts beautiful bikinis and swimsuits in limited numbers each season. With modest cuts and clean finish seams, this is luxury swimwear at its best. Get your daily fix by following Peony Swimwear on Instagram, which showcases carefully curated shots from the latest photo shoots.
Sommer Swim
Sommer Swim is all about luxury minimalistic swimwear and there aren't many brands that do it better. Its official Instagram account is a vibrant collage of cool swimwear models slaying it in the must-have pieces from each collection. If you're dreaming of your next vacay, this is the account to follow.
Gabby Epstein
With over 1.7 million Instagram followers, Gabby Epstein is one of the biggest influencers to come out of Australia. An Australian national youth swimmer while growing up, Gabby now models an impressive selection of swimwear for some of the hottest brands worldwide.
SAME Los Angeles
LA-based luxury swimwear brand, SAME, is renowned for its mix 'n' match separates to help you stand out from the crowd. This swimwear is a serious investment, but once you've checked out a few designs on its Instagram account you'll be instantly hooked.
Sjana Earp
Sjana Earp, full time fun seeking travel enthusiast and lifestyle blogger, makes working the latest swimwear trends look easy. From timeless black bikini sets to Brazilian tie-side styles, she's a master at getting the most out of what she's wearing. This is one account not to be missed if you're crazy about #bikinilife.
Fella Swim
Since only launching its first collection in 2012, Sydney-based luxury Australian swimwear brand Fella Swim has been riding high on Instagram. Now with over 150k followers, the brand regularly works with many swimwear models featured in this list and its account is always worth a double tap.
Lolli Swim
For all things sweet with a hint of cheekiness, Lolli Swim doesn't disappoint. Fusing playful feminine prints with trend-led cuts, this swimwear is making waves all over the gram. Follow the official account for swimwear giveaways, the occasional flat-lay and the obligatory #bikinibabe shots.
Alina Semjonov
Travel and lifestyle blogger Alina Semjonov spends most of her life on the beach, documenting her experiences while always showing off a new piece of swimwear. Her collection is huge; showing just how much variety there is actually out there. Make sure you checkout her feed to see for yourself.
Acacia Swimwear
With over half a million followers, Hawaiian swimwear brand Acacia is one of the most popular on the platform. Founded in 2010 by Naomi Newirth, the brand is regularly seen on celebrities and #bikinibabes alike. With its headquarters in Maui (Hawaii), the brand's swimwear reflects a relaxed vibe that's not afraid to keep things simple while paying attention to the details.
Eva Gutowski
With over 5.4 million followers, Eva Gutowski is a true Instagram queen. After amassing 8 million subscribers on YouTube with videos detailing her life in California, she turned her attention to Instagram to share daily snaps. Expect a whole lot of double tapping on her bikini shots before frantically searching the stores before they're sold out.
Beach Bunny Swimwear
Luxuriously sexy, Beach Bunny Swimwear is as hot as it gets. Join the bunny crew on Instagram to discover what's dropping this season and how your favourite #beachbunny girls are wearing them. This is one Instagram account guaranteed to light up your feed when you're in need of swimwear inspo.
Cristalina Swimwear
Miami-based Cristalina Swimwear brings you the hottest poolside looks daily on its official Instagram account. Alongside pieces from its own Cristalina collection, you'll discover the latest styles from hundreds of boutique swimwear labels for 24/7 style inspiration.
Jessie Khoo
Sydney-based fashion blogger Jessie Khoo showcases her latest bikini and one piece swimsuit buys on her Instagram account. Unlike a lot of others, she also blogs in detail about them so you can pick up useful tips on whether they fit true to size and exactly where to buy them. A must follow account for anyone who's already a fan of her blog.
Frankies Bikinis
Designed with love in Malibu, all pieces in the Frankies Bikinis collection embrace boho chic for beachwear style points. Look to the Instagram account for your daily dose of inspiration, from minimal separates to high thigh cut one pieces.
Jordan Manhall
Ocean loving Jordan Manhall shares epic snaps of her travels on her Instagram account, more often than not in a gorgeous one piece swimsuit. Set against enviable backdrops, the photography is stunning and will leave you double tapping all day long.
Lali & Layla Swimwear
There's a lot to love about the Lali & Layla Swimwear account on Instagram. Hot swimwear - ✓. Free giveaways – ✓. New collection flat lays – ✓. Then there's the stream of #beachgirls worldwide showing how they're styling the latest pieces handcrafted by the luxury swimwear brand. There's a reason they've got 200k followers and you should be one of them.
Fine Bauer
International curve model Fine Bauer knows exactly how to work the latest trends in swimwear each season. Shooting for brands from Seafolly to ASOS, she effortlessly shows how to wear different styles of bikinis and swimsuits to make the most of your curves.
iShine365
Stocking some of the hottest designer swimwear brands on the planet, iShine365 also houses a number of exclusive styles that you can't get anywhere else. With over 200k Instagram followers, this boutique is slaying it online and with multiple swimwear posts daily it's not hard to see why. Another to add to the follow list!
Marciel Hopkins
As previous Miss South Africa finalist and now life coach, Marciel Hopkins says, "You will never be able to live up to everyone's idea of how your body is 'suppose' to look". This is the philosophy she lives by, embracing her curves in her Instagram posts and offering inspirational advice that a lot of us can relate to. Her shots are beautiful and will keep you double tapping for more.
Anne Cole Swimwear
For modern, sophisticated cuts there aren't many brands doing it better than Anne Cole Swimwear. Prepare to be treated to wanderlust shots on its Instagram feed, showing off the latest styles in the world's most luxurious locations. It won't be for everyone, but if you're looking for modest elegance, this is the account for you.
Eres
The Instagram account for Eres is just as iconic as the swimwear brand itself. With show-stopping shots from around the world, this is a feed you'll swoon over and dream a day over wishing you were there. If you can't afford the swimwear, this is definitely the next best thing so you can pick up inspiration to look for lookalikes elsewhere.