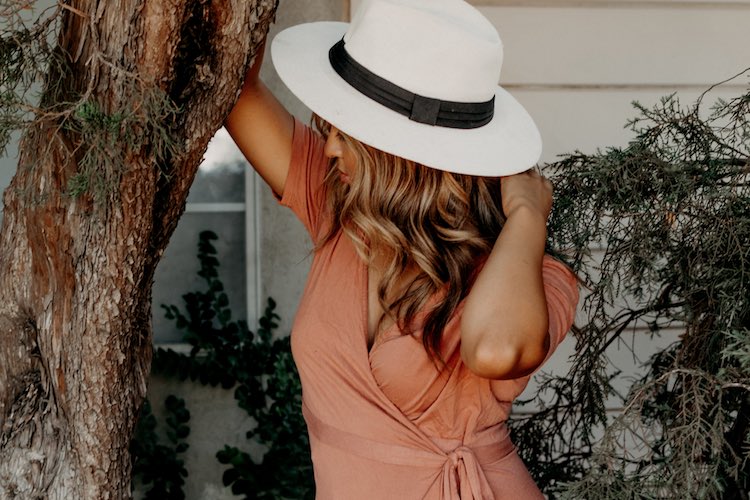 July 13, 2017 |
17 shares
As summer swings into full gear and we all start getting ready to jet off to even hotter climes, it's time to prepare for staying stylish in the heat. To make your life easier, we asked some savvy style bloggers along with our own team for their tips and tricks for keeping your style on point all summer long.
Read on to discover how these simple hacks will help keep you stylish and reduce your frustration however hot it gets…
1. Banish blisters with a roll on
New season = new shoes = blisters. In summer the situation gets even worse and you can often be limited to flip flops, but there is a solution. Simply rub the back and sides of each foot with gel deodorant before putting on your new shoes to reduce friction. This nifty hack should prevent blisters from forming, leaving your feet rid of pain this summer.
2. Accessorize your way to more outfits
If you're strapped for space when packing, plan your outfits in advance and use accessories to get more looks from the same clothes. As writer of The Emasphere, Emma Spencer explains …
"With the use of accessories, you can transform an outfit into so many different styles… I always raid the high street for accessories, they have such an amazing variety of items, many of which look expensive, but hardly cost a thing."
Struggling for ideas on how to make accessories work for you? Try these two style hacks from Robyn Katya, writer at Little Bob Loves …
"If you have a printed scarf, try using it as a sarong or a bandana. Or go one step further and transform your plain flip flops by cutting your scarf in half and wrapping it around the straps and then around your ankle. Plain flip flops to stylish sandals."
3. Keep shoes summer fresh with the nation's favourite
Keeping shoes smell-free in the summer is tricky but the nation's favourite is here to the rescue. Place a couple of DRY tea bags into your shoes and leave them for 24 hours to start absorbing any moisture (and smells) right out of the soles. Alternatively, baking soda will do a similar job and works brilliantly for taking the smell out of a just about anything.
4. Roll up & bag up when packing
Packing like a pro for your summer holiday is an art form. No one wants to be ironing at the best of times, let alone when you'd prefer to be sitting by the pool with a mojito in hand. Allie-May Redmond, writer of The Friday Girl has a nifty hack for reducing the creases…
"My top tip for keeping clothes in their best condition during transit is definitely to roll things instead of folding them. This is especially good for jeans and trousers that can crease easily!"
If you've got the patience for it, placing each item in a dry cleaning bag will help even more. Anything placed in the plastic bag slides against the other bags, making sure they arrive wrinkle free. If you don't want to bag everything, just do the items you're looking to hang up when you arrive (e.g. shirts, dresses).
5. Stay comfy & cool with easy swaps
Remaining comfortable and cool in the heat while trying to stay stylish isn't always easy but there are some easy swaps that will keep you sane. First up make sure you stay away from man-made fabric where possible and switch to breathable natural fabrics like cotton and linen. Swap your polyester blouse for a cotton shirt and you'll notice an instant difference.
You can also switch your tees for cotton crop tops and bralets to keep cooler on those REALLY hot days. As Robyn (AKA Little Bob Loves) explains, you can then use these to work the key trends during summer...
"Love the layering trend? Bring it into summer by layering up two bralets as a top or try layering your bralet over a crop top. This makes for a great festival look!"
Robyn also has a great tip when it comes to your summer footwear...
"Swap out pointed heels for pointed flats to stay comfy in the heat but still look classy!"
6. The Fairy godmother for sun lotion stains
Sun cream is a summer essential but it comes with a drawback, greasy stains on your clothing. It's much more visible on white fabric and you'll often see it around the neckline and arms. The situation gets even worse when you get excited by the prospect of a day of sunbathing and manage to spill half the bottle over your outfit. Luckily there's a simple (and cheap) trick to get rid of the stain - washing up liquid.
Yep, that bottle of Fairy in your sink isn't just good for the dishes. Just apply the washing up liquid directly to the stained area and work in with a damp sponge. It'll start to break down the oil much more effectively than standard laundry detergent. Wash as normal with the next load and you should find the stain has disappeared.
7. Streamline with longline tops

If you're worried about bloating and find it harder in the summer due to a lack of layers, look to longline tunics and gilets to draw attention away from the stomach. They have a great effect of streamlining the area by creating a longer silhouette and adding vertical lines to any outfit.
8. Lemons to the rescue for sweat stains
Yellow sweat stains are notoriously hard to get rid of and let's be honest, they look the worst out of all of the summer stains we have to deal with. After a few hot summer outings white tops get plagued with yellowing around the armpits that just doesn't seem to come off in the wash. Enter lemon juice.
Squeeze directly on to the affected area and scrub in with a damp brush. Then leave for a couple of hours for the lemon juice to work it's magic before popping your white top into the wash. You should see a noticeable difference, also helping to increase the lifetime of your white tees and shirts in summer.