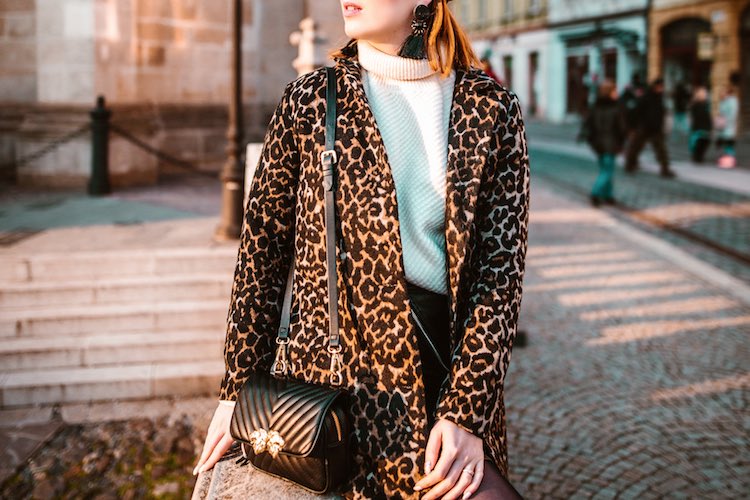 April 13, 2021 |
8 shares
Love it or hate it, leopard print is still in style and continues to be one of the most popular prints each season. Runways worldwide are embracing animal prints in designer collections so if you're not already, it's time to inject some jungle vibes into your wardrobe.
So how do you wear leopard print without looking trashy? Read on for our ultimate guide, from what colours go with leopard print to outfit ideas for all occasions…
The Best Colours To Wear With Leopard Print
Animal prints can make or break an outfit depending on the colour theme you pick. Generally, neutral colours such as black, brown and rust are the best to wear with leopard print, while black are white are both failsafe options. Avoid wearing bright primary colours unless the leopard pattern is in a similar colour hue.
So now you know the basics, explore the outfit ideas below to see how this works in practice and what colours go with leopard print clothes or shoes based on the overall look you're after.
How To Wear Leopard Print Leggings
Inject some instant sass into your downtime outfits by swapping boring black for animal print leggings. They look great teamed up with a logo or band tee like the leopard print leggings outfit showcased above. Complete the look with a pair of flats or Converse trainers, or up the stakes on date night by wearing with peep toe heels.
How To Wear Leopard Print Dresses
Leopard print dresses can be hard to pull off as the animal print can overwhelm the whole outfit. When you want to keep it classic, wear a leopard print cocktail or maxi dress with black strappy heels and a matching black clutch bag. For an absolute killer look, accessorize a leopard print dress with red shoes or a red bag. Then for more casual days opt for a mini dress and use a denim jacket to break up the print like the leopard print dress outfit above.
How To Wear Leopard Print Jackets
An Alexa Chung favourite, one of the easiest ways to wear the animal print trend is with a leopard print jacket. Layer yours over a black or white top and black jeans for an office-friendly look all year round. During the colder months, opt for a faux leopard print coat for endless outfit options both in and out of the office.
How To Wear Leopard Print Trousers
High waisted leopard print trousers have become one of the biggest global trends of the past few years. Surprisingly sophisticated, they're an instant swap for cigarette pants and will immediately up your style game. Keep the rest of the outfit toned down with a white or cream blouse and use accessories in earthy tones to tie the outfit together.
How To Wear Leopard Print Skirts
The outfit above is a perfect example of what to wear with a leopard print skirt whatever the length of it. Black tops should generally be your go to colour to keep the outfit at the smarter end of the spectrum, with matching black heeled shoes completing the look. If you plan on wearing a leopard print mini skirt you can be a bit more adventurous with the top – khaki green can look great on downtime days and also works well with either white or black shoes.
How To Wear Leopard Print Shoes
Leopard print shoes shouldn't just be reserved for nights out. As the look showcased above demonstrates; if you get the rest of the outfit right they offer multiple wardrobe options through all seasons. If you're wearing leopard print shoes to work, go for a timeless court shoe style and wear with black skinny jeans for 9 to 5 sartorial success. Swap for leopard print flats when you're pounding the streets and add a black leather jacket for added attitude on downtime days.
How To Wear Leopard Print Trainers
Switch up your casual style game by snapping up a pair of leopard print trainers. They're not as versatile as white trainers but will generally work with both black and blue denim - if you live in jeans, they'll be a worthwhile investment. Instantly adding interest to your outfits, some of the biggest brands such as Vans have released slip on trainers in leopard print and there's never been more choice to choose from.
How To Wear Leopard Print Boots
The rule when wearing leopard print boots is to wear only with black or blue jeans – this isn't a pattern you want to be wearing with slip dresses or leggings. The outfit with leopard print ankle boots above illustrates that you should have no more than 3 colours per outfit. Stick to this rule and you shouldn't go wrong.