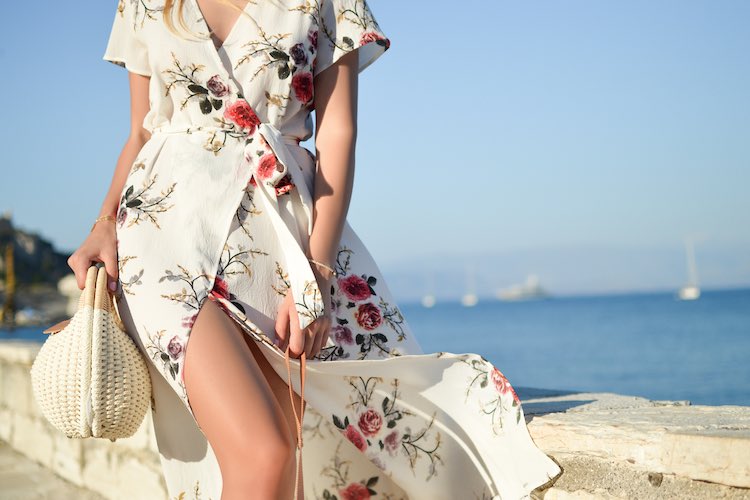 This dress guide is all you need to understand the different dress styles and pick the shape that's best for you. When it comes to budget, brands like VILA, PrettyLittleThing and Missguided are your most stylish purse-friendly options, while Diane Von Furstenberg and Matthew Williamson are two of the best at the luxury end.
Most dress styles come in a variety of hem lengths and sleeve variations, but whether you go mini, midi or maxi, be sure to get the essentials sussed out first.
Shift dresses
A shift dress is a shapeless short dress that is designed to hang loosely from the shoulders with very little or no definition at the waist.
Usually sleeveless, shift dresses can be plain or may have an A-line skirt or empire waist. Shift dresses are complementary for most shapes and sizes – the shift dress is adept at flattering pregnancy bumps and ideal for glutinous dining affairs where you won't want your midriff to be restricted.
Pencil dresses
A pencil dress has a tailored close-fitting skirt in a straight, narrow cut. The hem usually lies just above or below the knee.
The perfect pencil dress fits snugly around the hips and skims nicely over all the right areas. The fabric should not be too tight around the midriff area or draw attention to the tummy.
Perfect for looking the business in the office – pick neutral shades like black, charcoal and navy. Stay clear if you're going to an event where you will want to wiggle about – pencil dresses can be restricting.
A line dresses
A dress with a skirt that is narrower at the top and flares gently wider towards the hem, resembling the letter A. Short A-line dress styles with a relaxed look and frill skirts are called skater dresses.
A-line dresses are perfect for disguising bottom-heavy figures and balancing out broad shoulders. Stay clear of midi-length A-line dresses if you're on the shorter side and opt for a mini A-line style instead.
Empire dresses
SHOP EMPIRE DRESSES
An empire cut is the highest waist around. An empire dress traditionally has a fitted bodice that ends just below the bust with a floor length gathered skirt, giving a high-waisted appearance.
The modern above-the-knee empire dress is a more casual affair in comfy jersey fabrics. Perfect for defining small busts, lengthening short waists and disguising a round tummy. Stay clear if you have a large bust, an empire line will only accentuate.
Drop-waist dresses
SHOP DROP-WAIST DRESSES
Think 1920s flapper dresses – a drop-waist dress has a waistline that sits very low so that the seam is positioned at the hips instead of the waist. This has the effect of visually elongating the torso.
Bardot dresses
The Bardot dress is the off-the-shoulder dress named after style icon Brigitte Bardot. The cold-shoulder trend is big for this season.
Perfect if you are looking for a ladylike dress style and want to show off your shoulders and collarbones but keep the tops of your arms covered. Stay clear if you're self-conscious about your broad shoulders or have a large bust.
Bandeau dresses
SHOP BANDEAU DRESSES
A bandeau dress is a sleeveless dress – think boob tube with a skirt attached. Perfect for summer holidays and avoiding tacky tan lines. Perfect for adding definition to small busts and looks great on athletic figures.
Sheath dresses
SHOP SHEATH DRESSES
A sheath dress is a plain (usually one colour) close-fitting dress, suitable for smart parties or formal wear. The sheath may have darts at the breast and curve slightly inward at the waist to complement curves.
Bodycon dresses
A bodycon dress is basically a very tight dress in a stretchy or scuba fabric. Perfect for when you want to stop traffic.
Stay clear if you're not a perfectly proportioned gym bunny or suffer from bloating. Wear with seamless body-shaping Bridget Jones knickers to keep it all sucked in.
Shirt dresses
A shirt dress looks like a long shirt, with a collar and button fastening at the front. They're usually cut without a seam at the waist.
To add definition at the waist add a waist belt or pick a belted style. A denim shirt dress is a feminine on trend way to wear denim. Perfect for all shapes and sizes – an easy to wear and flattering dress shape.
Slip dresses
A slip dress is basically a nightie, or a lightweight unstructured mini dress with spaghetti straps and a V-neck. Think short and silky, the lace detailing is optional.
Perfect for creating a 90s grunge look, worn with a leather jacket or oversized checked shirt, sheer black tights and chunky shoes. Stay clear if you're going to a formal event, as a slip dress may be a bit risqué.
Wrap dresses
SHOP WRAP DRESSES
A wrap dress has a front V-shape closure formed by wrapping one side across the other and tying at the back. This feminine V-shaped neckline hugs curves in all the right places.
Perfect for curvy girls – a wrap dress will make your waist look tiny and create an hourglass silhouette. The V-neck neckline is also flattering for large busts. A full skirt in soft fabric that drapes well will hide a big bum and large thighs.
Cocktail & prom dresses
This is where things get a bit blurry. If the dress is glamorous and floor length or puffy-skirted and midi length, it might be referred to as a cocktail dress or prom dress.
Generally a prom dress is a floor length gown with a tight sleeveless bodice and a full skirt but definitions vary.