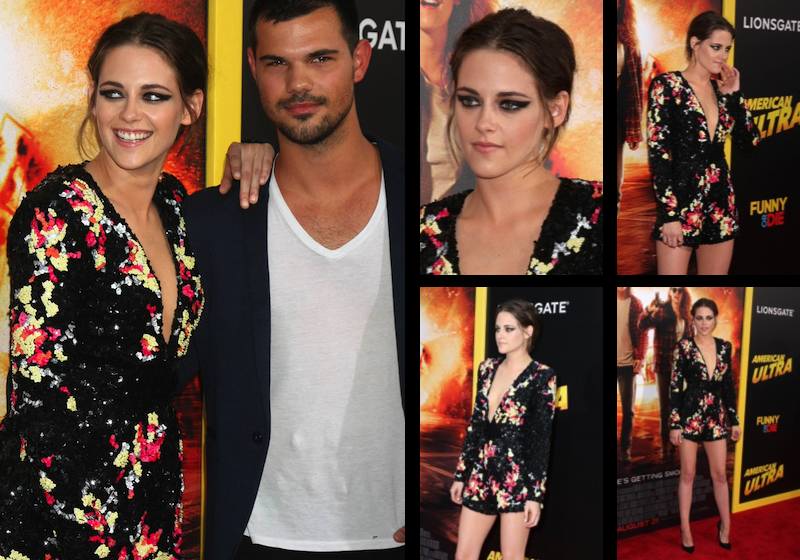 December 26, 2015 |
5 shares
Unconfirmed rumours that our favourite vampire chick, Bella Swan, will be back on our screens soon with Twilight: Breaking Dawn Part 3 have left die-hard Bella fans confused and craving more.
But it's not only Bella's black vampy ensembles which we're lusting after, KStews off-screen style is pretty awesome too. As the face of Chanel and Balenciaga, KStews endearing gawkiness and edgy style sense has earned her a place in the Celeb style hall of fame.
KStews favourite off-duty look is the old skinny jeans, band T-shirt, cap and Converse combo. KStew is also Queen of the 'just got out of bed and put on my boyfriends clothes' look. Don't be fooled though, when needs be, this screen siren knows how to do glamour and does it very well.
On the red carpet she has been papped wearing some more-than-a-little-bit-suggestive body-con lacy numbers - part underwear part frock, what's not to love?
KStew rocked this 80s disco look at the American Ultra Premiere in LA earlier this year, wearing a black sequinned long-sleeved short playsuit with deep plunge neck.
Catlike thick black liquid eyeliner flicks created drama and laid-back hair pulled casually off the face added to the effortlessly cool look. Work the sequin playsuit this party season like Kristen with these three playsuit lookalikes.
Sequinned Playsuit, £39.99, H&M
Motel Sequin Kimono Sleeve Playsuit With Plunge Neck, £60, ASOS

ASOS Festival Playsuit with Gold Embellished Shorts, £55, ASOS
It's all about the eyes. Create drama with this thick-tipped liquid eyeliner pen from Soap & Glory, an easy way to do stand-out eyeliner flicks with no mess.
Soap & Glory™ SUPERCAT™ FAT Jumbo Carbon Black Ink Eyeliner, £7, Boots
If head-to-toe sequins is too much, team this sequin floral skirt from Love Moschino with a plain jersey top and leather jacket, or dazzle with some sequin accessories, such as this colourful sequin clutch bag from Story of Lola. Both pieces are available from ASOS. Disco Queens eat your heart out.
Love Moschino Sequin Floral Skirt, £72, ASOS
Story of Lola Sequin Clutch Bag in Multi Colour, £45, ASOS