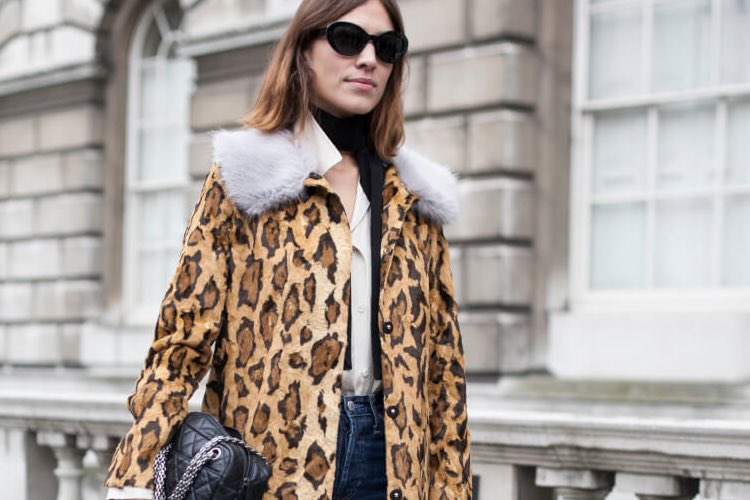 February 14, 2018 |
5 shares
She has been a style icon since her years at T4, and now she is a lauded fashion designer in her own right.
Alexa Chung simply has a knack for putting great clothes together; and wearing the hell out of them. She almost single-handedly made brogues the must-have footwear of the early 2010s, pioneered the 90s retro trend, and has even done the impossible by making dungarees seem red-carpet ready.
We've scoured the archives to put together a few of her most iconic ensembles – so you too can get Alexa Chung's look…
Alexa Chung Look #1 – Tailored Casual
This outfit is perfect for warm days at the office, or a day of shopping on the high street. Just make sure you choose a pair of tailored shorts that fall to mid-thigh length, and keep the rest of our outfit relatively conservative so that you don't look like you're on your way to the beach.
Alexa Chung Look #2 – Classics Combined
How do you make a pair of leather hot pants seem demure? Simple – by wearing them with opaque tights, Chelsea boots, a classic Burberry mac, and a fashion-forward hat.
Alexa Chung Look #3 – Smart(er) Casual
By adding a classically tailored single-breasted coat, Alexa makes her ripped jeans-and-Vans combo seem a little more 'put together'. Steal this trick by investing in one great coat and wearing it with everything.
Alexa Chung Look #4 - Vintage badass
These ¾ length jeans are straight out of a 1950s Hollywood romcom, but the chunky sandals and biker jacket bring it firmly into the 21st century. A slick of red lippy and a purposeful stride give this outfit a 'bad girl' edge.
Alexa Chung Look #5 - Leopard print
This outfit, however, is a masterclass in how to rock an animal print. Alexa's fur-trimmed leopard print jacket is the star of the show, and by pairing it with flared blue jeans and a simple white shirt, she avoids channelling Pat Butcher circa 1985.
Alexa Chung Look #6 - Monochrome
In this photo, she matches a vintage white t-shirt with white skinny jeans and a pair of black flats... and somehow makes it look couture. This look works because the lack of accessories adds an air of confidence that money just can't buy. Choose well-made clothes which fit like a glove and you won't need to hide them under layers of jewellery or jackets.
Alexa Chung Look #7 - Peter Pan collar
Here, the dainty white collar stands out against the all-black palate of her outfit and draws the eye up towards her face (and those amazing sunglasses). It's easy to emulate this look – in fact, some stores even sell standalone collars, so you can add them on to any outfit. Just keep the rest of your outfit neutral, and stick to monochrome shades and a feminine silhouette.
You don't need to have a fashion line and a wardrobe full of designer threads to dress like Alexa Chung: just seek inspiration from the past, don't show off too much skin, and if in doubt, keep it monochrome.