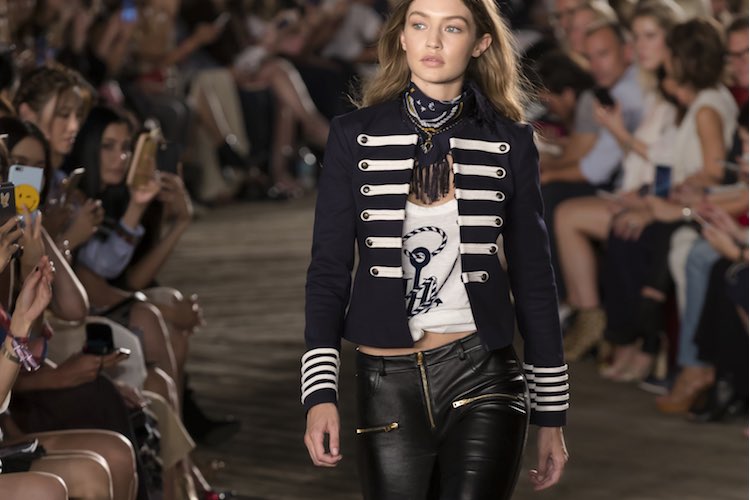 It's easy to look good when you're a 22-year-old supermodel, but carving out your own fashion look is a whole other story. While Gigi Hadid would probably look good in a binbag, she has built up a reputation for her unique – and surprisingly wearable – fashion sense. In fact, her eye for style has even landed her a lucrative second career as a fashion designer with all-American brand Tommy Hilfiger.
Whether you realise it or not, Gigi's influence can be seen all over the High Street – from high-waist trousers and crop tops, to 90s-era spaghetti straps, and classic, clean-cut ballgowns.
Steal her look by taking inspiration from these iconic ensembles...
1. Go back to the 90s
While other celebrities are still stuck in the 70s, with their boho skirts and fringed jackets, Gigi was one of the first to start wearing vintage 90s pieces such as Calvin Klein slip dresses and oversized denim. Thanks to her, the High Street is full of tattoo chokers and strappy dresses, which wouldn't look out of place on the set of Friends Season One. Anyone can pull off this look – just don't take it too far... The 'Rachel' hairdo is not set to make a comeback anytime soon...
2. Get high-waisted
Usually seen in some variation of the high-waisted trousers and bralet combo, in this image she makes a simple trouser suit feel new by playing around with the proportions. This is an incredibly flattering look for all body types – the high waist elongates the legs and creates an hourglass silhouette. Wear with heels for maximum effect.
3. Love your leather
But Gigi is just as comfortable in skin-tight leather as she is in a baggy plaid shirt. In fact, it's this versatility that helped catapult her to superstar status. The full-leather look is not for the faint hearted, but you can incorporate elements of biker chic into any ensemble. Stick with a dark or monochrome palate, add wet-look leather wherever you can, and don't forget to fix a don't mess with me look on your face...
4. Turn the glamour up to 11
She clearly loves to get dressed up for a fancy event, and she never disappoints, whether she is dripping with sparkles in a Grecian-style dress, or shimmering in head to toe metallics. After all, glamour is eternal.
Gigi Hadid is a true fashion chameleon – which means that anyone can steal her style. Whether you are feeling grungy or glamorous, she is a constant source of inspiration.