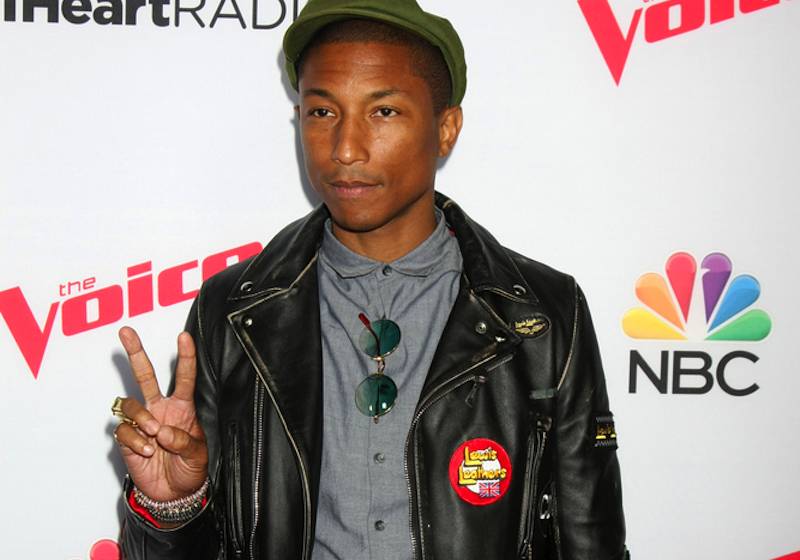 December 23, 2015 |
6 shares
Pharrell Williams brought some serious swagger to The Voice Spring Break Concert earlier this year, pictured here wearing an army style cap, slim-fit denim shirt buttoned-up to-the-top, distressed denim jeans and black biker jacket. Round rimmed Ray Ban aviators and black quilted Chanel Oxford shoes polish off the look.
Pharrell is sporting a similar setup in his latest video with Missy Elliott, WTF (Where They From), in which he's played by a Pharrell-shaped dancing string puppet wearing a black leather biker jacket, baggy jeans and flat-cap.
Get Pharrell's look with these 6 key pieces:
Goorin Private Cadet Cap £16, ASOS
Lee Denim Shirt Slim Fit Western Grey Coated, £75, ASOS
To get some Pharrell swagger wear your jeans low with a thick black leather belt. Roll-up very faded slightly-tapered jeans like these Levi's vintage jeans from Farfetch and finish with polished Oxford shoes for a modern look.
Levi's Vintage Clothing Faded Jeans, £172.27, Farfetch
Church's Toronto Oxford Shoes in smooth black leather with punch detailing are a gentleman's style classic…
Church Toronto Oxford Shoes, £350, Selfridges
Everyone needs a retro leather jacket in their life, a style saviour to last through the years. Go for a plain black leather biker jacket or funk it up with a faux-fur collar and patches with this leather flight jacket from Schott.
Schott Leather Flight Jacket with Faux Fur Collar & Patches, £380, ASOS
And to complete the look, round aviators are a Pharrell favourite. Who said sunglasses are only for Summer anyway?
Ray-Ban Round Metal Sunglasses, from £125, Ray-Ban