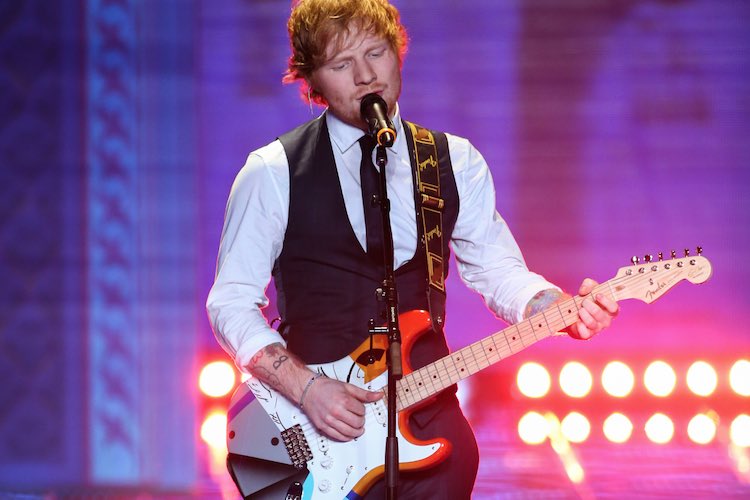 Ed Sheeran has always been an unlikely superstar. The redhead Suffolk boy looks like someone you went to school with, and despite banking millions and hanging out with some of the most beautiful women in the world, there is still something approachable about him. This might be down to his style. No one does casual like Sheeran – whether he is dressing down in a plaid shirt and jeans, or putting his own spin on a designer suit.
Over the years, Ed Sheeran's style has ranged from vintage rocker to romantic gent, but there have always been a few constants – dark colours, ¾ length sleeves, and well-cut separates.
Get the look and recreate his laid-back style with our Ed Sheeran style tips...
1. Don't follow the rules
One of his best looks was this three-piece suit minus the jacket – an outfit which could have looked a bit '90s boyband' if it weren't for the modern cut and his trademark rolled-up sleeves and trainers. You can dress down any suit by substituting one element for something a bit more casual – ditch the jacket, the tie, or both, and always wear trainers or smart plimsolls instead of formal shoes.
2. Dress for your body type
Rather than hiding behind baggy clothes, Ed is an expert at dressing for his shape, choosing well-cut separates and dark colours like this navy blazer and black tee. A few well-chosen accessories (geek glasses and khaki Nike Air Max trainers) add some character to the look.
3. Always have a 'wear anywhere' combo
Sheeran makes the look feel modern and grown-up by sticking with a dark colour palate, and rolling up his shirt sleeves slightly. Box fresh hi-tops add a casual edge to the outfit, but could easily be swapped out for chukkas or biker boots.
4. Rely on your favourites
In fact, a plaid shirt over a black t-shirt has sort of become his signature look. And there's nothing wrong with this! Every guy has a favourite item of clothing – something that makes you look good and feel comfortable. Once you've found your new favourite, buy a few similar pieces and wear them with pride.
You don't have to be a millionaire musician to emulate Ed Sheeran's look. Just put comfort before fashion, keep things simple, and if in doubt – just sling a guitar over your shoulder…