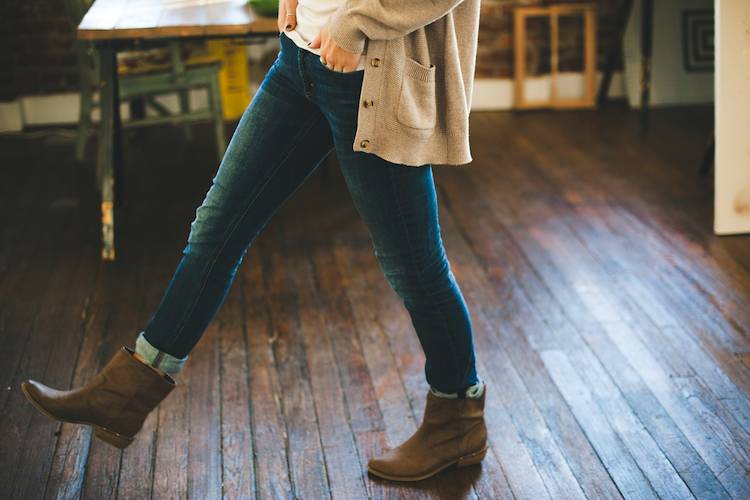 November 16, 2016 |
6 shares
Layering is an art. Done properly, it can be functional and fashion-forward; but done wrong, you'll end up sweaty and uncomfortable.
Good layering is all about creating transitional looks which will keep you warm and look stylish no matter what the weather. So here are our essential dos and don'ts to layering in autumn, winter and beyond...
+ DO keep prints & colours to a minimum
It's all too easy to get carried away with layering, but you can keep any outfit looking sleek by sticking to a simple colour scheme. Choose one or two colours and build your outfit around them – black and white are a classic combination, but navy and blue, khaki and beige and shades of green are all on trend this winter.
Keep patterns to a minimum, as they pull focus and can look busy when layered. A simple print shirt looks great under a plain coloured jumper, but layering print-on-print is a step too far.
- DON'T choose itchy fabrics
When you are wearing several layers, your base layer is pressed even closer to your skin. If your base layer is a lacey camisole or a woollen sweater, you'll be fighting the itch all day. Choose breathable fabrics such as silks, cottons and cashmere, and your skin will thank you!
+ DO invest in the basics
A pair of sleek trousers, a tunic dress, a polo neck, a camisole and a cardigan – that's pretty much all you need to create a multitude of chic layered looks. Invest in good quality basics which will last and last, and you will soon have a capsule wardrobe that just keeps on giving.
- DON'T end up battling the dreaded bulge
Bulging is easily the biggest pitfall of layering, and it can happen so easily, especially when you wear clingy, static-ridden manmade materials. Avoid clothes that have the propensity to ride up, or start your outfit with a foolproof body to avoid the risk of T-shirts bunching around the waistline.
+ DO plan ahead
One of the great side effects of layering is the ability to subtly 'change' your outfit throughout the day, depending on the occasion. You might need to pile on the layers for a rainy day commute to work but equally look smart for a drinks reception in the evening.
No problem. Just choose a slip dress and blazer by day, then lose the blazer and add some statement jewellery for a chic evening look. Incidentally, if you know you're going to be adding or shedding a layer later in the day, don't forget to bring a tote with you so you have somewhere to keep that extra sweater!
- DON'T over accessorize
In most cases, a long pendant necklace or a thick bangle is all you need to finish off a layered look. Follow Coco Chanel's famous rule – before you leave the house, remove one piece of jewellery. This look is all about the detail of the clothes, so keep it simple and you can't go wrong!