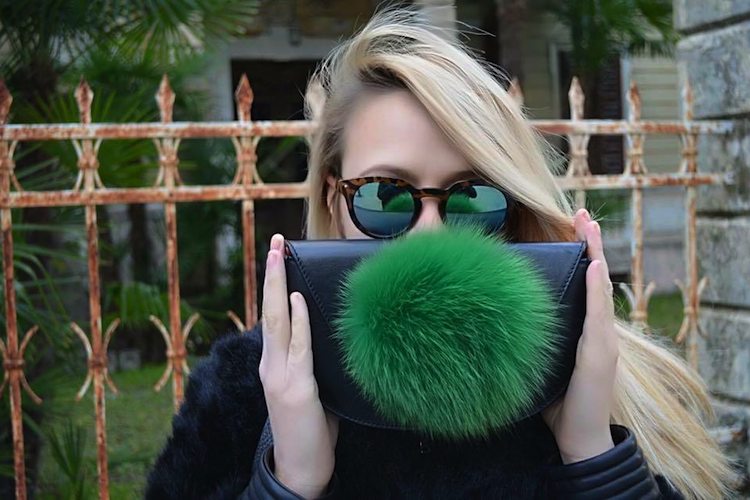 February 22, 2017 |
20 shares
Abigail Royston is not your average style blogger. After having toured the globe with the Women's Tennis Association and receiving a Masters in Law, she launched My Girls On Tour to share her fashion and travel stories. We sat down with Abigail to find out more about life before blogging, her own personal style and where her adventures are set to take her in 2017.
How did you find the transition from a tennis pro to a blogger?
Well, after I finished on the WTA Tour, I went to University at King's College London to study Law and after graduating, I finished my LPC & masters in Law and started working in the city as a trainee solicitor.
It was at this point, whilst studying for my masters that I decided to start a blog - what I was doing was so different to playing tennis and I realised that playing and travelling on the WTA had been a truly unique experience that perhaps others would be interested in hearing about.
At first it was a sort of retrospective but as I got into blogging, my blog became more about my day to day life.
What was the inspiration behind the name?
When I was on the WTA Tour I lived and travelled with some of my best friends. We worked hard and learnt so much, but we also had so much fun and so many great times.
We loved dressing up to go out, wearing makeup, going to new places, eating out and travelling. It was all quite glamorous. I wanted the name to reflect this - hence My Girls On Tour.
What can readers expect on My Girls On Tour?
My Girls On Tour is both inspirational and aspirational. It mixes fun elements of fashion, beauty, style and fun travel stories with more serious aspects of travel, culture, history, haute-couture, art...
Photography is a big part of My Girls On Tour and you can expect editorial style shoots, fashion inspiration and of course lots of wanderlust.
How would you describe your own style?
My style is quite chic but also quite bohemian and colourful - I like to mix and match designer pieces, vintage finds and high street stores. One day I could be rocking a London street style look and the other I could be wearing a floaty skirt and frilly blouse.
I like to dress for an occasion and I really think that where I am going, what I am going to be doing and what country I am in (the climate, the culture, the inspiration around me) really alters my style and what I wear. I guess I could be called a fashion chameleon.
Do you find your background helps to open doors in the fashion world?
Sport and Law are very very different from fashion and I have really had to learn about a whole new industry. Perhaps being a sports player has intrigued people to find out more about My Girls On Tour but I don't think that it has helped to open any doors.
You travel extensively – do you have any particular favourite places?
I love Spain, especially Barcelona where I lived for 4 years whilst I played on the WTA Tour. I also really loved Cuba, I thought it was such a beautiful country and the people were lovely.
Do you have any go to outfits for a sun-drenched getaway?
I love wearing ripped jean shorts and beaded sandals. At the moment I am loving bardot tops.
Where's on your bucket list for 2017?
I would love to travel to South East Asia and Japan. Machu Picchu is also definitely on my bucket list as is going on Safari to Tanzania or Kenya.
Is packing a nightmare or are there some tips and tricks you find useful?
Packing can be difficult especially if you only have hand luggage. I like to plan my outfits and pack things that go well together to give me as many possible combinations as possible. I always try to wear the heavy things and pack my passport and cosmetics are the top or front of the bag.
If I am travelling long haul with various suitcases, I always make sure to pack my essentials in my hand luggage, so that that way, if my bags get lost, I always have things to fall back on and it won't ruin the whole trip. For example if I am travelling from London to Punta Cana in the Caribbean, I will pack a pair of flip flops, a swimming costume, some sun tan cream, some underwear, at least one change of summer clothes, my pajamas, socks, hair straightener and my makeup in my carry on bag.
As we approach spring are there any particular trends you're excited about?
I am loving ruffles and distressed denim. Also thigh high boots with long shirt, dresses and long jackets.
And finally, what's the advice you try to live your life by each day?
I treat people like I would like to be treated. Always try to be kind to others.
Thanks again to Abigail for sharing her personal journey up to this point and her tips on packing like a pro. For more style inspiration make sure you checkout her Instagram, Twitter and Facebook channels, or watch it all happen on YouTube.