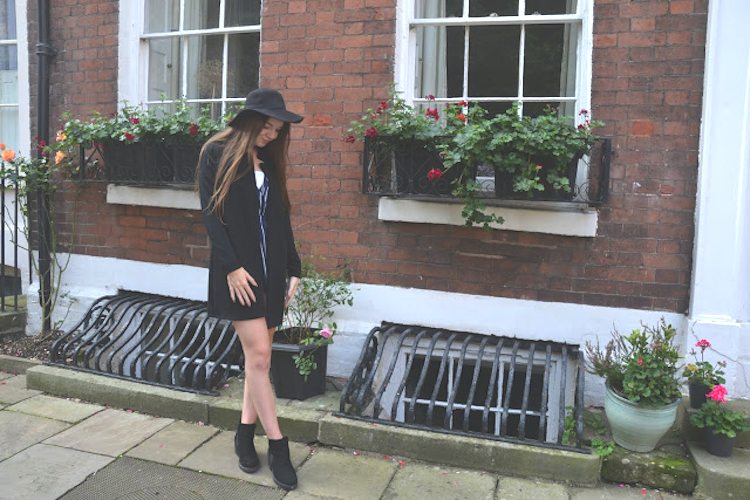 January 25, 2017 |
14 shares
This week for our latest Hot Drops Meets… feature we're joined by student style blogger and Boohoo ambassador Ella Renee. Read the interview in full below to find out more about her self-titled blog, what she's obsessing over this season and tips on updating your wardrobe on a student budget.
What inspired you to start the blog?
I started a blog because I had a lot of thoughts I wanted to vent, so I started posting advice and then got into fashion.
How do you find making time to create your blog posts alongside studying?
I try and post 3 times a week, I'm very dedicated to it so I will make time regardless if I'm drowning in uni work.
And you're a Boohoo ambassador on top – what does that involve?
As a boohoo ambassador my job is to promote the brand and style their clothes on my social media accounts, it's one of the best opportunities blogging and YouTube has brought me.
Have you noticed your style change during your time at university?
My style is constantly evolving, at uni I dress casual but stylish whether this is adding a cute coat or heeled boots I still make the effort.
Do you have any tips on refreshing your wardrobe on a student budget?
Charity shops! Being a student is hard enough but not being able to afford clothes is a nightmare, charity shops always have some gems you can work with!
What are the winter wardrobe essentials you couldn't live without?
My winter wardrobe essentials are knee high boots, a beanie and a turtle neck jumper dress.
Are there any certain colours you're obsessing over this season?
I'm obsessing over red, dark green and baby pink this season, I know random :-)
And finally, what's the style advice you try to live by each day?
My style advice is just make a statement and stay classy.
A huge thanks to Ella for making the time to do the interview in between her studies. Get further tips and advice on her blog and make sure you follow her YouTube, Instagram and Twitter channels for updates on her latest hauls.