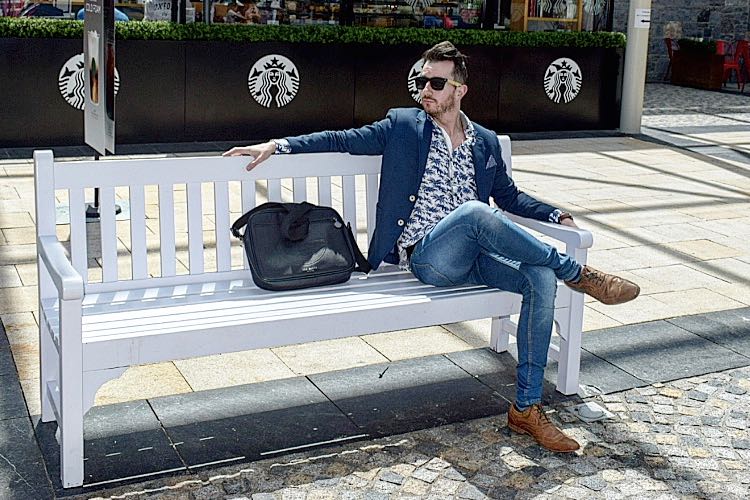 July 28, 2017 |
21 shares
Featured in our very own Top 50 Men's Style Blogs and ranked within the top 100 men's fashion blogs on Feedspot, Fashionable Frank aims to help men to dress better for less. We caught up with the face behind the blog and personal stylist, Ireland based Frank Cronin, to find out more about how it began and what readers can expect. Read on to discover all about Frank's style journey and what key essentials should be in your wardrobe…
What originally inspired you to start the blog?
As a kid growing up in the late 80s and early 90s I used to read magazines like GQ, Esquire and FHM. I was fascinated by the glamorous locations and the style of the cover stars of each issue. I wondered what was the inspiration behind the style? Where did they get the clothes? Why did they combine those pieces?
This was the pre-Google era so the information was hard to come by. As I got older my interest in fashion grew to a point where friends and family would ask me for advice on their outfits etc. I was encouraged by family and friends to start something and Fashionable Frank was born.
I think there is a link between fashion, style and confidence. If you look good, you feel good. Fashion is much more than clothing - it is an expression of yourself and your tastes. Whatever they are. For some it is a suit, for others it is something more casual. Either way you are marketing yourself to the world and who doesn't want to give the best representation of themselves? That is what Fashionable Frank is.
I want to help other men achieve this by passing on my advice, experience and tips. If I can help other people to look good and feel better about themselves then I am happy!
Can you tell us a little more about what readers can expect on Fashionable Frank?
My writing style is complimented for being witty and engaging, which is an amazing compliment to receive. I try to have a conversation with my readers and relate my posts to occasions and events we experience everyday. For example, What To Wear is a segment where I provide outfit ideas and tips for occasions and events like a wedding, a christening or the races where guys might be wondering what do I wear? What tie should I wear with a grey suit? Do I have to wear a suit to the races? etc.
My blog is based around giving practical advice on subjects not every man is comfortable with; another example of this is How To Wear. You might want to wear white pants but you are not sure what works with them? Fashionable Frank will provide you with everything you need to know about wearing them!
I have embraced vlogging too and I love it. So a lot of my posts will have a visual and text element, so if you like reading you have the traditional written blog post, but if you prefer to watch a video then you have that option too. It is time consuming but it is really rewarding and I think it is great to be able to talk directly to readers and viewers and offer advice this way. I think it helps to make it more personal! So whether you want to rock a 3-piece suit you wear or you prefer some street style inspiration like denim jacket and ripped jeans, Fashionable Frank caters for all tastes.
What are the main differences you've found between blogging and vlogging since launching your YouTube channel?
Vlogging is very different to blogging. I like the personal element of it and I feel I can get my point across, although I haven't perfected the process yet as it could be more natural. Vlogging is a lot more time consuming than I thought it would be, there are many factors (some I never considered for example a dog barking - no joke! My blooper reel would be interesting!) in producing a video for YouTube. It is incredibly rewarding to see a finished video though.
I still love writing my blog and producing pictures for it. Brainstorming really helps when developing content to write about and this is more beneficial and practical to apply to writing. I have fantastic ideas for shooting videos but I would need a much bigger budget and team to produce it. I think people will always want to read a piece. In fact I prefer reading something to watching it. So I will always write the blog. Plus you can't hear a dog bark and have to reshoot something!
Moving on to your own style, how would you describe it?
This is a tough question. I can't really define it. I describe my style as a unique blend of street style meets dapper. My style is seasonal, for example in autumn and winter I love to wear street style inspired outfits and mix up my style and take risks. For example layering a denim jacket under a camel coat.
My spring/summer style is much more dapper orientated and you are likely to find me in a blazer, print shirts along with chinos, skinny jeans and shorts.
Have you noticed it's changed since you started blogging?
Yes! I take more risks with my style now. I have embraced my interest (addiction) to fashion. Before I started blogging I was more conservative but still spent money on fashion. Generally sticking to well known brands with only a sprinkle of daring pieces. Nowadays I am all about the "synergy" of my outfits.
Basically, it's about how the appearance of the overall outfit looks rather than the one mega expensive piece of clothing you are wearing while the rest of your outfit suffers. My attitude is you could pay €400 on a high-end brand name piece of clothing. Give me €400 and I will give you multiple outfit pieces with interchangeable combinations! Not everyone has €400 to spend on a single piece of clothing.
What's your favourite off-duty look?
My favourite off-duty look is a black leather jacket, tight white t-shirt and dark ripped jeans. In spring/summer I'll wear a pair of Adidas Superstars or Stan Smiths (I love the versatility of these trainers - every guy needs a pair of these!) with lighter coloured jeans.
For autumn/winter I'll style the outfit with grey Chelsea boots with a black gusset. The gusset has to be black!
And what about your favourite look for work?
I don't have to wear a uniform or abide by a smart casual dress code so I am fortunate (or unfortunate) from that point of view. My looks are determined by the seasons so in autumn winter there is a lot of jumper, shirt and blazer combo's and in spring summer the layers are peeled off.
I love wearing short sleeve Oxford or print shirts with mid wash blue jeans. Depending on my mood I'll add a blazer.
Are there any trends you're particularly loving this summer?
Cuban Collar Print Shirts
Perhaps it is the nostalgic TV shows depicting the lives of drug runners?! The Cuban collar or reverse collar shirt and print shirts in general are everywhere this summer and I love them! Menswear is enjoying a golden period at the minute with guys being more adventurous with their fashion. My favourite piece of the season is a Primark palm print shirt - it goes with everything!
Shorter Shorts
More nostalgia here with shorts being what I consider to be the correct length - 1980s World Cup length. Shorter shorts are a trend I hope stays around for a while. I have invested in a couple ahead of my holidays.
White Pants
The ultimate summer statement for me. I love white pants and the summer vibes they convey. They are criminally underused by men, but I think they're an essential piece. Granted, they can be difficult to pull off however if you stick with them they offer some great outfit combinations. Admittedly, they are a more spring/summer piece.
When there is a beautiful sunset they look great with a blazer, print shirt and slip loafers. Okay, maybe you are not strolling to your yacht in Monaco but we can dream! The white pants are a more achievable goal. What is the saying? "Dress for the job you want, not the job you have"
Slip on Loafers
I have to admit I was initially skeptical of wearing loafers. I wear customised insoles (unfortunately) so I need to be careful with my choice of footwear. Go for cropped trousers or roll up the ends of jeans and display some mankle with your slip on loafers.
What 7 style essentials would you recommend for every guy?
1) Fragrances
I think every guy needs to smell well! The power of scent is something that cannot be underestimated. Along with appearance, our scent is something that is judged - ruthlessly! So take your time and pick a few that you like. Some of my favourites include:
- D&G Light Blue
- Chanel Bleu de Chanel
- Jimmy Choo Man
- Joop Jump and Joop Go
- Giorgio Armani Aqua di Gio and Armani Code Colonia
- Christian Dior Sauvage
- Paco Rabbane Invictus
I have all of the above so they are Fashionable Frank approved! If you are on a budget then check out Zara Man Silver. It is absolutely delicious. I wear to work all the time and people are stunned to learn its €12! Actually Zara have a great selection of fragrances at very reasonable prices.
2) A Blazer
I love wearing blazers! I think they are essential because they are incredibly versatile. A blazer will instantly smarten up your outfit. A common perception is that a blazer is a smart piece - but wear a blazer with a white tee, a pair of blue jeans and white trainers and you have a great casual outfit.
This versatility is very useful when creating stylish outfits. For spring/summer I recommend going for a neutral or blue coloured blazer to capture the mood of the season. Autumn/winter calls for darker tones but I suggest going for a grey blazer. This will provide a great contrast with darker jeans and looks great with a white shirt.
3) White Trainers
I love white trainers. The minimalist trainers trend is something I really liked, especially wearing them with a suit. I recommend Adidas Stan Smiths; I have a pair and they look great with everything! If you have the budget pick a pair of white Adidas Superstars too. There are few more powerful stylish statements than white and black.
4) A Well Tailored Suit
Every man needs a good suit, simply put. Regardless of the colour, a suit is an essential wardrobe piece. For inspiration think James St. Patrick AKA Ghost from Power or Conor McGregor? These guys are always dressed sharp. Find a colour you like and get it fitted right.
I suggest going for blue or grey, or both! Remember, you can use the trousers and jacket separately. For example, the jacket can be used as a blazer and be worn with jeans or chinos, while the trousers can be paired with loafers and a knitted polo for something different. As the old saying goes "A well tailored suit is to women, what lingerie is to men". Caught your attention with that one!
5) A Navy Shirt
A fitted navy shirt is an essential piece I think. It will add versatility to your wardrobe and increase your outfit combinations. A navy shirt can be worn with white pants and a blazer for a sizzling summer look. You can incorporate it into your grey suit as well. I love contrast buttons on shirts (white buttons) as these add character and interest to a shirt, so look out for little features you like.
6) A Black Leather Jacket
Outerwear is dominated by bombers (and lately denim) and I do like them, I have a few actually. However, investing in a good quality leather jacket is a wise investment. It is an iconic jacket and will never go out of style.
Wearing a leather jacket with a white t-shirt and dark jeans is an outfit which oozes effortless cool and can be worn during most seasons.
7) Accessorise, accessorise, accessorise
I am always banging on about why you need to wear accessories on my blog and in my videos. I make a point of saying "don't leave your wrists bare!" Sunglasses, bracelets, belts, bow ties, ties, handkerchiefs, lapel pins and watches are accessories which can really enhance your outfit.
They are the finishing touches and are usually the difference between a good outfit and a great outfit! Take time to consider the colours you are working with and add accessories that match or contrast. Once again the high street, in particular River Island, is great for affordable accessories.
And finally, do you have any style hacks to share that may help other guys?
Would it be rude to suggest fashionablefrank.com?! Nah, seriously. My style hack isn't necessarily a hack. I have benefitted from it though and it has completely transformed my wardrobe. My style hack is Sale Shopping!
I am not advocating Macklemore's thrift shopping BUT I think guys don't shop sale enough. You can pick up some real gems. I shop sale quite often. If I have a spare 5 minutes I'll have a quick look on my favourite sites for some bargains. Filter by size is a fantastic tool and you can filter by lowest price as well. In fact, I wrote a blog post on my tips for sale shopping. Look good for less!
There is an element of fashion roulette though as your size might sell out. So my other hack is, if you like it then buy it because you can always return it! It's better to have it and have the option of returning, rather than desperately searching for alternatives. I am speaking from experience.
A huge thanks to Frank for sharing so many style and outfit tips. If you're not already connected, head over to YouTube to subscribe to his channel and catch his latest vlog and make sure you follow him on Twitter, Instagram and Facebook for daily outfit inspo.