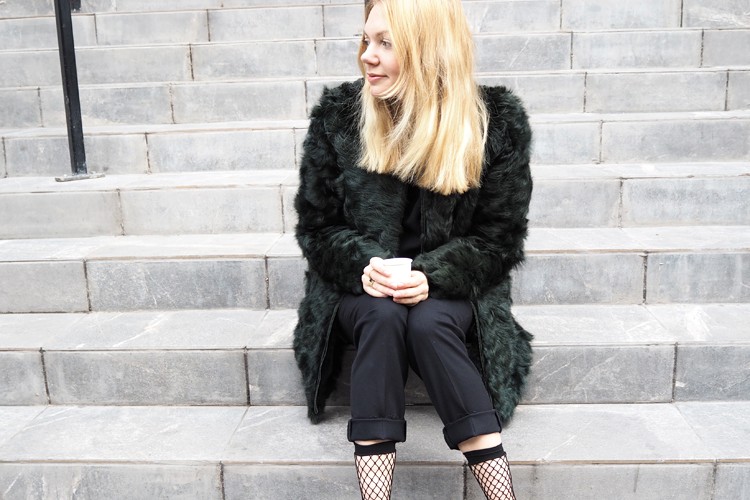 December 21, 2016 |
12 shares
Working at Acne Studios within Liberty London alongside running her popular style blog, Gabriella Lundgren is at the forefront of the latest fashion trends. We caught up with her to find out more about her own personal style and how she's able to use her fashion know-how to help inspire readers of her blog to create their own perfect wardrobe.
What originally inspired you to start the blog?
I have always loved style and fashion and I used to get complimented in how I dress so I wanted to find a channel to share my outfits and inspirations to more than just my closest friends. I'm a real blog junkie, I read a lot of them, so starting a blog became a natural thing for me to do.
Can you tell us a little more about what readers can expect from the blog?
My main thing with my blog is to inspire. I want to inspire my readers in how to dress, what outfit to put together, what items to buy, how to create a good wardrobe and how to make better purchases.
As much as I love to buy new things I also want to teach people in how to shop smart and buy classic wardrobe staples that will last forever and that you easily can wear today as well as in one year.
It's all about building that perfect basic wardrobe and add some extra bits to sparkle it up! I'm Scandinavian so my style is quite minimalist (but definitely not boring) so everything I post is from my own personal style and pieces I would wear, so it's a very honest blog.
How do you find the time to mix writing for your blog with a full time job?
It is quite hard sometimes, but since I work in fashion it all goes together. At work I get inspired by our customers or colleagues in how to dress, the shop floor in Liberty can sometimes be like a fashion show.
Since I have all the other brands around me it's easy to keep up with the latest trends and all this information I gather on my blog to share with my readers. But I'm not gonna lie it is very time-consuming to write a blog, so my days off, mornings and evenings are mostly dedicated to my blog. Since I love it I really don't mind, it doesn't feel like a job for me!
Do you find working for Acne Studios influences your own style?
Yes definitely. Acne Studios is a quirky brand and are not afraid to cross boundaries, but with classic pieces as a base, I would say. I think since working there I have become more adventurous and androgynous in my style I think and less girly in a way.
What's your favorite off-duty look?
That's easy! Jeans and t-shirt. You can't go wrong with it. You need a good pair of jeans though that sits perfectly.
That's one of the best investment in your wardrobe you can make. I'm all about t-shirts with a print/logo lately so pair it up with a t-shirt in something other than just a plain color I would say.
And what about your favourite look for work?
That obviously changes all the time according to the season, for the moment I'm obsessed with my pink wool trousers from Acne Studios called Milli that I wear with a simple white t-shirt.
The trousers speak for them self so you want to keep the rest of the look quite simple to keep the focus on the trousers.
What's on your shopping list from the latest season?
I really fell in love with everything metallic last season, and I'm still in love with it. I didn't actually end up buying something with it, but if it goes on sale I wouldn't mind a pair of metallic boots, metallic clutch or a handbag or even a metallic blazer with trousers.
Are there any trends you're not feeling the love for this season?
It's almost a crime to answer that, isn't it? Sometimes you may not like something in the first look but then it grows on you and you start loving it. Although this is not related to a specific season, but I'm not sure I will end up wearing too many flower prints in the future. It's just something with flowers print that I don't like, I think it has to do with the fact that I'm small and blonde so flower print on me makes me look like a little girl.
It's all about knowing your own features and to work with what you have (or not have) when it comes to styling. I'm sure a lot of other people can pull off a flower print better than me!
Do you have any style advice you live by each day?
Dress in what makes you feel comfortable, a bit boring but Oh so true. You need to feel good; it will show in your face if you are not happy in your clothes.
And also try to make a plain outfit fun, just add a belt or jewelry or a scarf maybe, something to spice up the simplest look. And last but not least, have fun with fashion and experiment, don't take it to serious!
Some great advice from Gabriella and a huge thanks to her for giving us her insight into running a blog alongside working for an international fashion house. Please make sure you follow her on Facebook, Instagram, Pinterest and Twitter for regular tips and outfit ideas.