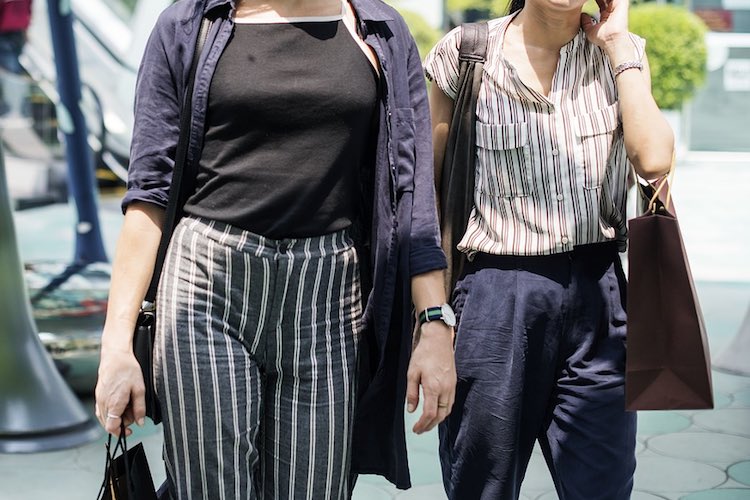 August 31, 2016 |
5 shares
If you are more of an apple than a pear, or just feeling a bit bloated at the moment, these simple style hacks can up your confidence.
Try an empire waist
An empire waist is a flattering cut for dresses and tops if you want to disguise a tummy or bloating. The empire cut will emphasise the bust but skim over the midriff.
Empire tops can be harder to pull off for ladies with a large bust – avoid looking top heavy by giving this one a miss if that's you.
Body wear & control pants
Bridget Jones was on to something with this one. Tummy tucker-in granny pants, also known as Spanx, can work wonders underneath a pencil skirt, dress or high waisted trousers, having a flattening effect and creating a smoother silhouette.
Ruching to the rescue
Draped tops with ruching and excess fabric that hang are far more flattering than tight tops that cling to all the wrong places. A couple of well placed pleats on a top can also work well. The vertical lines of the pleats or ruching will elongate, and the loose fit will skim over the area nicely.
Tunics & longer length tops
Choosing a tunic style top which skims over the midriff, with the hem falling at the thighs, is another clever trick. The longer length draws attention away from the tummy and creates a streamline effect.
A tunic or casual dress with a drop waist and flared skirt will also draw attention away from the area. Wearing dark leggings underneath a tunic top is another sly trick to add to the illusion.
When wearing leggings or elasticated trousers, make sure the waist of the trousers is above the hips, higher up towards your waist (above your muffin top). This will have a Spanx like effect without the Spanx.
Long cardigans
A long length cardigan will not only keep you warm and stylish, it can create the illusion that you are slimmer and taller too! Avoid the traditional cardigan which falls at the waist and up your style game with a cardigan that's hem sits at the top of the thighs, knees or calves.
The trick to using layering to create a longer silhouette and avoid bulking up is to create vertical lines.
The long gilet
An ankle grazing sleeveless button-down or gilet is an on trend way to add vertical lines to any outfit and elongate your figure.
And lastly…Avoid details or waist belts
In some cases a waist belt can add definition, but generally if you are apple shaped or carrying excess weight around the middle it is best to avoid waist belts or anything detailed, such as ditsy print, that draws the eye to this area.