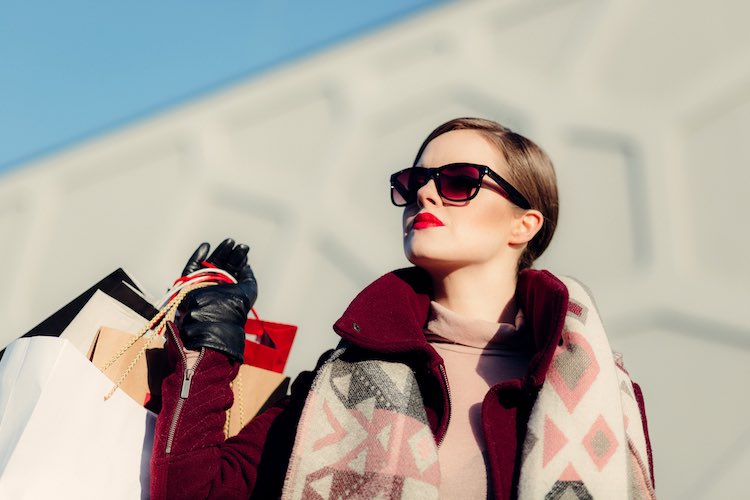 December 22, 2020 |
11 shares
Before you hit the Boxing Day sales like a woman possessed, prepare with some bedtime reading of how to shop the sales like a pro. Just follow these commandments and you shouldn't have too many regrets when the credit card bill comes in January…
Thou Shalt be Savvy & Prepare
Savvy means getting the best deal for you, not just buying something because it's dirt-cheap. If you don't need the item, don't buy it.
Go to your fave websites before the sales kick in and draw up a wishlist of what you want and what you're prepared to pay. You can also use our free price drop alert feature if you've already signed up for a Hot Drops account – if the price drops on Boxing Day you'll be the first to know.
Thou Shalt Not Kid Oneself
If you absolutely love something but it's only available in the size below, don't try to convince yourself it's such a good deal you'll find a way to fit into it. The chances are highly stacked against you and you may end up finding it still hanging in your wardrobe (labels intact) this time next year.

Still don't believe me? How's the diet you started at the start of this year still going? We've all been there ladies – just don't give into the temptation to tease yourself that it might just about fit.
Thou Shalt Stick to a Budget
Work out in advance what you can afford to spend and write the number down. Whether you hit the high street or go online, reduce this number every time you buy something so you can keep a running total.

As well as making sure you don't spend over your budget, it'll also help you to prioritise what you buy. If you're torn between two items, use the cost per wear equation to make the decision (cost of item divided by number of times you're likely to wear it). The chances are that you'll end up buying more daily essentials that you'll actually get good use of, rather than one off pieces that end up in the regret pile.
Thou Shalt Not be Drunk
OK so Christmas is usually one tipsy day after another, with the occasional break to gorge on tasty treats we've been dieting for before the new diet commences in January. If you are planning to shop online, try to start with a fairly clear head so the temptations can be rebuked by your conscious mind.
We all know the feeling of hitting the supermarket hungry and take that as a lesson for not shopping online when you're frizzled.
Thou Shalt Actually Read Returns Info
Some stores offer a different returns policy for sale items compared to full price stock. Try to find out about returns in advance so you're not scrambling around on the day for all the info (if in doubt give their customer service team a quick call).
The absolutely last thing you want after your Boxing Day sale spending splurge is to find the item can only be returned for store credit so you end up having to buy something at full price you don't want anyway.
Thou Shalt be Ready to Start on Christmas Eve
There was once a time the Boxing Day sales started on Boxing Day – oh how things have changed. Most fashion retailers now kick off their main online sales on Christmas Eve (partly because staff are allowed a break on the 25th and 26th so they need to set things in motion before the exodus).
If you're serious about bagging yourself a sale bargain, either stay up after midnight on the 23rd, or settle in for an early night so you can start as early as possible on Christmas Eve. Warn the hubby so he can be prepped to fulfill your demands for coffee during the spree.
Our Top Tips On Shopping The Boxing Day Sales
Prep early and create a wishlist of everything you're looking to buy in the sales and the maximum you're prepared to pay.


Only buy things that will fit you – don't be tempted to try and squeeze into something smaller to save a few quid as the chances are you'll never wear it.


Stick to a budget and if you have to choose between two items, calculate the cost per wear (price of item divided by number of times you'll realistically wear it).


Shop the Boxing Day sales with a clear head to avoid the delivery man turning up with a bag of clothes you have no recollection of actually ordering.


Double check the returns info in advance of the sales so you know exactly when things have to be returned to and whether you're only entitled to store credit.


If you want to bag the biggest bargains, you may have to stay up late so you can shop the sales as soon as they launch. Coffee at the ready!