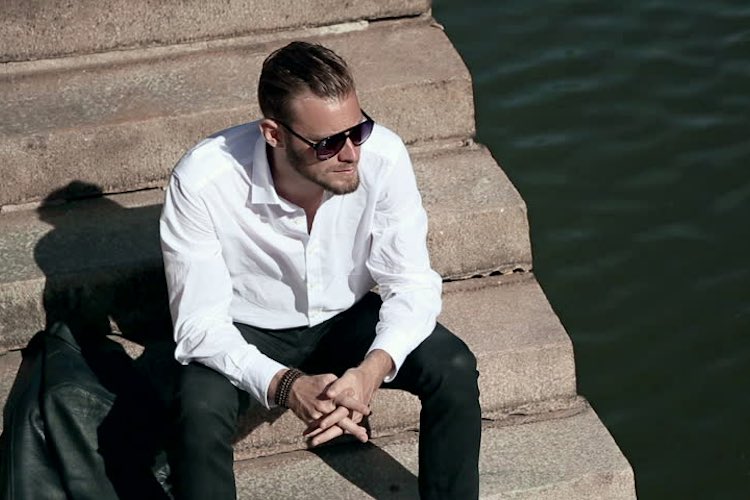 April 24, 2017 |
4 shares
In case you hadn't noticed, men's black jeans are rapidly gaining ground on blue jeans. They are more versatile, more stylish and – crucially – more forgiving of spills and stains. What's more, they can be dressed up or down with ease, whether you're looking to freshen up your look for the office, or impress someone new.
Looking for inspiration? Read on for a few tips on how you can turn your black jeans into the hardest working item in your wardrobe.
Wearing Black Jeans To the pub
SHOP THE LOOK: Black Jeans | Grey Tees | Converse Sneakers
Pub clothes need to be able to withstand the unexpected – a spilt pint, a brush with a lit cigarette, or an impromptu trip on to the nearest nightclub. So it's always best to keep things simple but versatile.
Dark jeans will hide a multitude of sins, and they can be worn with just about anything you like. A pair of straight or skinny men's black jeans and a plain grey t-shirt will serve you well, while chukka boots or sneakers are all you need to complete the pub-ready look.
Wearing Black Jeans On date night
SHOP THE LOOK: Slim Fit Jeans | Pink Shirts | Ted Baker Chelsea Boots
Date nights – especially 'first' date nights – are tricky to get right. You don't want to seem like you're trying too hard, but you also need to show that you are making an effort. Enter: black jeans.
Dark enough to be mistaken for smart trousers, but comfy enough to avoid that 'job interview' feeling; just add a nice shirt and some Chelsea boots and you're good to go!
Wearing Black Jeans To the office
SHOP THE LOOK: Black Skinny Jeans | Smart Shoes | Blazers
Before the advent of 'Casual Fridays', jeans in the office was a massive no-no. But now, everyone's at it! Even if you work in a traditional office, it's possible to wear black jeans without looking unprofessional.
Just choose a dark wash with no fades or rips, and dress them up with a buttoned-up shirt and a wool sweater, under a tailored blazer or jacket. This is all about the details, so make sure you choose good quality fabrics to avoid a scruffy look.
Wearing Black Jeans On a city break
SHOP THE LOOK: Relaxed Fit Jeans | Hoodies | Sunglasses
City breaks are all about comfort and functionality, so pack a pair of weathered and worn black jeans that aren't going to pinch or chafe. In fact, the grungier you go, the better, as you don't have to worry about local hazards such as sand, snow or pollution.
Pair your jeans with layers that can be peeled off or added to depending on the weather. A t-shirt, a hoodie and a bomber jacket will see you through any seasonal changes, and a backpack comes in handy when you need to store the unwanted layers.
Wearing black jeans At a cocktail party
SHOP THE LOOK: Black Tees | Black Blazers | Suede Loafers
There is only one way you can get away with wearing black jeans to a cocktail party – head to toe black. Pair black jeans with a smart black blazer and a black t-shirt, and you have a smart-casual look which looks way more fashion-forward than it actually is. For maximum impact, mix up your textures too – leather, cashmere, jersey and neoprene look great against denim.