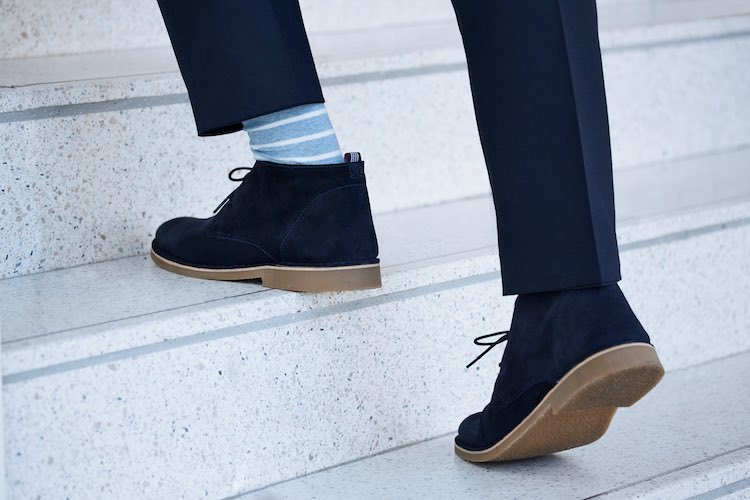 August 7, 2022 |
8 shares
Summer footwear can be a minefield for men – flip-flops and sandals are definitely not office friendly, but brogues and boots are too heavy to wear without socks on hotter days.
However, chukka boots are different. While they have become a trans-seasonal staple for most UK men, they actually started out in tropical climes - after all, there's a reason why they're also known as desert boots.
Chukka boots are believed to have originated in colonial India, where they were worn during polo matches. Later they were adopted by desert-based soldiers during the Second World War, as they were light enough to withstand high temperatures, but sturdy enough to take into battle.
While you might not be wearing your chukkas in the Sahara, they can still be a surprisingly versatile summer shoe which can take you from the office to the beach without breaking a sweat.
If you're still not sure how to incorporate them into your summer wardrobe, read on for a few tips...
Wearing Chukka boots with... shorts
SHOP THE LOOK: Ralph Lauren Chino Shorts | Brown Chukkas | Grey Tees
The golden rule with summertime chukkas is no socks – or at least no visible socks – and this applies double when you're wearing them with shorts. The socks, boots and shorts combo should stay where it belongs – in the original Jurassic Park.
You're going for a laid-back, 'urban safari' vibe here, so keep your laces loose and turn down the sides of your boots if you can.
Wearing Chukka boots with... jeans
SHOP THE LOOK: Chukka Boots | Levis Skinny Jeans | Diesel Tees
You can wear chukka boots and jeans any time of the year, updating the look just a little bit to suit each season. In the summer, lose the socks and turn up the hem of your jeans just enough so that you can see a sliver of skin above the top of your boots. Skinny jeans work best with this look, and all you need to finish it off is a comfy t-shirt or shirt.
Wearing Chukka boots with... chinos
SHOP THE LOOK: Chinos | Diesel Belts | White Shirts
More formal than jeans, chinos can make a largely casual outfit feel a bit more sophisticated. If you're going for that smart casual appearance, do it properly. Lace your chukka boots up the whole way, press your chinos properly and add a clean white shirt.
But whatever you do, don't match the colour of your chinos with the colour of your boots. Pair cream chinos with brown chukkas, grey with navy, and tan with blue, and match your belt to your shoes if possible.
Wearing Chukka boots with... linen trousers
SHOP THE LOOK: Linen Trousers | Ted Baker Polos | Men's Ray-Bans
Linen is the ultimate summer fabric, and it goes perfectly with chukkas (for proof, just look at Daniel Craig in Casino Royale). In fact, linen and chukkas are so compatible that linen chukkas are starting to become a thing.
As with chinos, the main thing to remember is to avoid wearing the same colour from the waist down, so stick with darker chukkas when you're wearing light-coloured linens. For a more casual look, just loosen your laces and roll up your hem.
Wearing chukkas with... a summer suit
SHOP THE LOOK: Grey Suits | Hugo Boss Smart Shirts | Leather Chukkas
Summertime suits tend to come in light shades of grey, blue, beige and white, which rules out a lot of heavier footwear such as leather brogues. Enter, the chukka boot.
As ever, mix and match your colours and keep your laces properly tied - you can always dress down the look by rolling up your trouser hem and losing your tie.
Our Top Tips On Wearing Chukkas In Summer
If you're wearing shorts with chukka boots, opt for a chino style and team up with a neutral tee and matching accessories.


Skinny jeans are the best denim cut to wear with chukkas during the warmer months as you can turn the hem up on the jeans to show some skin above the boots.


For more formal occasions in the warmer months, chinos and chukka boots are the perfect match. Pair cream with brown, tan with blue and navy with grey.


On really hot days, opt for a breathable fabric such as linen trousers to wear with your chukkas. Roll the hem up for bonus style points.


Mix up your 9 to 5 summertime looks by teaming up a grey or navy suit with tan suede chukkas. Complete the look with a matching belt and white shirt.