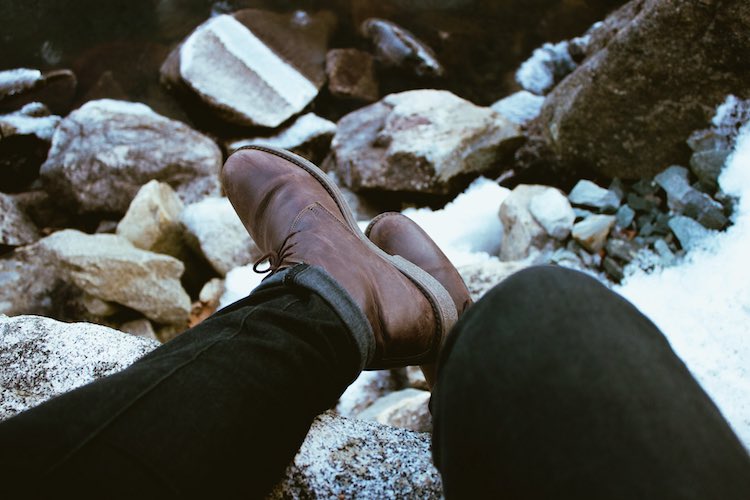 November 5, 2022 |
13 shares
Chukka boots are becoming increasingly popular among men who want to nail that effortless style without actually making much of an effort at all. These boots are stylish and comfortable, and they come in an array of different colours and fabrics.
Although they're technically called 'boots', they don't tend sit high on the ankle so they can be dressed up in a way that you can't really do with biker boots or work boots.
For the classic chukka look, go for a soft suede or leather which instantly moulds to the shape of your foot and doesn't need to be broken in. For a more contemporary look, choose a bold colour which will stand out against the usual sea of beige and black. And for everyday looks? Just read on for inspiration on how to wear chukka boots...
1. How to wear chukka boots with jeans
SHOP THE LOOK: Brown Chukkas | Jeans | Grey Tees
There are two ways to wear chukka boots with jeans, depending on the type of jeans you are wearing. Black chukka boots look great with black skinny jeans that stop just above the top of the boot (never EVER try to tuck your boots underneath skinny jeans), while tan boots work best with straight-legged blue jeans which have been rolled up slightly to show off the lacing on the boots.
2. How to wear chukka boots with a suit
SHOP THE LOOK: Black Chukkas | Suits | Work Shirts
Chukkas are not just for casual dressing – they have started to make the odd appearance in the windows of London's high-end tailors and shoe boutiques. Find a nice pair of chukkas which has some sort of detail around the toe, and you will just look as though you are wearing smart shoes. Pull up the hem a little, and you have a quirky alternative to boring dress shoes.
3. How to wear chukka boots with slacks
SHOP THE LOOK: Tan Chukkas | Beige Slacks | White Shirts & Tees
Desert and chukka boots were made to be worn with khakis, so if you are wearing yours with a pair of slacks, you may as well commit to the full look. Channel your inner Indiana with tan-coloured boots in a suede finish, laced up under pale trousers and worn with a plain white t-shirt or shirt.
4. How to wear chukka boots with tweed
SHOP THE LOOK: Chukka Boots | Tweed | Paul Smith Socks
Legend has it that the chukka boot gained popularity in the 1920s after they were spotted on the Duke of Windsor, who liked to wear them when playing polo. The early marketing campaigns showed chukka boots paired with tweed trousers and bright socks, and this vintage, English dandy look is still popular today.
5. How to wear chukka boots with work clothes
SHOP THE LOOK: Leather Chukkas | Smart Trousers | Jumpers
Chukka boots may just be the perfect choice for the office – they are easy to walk in and stylish without being too 'try hard', plus they look great with most styles of trousers. That classic workday combo of dark trousers, shirt and jumper is perfectly completed with a pair of smart leather chukkas.
6. How to wear chukka boots with formal wear
SHOP THE LOOK: Smart Chukkas | Suit Trousers | Waistcoats
It is absolutely possible to wear chukka boots with formal wear, but they have to look shiny and expensive. That means buying the best leather you can afford, in a classic colour such as dark brown or black, and getting a professional shoe-shine before you venture out onto public.