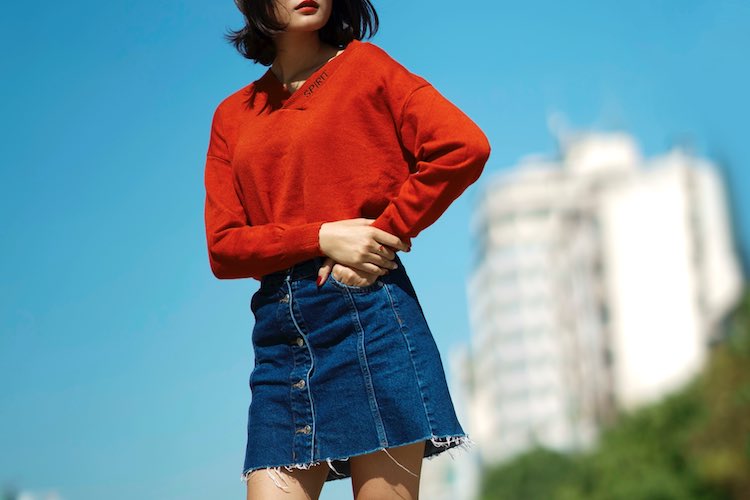 April 27, 2021 |
8 shares
Denim skirts have gone through a lot of changes throughout the years.
From the micro-minis of the 60s, to the ¾ length chambray of the 70s, the high-waisted pencil skirts of the 80s, and the button-down A-lines of the 90s.
Affordable and flexible, denim never goes out of style, and the wealth of options out there means that you can find a perfect denim skirt for every occasion.
So, here's our guide to five essential ways to wear denim skirts to make sure you get the most out of your wardrobe…
1. Wearing A Denim Skirt: At A festival
SHOP THE LOOK: Blue Denim Skirts | Barbour Jackets | Hunter Wellies
The spiritual home of the denim skirt – the average festival is an oasis of denim, and with good reason! Good quality denim is one of the most durable fabrics on the planet, so it is more than capable of withstanding a few spilled beers, cigarette butts and impromptu mud baths.
For a full-day festival, all you need is a denim skirt, a t-shirt and a pair of wellies. But if you're going to be out in the Great Outdoors for more than a day or two, you should consider investing in a Kate Moss-style parka, or a cropped Barbour jacket - a favourite of one Alexa Chung.
2. Wearing A Denim Skirt In Winter
SHOP THE LOOK: Overcoats | Blouses | Carvela Boots
Denim is a dense fabric which is designed to withstand cold temperatures, but it is also incredibly absorbent. This means that extra-long denim skirts are not ideal in rainy or snowy weather – step in one puddle and you'll be dealing with damp ankles all day.
Instead, choose a ¾ length skirt and keep the chill at bay by adding thick tights and ankle-length boots. A longer skirt also allows you to play with your proportions a bit – an oversized scarf or a cocoon style coat will work wonders with this look.
3. Wearing A Denim Skirt On A Night Out
SHOP THE LOOK: Denim Mini Skirts | Bodysuit | Leather Jackets
The distressed denim mini has been a nightclub staple for at least 60 years. Go retro with platform heels and a cami, or give the denim mini a modern spin by choosing a style with a few embellishments – Gucci-style embroidery is particularly popular right now.
With a mini skirt, the silhouette is everything. A cropped leather jacket will balance out your outfit, while oversized boots are a great option in colder weather.
4. Wearing A Denim Skirt In Summer
SHOP THE LOOK: Floral Print Tops | Michael Kors Sandals | Summer Hats
A great denim skirt is the Swiss army knife of holiday wear – crease free, versatile and hardy, you can wear it on a city break or a beach vaycay.
Pair an A-line denim skirt with opaque tights and a Breton top for an Insta-friendly trans-seasonal look. Or add a floral blouse and some gladiator sandals for a stroll on the beach.
5. Wearing A Denim Skirt At work
SHOP THE LOOK: Knitwear | Court Shoes | Daniel Wellington Watch
Denim skirts have always been a little more office-appropriate than jeans. Balance out a denim pencil skirt with an oversized knit, or team a button-down A-line skirt with a polo neck and chunky sandals for a preppy look that isn't too stuffy.
Our Top Tips On How To Wear Denim Skirts
Denim skirts are the perfect style for festivals and go with just about anything. Wear yours with wellies and a Barbour jacket to channel an off-duty supermodel vibe.


During winter, opt for a a ¾ length style and wear your denim skirt with tights and boots for maximum comfort without compromising on style. Complete the look with an cocoon coat and cable knit scarf.


For the perfect denim skirt night out outfit, look to a mini length style and wear with a plain bodysuit and matching accessories. Add a cropped leather jacket when the temperature drops.


In the warmer months, go for an A-line denim skirt and floral top for sartorial success both on and off the beach. A pair of strappy sandals is all you need to complete the outfit.


A denim pencil skirt is the perfect alternative to jeans for the office. Avoid any distressed detailing and layer with camis, oversized knitwear and blazers.